Un Ojo lost his left eye in a pasture accident as a yearling, which partially explains how he got lost in the shuffle of Saturday's Grade 2 Rebel Stakes at Oaklawn Park.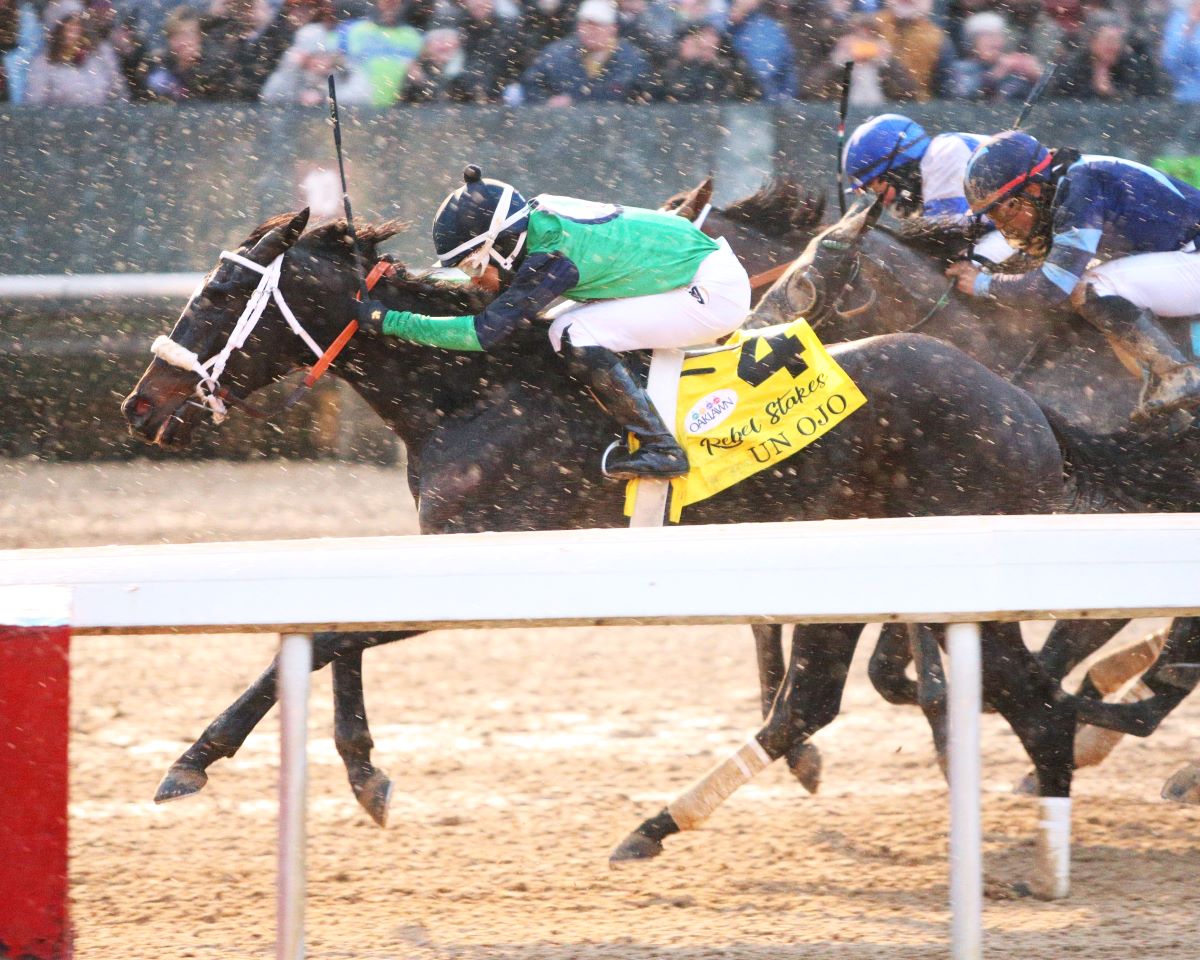 One-eyed geldings aren't usually the bettor's favorites, which explains how the son of the late Laoban went off at 75/1 – the longest shot on the Oaklawn toteboard. Yet, sharp-eyed horseplayers taking a flier on the New York-bred eyed the second largest win payoff in Oaklawn stakes history.
When Un Ojo nipped D. Wayne Lukas' Ethereal Road by a half-length, that flier sent ticketholders to the window for a $152.80 win payout on a $2 bet. Un Ojo, which translates to "an eye," paid $41.80 to place, $18.60 to show. Only Rockamundo's $218 payout in the 1993 Arkansas Derby surpassed Un Ojo's Saturday shocker.
"I've loved this horse since Day 1," assistant trainer Clay Courville said after the race. "I knew he had the talent to be this kind of horse. I always had the confidence in him. He just improved so much every single day, every single race. This is a dream come true."
Un Ojo has un spot in the Derby
Courville, who assists his father, Ricky, as Un Ojo's trainer, referred to Un Ojo effectively qualifying for the Kentucky Derby. His 50 points for the Rebel win gave him 54, putting him second on the points ladder. It also boosted his record to 2-2-0 in six starts and his earnings to $776,321.
Un Ojo picked up four points for his runner-up finish at the Grade 3 Withers Stakes at Aqueduct, where he spent most of the winter under trainer Tony Dutrow's tutelage. That followed a runner-up in the New York Stallion Series, a Black-Type class race for state breds last December.
Dutrow sent the gelding back to the Courvilles last week, flying him from New York to Memphis, then vanning him the 190 miles to Hot Springs. Sunday morning, Clay Courville sent him to the Copper Crowne Training Center in Opelousas, La., five minutes from the Evangeline Downs racetrack.
Arkansas Derby probably is next on the agenda
Ricky Courville said Un Ojo would take a break as he and owner Kevin Moody of Cypress Creek Equine LLC mapped out future race plans. Expect the Grade 1 Arkansas Derby to be the likely next target.
"Give him a couple of weeks and maybe head back up for the Arkansas Derby a week out, like we did," Ricky Courville told Oaklawn Park.
Meanwhile, runner-up Ethereal Road picked up 20 points and Barber Road 10 for his third-place finish. Pacesetter Kavod finished fourth, earning five points for his efforts.
Newgrange experiences new experience: losing
Bob Baffert's 4/5 favorite and previously unbeaten Newgrange finished a non-threatening, fading sixth, 4 ¼ lengths back.
"When the running started, he didn't have it today," Baffert said after the race. "But that happens. He didn't show up today. I really can't think of any excuses today."