When it comes to the Grade 2 Rebel Stakes, it doesn't really matter that Bob Baffert is suspended from Churchill Downs and the Kentucky Derby. All that matters is one question, the answer of which is typically "yes."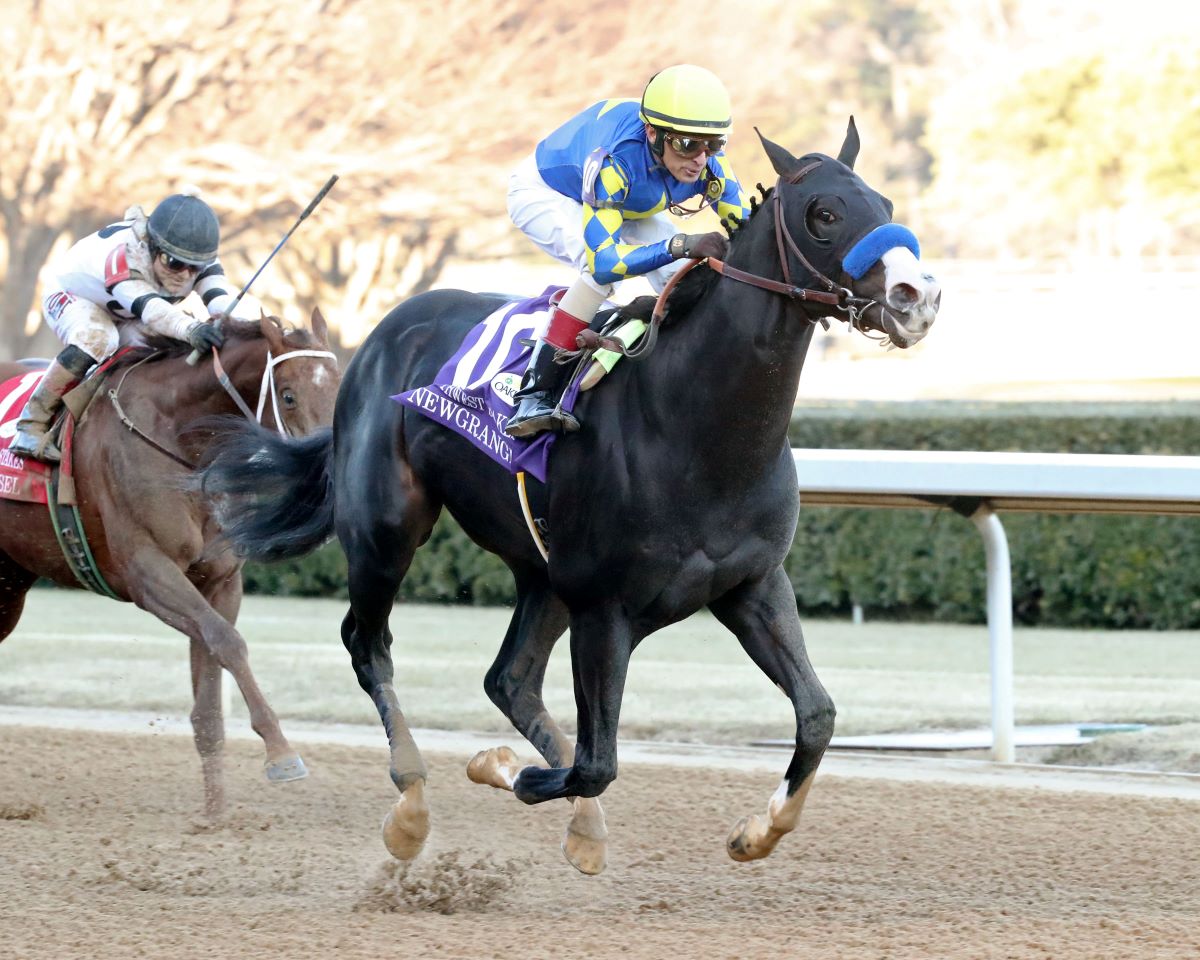 Does Baffert have a live candidate in this year's Rebel?
Of course he does: unbeaten Newgrange, the 9/5 favorite doubling as favorite to win Baffert his ninth Rebel and third in a row. He captured the last two Rebels with Nadal (2020) and Concert Tour last year.
And of course, being a Baffert charge, Newgrange is ineligible for the 50-20-10-5 Derby qualifying points up for grabs here in Oaklawn Park's third of four Derby preps. The Rebel headlines an Oaklawn card offering up the Grade 3 Honeybee Stakes for 3-year-old fillies.
Rebel bears striking resemblance to the Southwest
Newgrange headlines a Rebel field featuring the top five finishers from Oaklawn's last Derby prep: last month's Grade 3 Southwest Stakes. He won that race by 1 ½ lengths as the 1/2 favorite in his first start outside California.
"I wasn't really sure if I was going to bring him back or not," Baffert told Oaklawn's Robert Yates. "I had a couple of more I was thinking about, but he sort of tipped me off that he came out of that race really well. He looks good. He looks like he came out of the race well. Shipped well and I like the fact that he's got a great mind and he's a good horse and he's undefeated. So, he traveled well. He's been great on the road."
Newgrange has also been great on the work tab. He comes into the Rebel off a bullet 58.60-second, five-furlong work that was tops of 46 at that distance that day.
Newgrange returns with good form
"He's kept his form. He didn't regress," Baffert said. "Sometimes, you ship, you might regress a little bit. But he came out of it well. He's easy on himself, so he's pretty easy to train. I was impressed with this last win because he was sort of stop-and-go the whole way and still found a way to win. That's the sign of a good horse. I'm happy with the way he's coming into this race."
Newgrange's closest pursuers in the Southwest: Barber Road (9/2), Ben Diesel (6/1), Kavod (12/1) and Dash Attack, went 2-3-4-5 in that race. That was Barber Road's third consecutive runner-up finish after he opened his career with two victories.
Dash Attack (8/1) won Oaklawn's first Derby prep, the Smarty Jones. That came on a sloppy track, unlike the Southwest, which came on dry track and produced his first loss.
Grade 2 Rebel Stakes/Oaklawn Park
Morning Line (Jockey/Trainer)
Kavod, 12/1 (Francisco Arrieta/Chris Hartman)
Newgrange, 9/5 (John Velazquez/Bob Baffert)
Cairama, 15/1 (Geovanni Franco/Steve Asmussen)
Un Ojo, 12/1 (Ramon Vasquez/Ricky Courville)
Texas Red Hot, 12/1 (Ricardo Santana Jr./Randy Morse)
Stellar Tap, 10/1 (Cristian Torres/Steve Asmussen)
Ben Diesel, 6/1 (Jon Court/Dallas Stewart)
Chasing Time, 8/1 (Tyler Gaffalione/Steve Asmussen)
Barber Road, 9/2 (Reylu Gutierrez/John Ortiz)
Ethereal Road, 12/1 (Luis Contreras/D. Wayne Lukas)
Dash Attack, 8/1 (David Cohen/Kenny McPeek)
If you're looking for value and potential to catch Newgrange, look to Chasing Time (8/1). He won an entry-level allowance by nearly eight lengths last month. The Not This Time colt won his first two races and finished second two more times. He showed versatility in his races, closing to win one and pressing the pace in that allowance win last month.
That allowance win, which involved a strong gallop-out, earned Chasing Time a 91 Equibase, very competitive in this field.