Undefeated 3-year-old multiple stakes winner Nadal will head to Japan for his stud career, Japanese breeding farm Shadai Stallion Station announced Wednesday.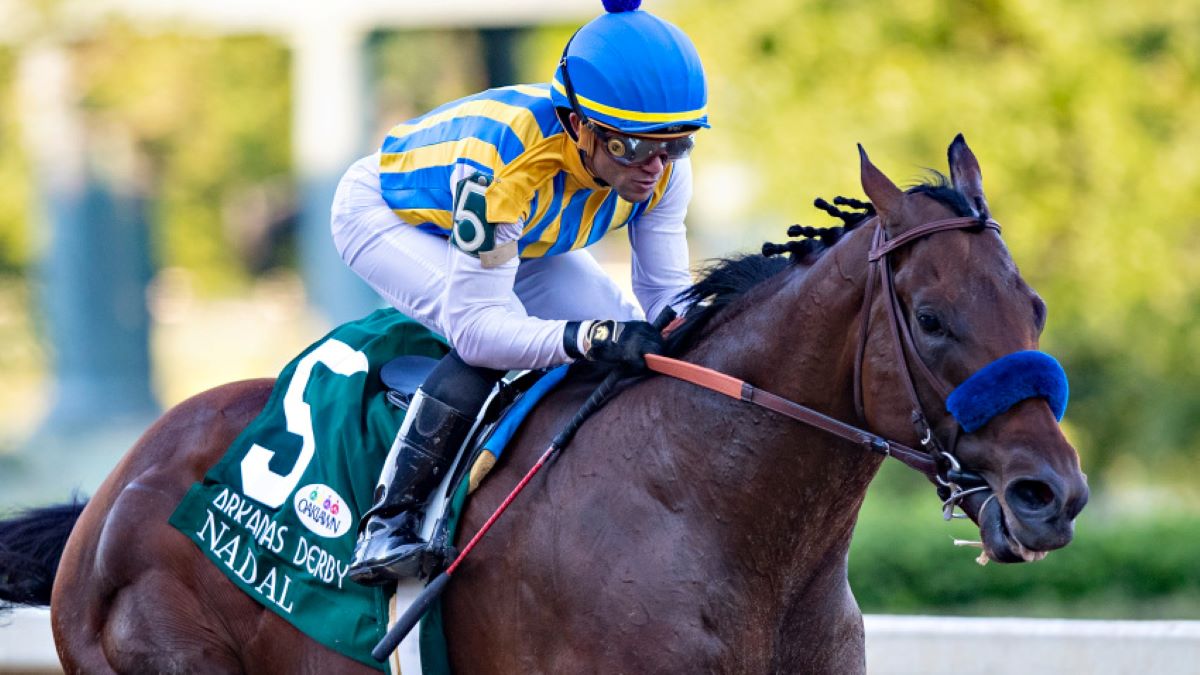 The announcement ended speculation on where the $700,000 Blame progeny would stand after his once-promising racing career prematurely ended in May. The one-time Kentucky Derby points leader, Nadal fractured his left front lateral condylar bone during a routine May workout at Santa Anita Park. The injury was non-life threatening, but career-ending.
Nadal's 3 ½-month career ended with four victories in four races and $1,053,000 in earnings. After Nadal won a maiden special weight race by 3 ¾ lengths, Hall of Fame trainer Bob Baffert turned him loose in graded stakes company. And Nadal didn't blink. He won the Grade 2 San Vicente Stakes at Santa Anita, the Grade 2 Rebel Stakes and the Grade 1 Arkansas Derby, both at Oaklawn Park.
Nadal's victory as the 9/10 favorite in the tougher of the two Arkansas Derby divisions stamped him as the West Coast answer to Tiz the Law among Triple Crown contenders. Ironically, that Arkansas Derby victory came on May 2 – the original, pre-COVID-19 date for the Kentucky Derby.
What Could Have Been for Nadal in a Normal Year
This bitter piece of news led Baffert to say after the May 28 injury that, "The timing was perfect for him for the Derby. He was on a great schedule. …"
George Bolton, one of Nadal's owners, said after the injury that Spendthrift Farm had the inside track for Nadal's stallion career. Instead, Nadal heads across the Pacific to Shadai, located on Japan's northernmost island of Hokkaido, for a stud fee to be announced later.
In Japan, Nadal joins another standout American stallion, albeit one with a far more accomplished racing resume. Seven-time Grade 1 winner and 2014 and 2016 Horse of the Year California Chrome took up stallion duties at Arrow Stud this year after spending three years at stud for Taylor Made Stallions in Kentucky.
Along the way, the popular 2014 Kentucky Derby and Preakness champion – who earned more than $14.7 million on the track — spent two seasons at stud in Chile.
Sunday Silence's Pedigree Anything but Quiet in Japan
California Chrome isn't the only Derby winner of the last decade holding down Japanese stallion duties. Animal Kingdom, the 2011 Derby winner, went to Japan last year. There, he joined 2016 Preakness winner Creator, along with other Grade 1 winners Johannesburg and Eskendereya.
When it comes to American stallions holding stud court in Japan, the most famous import was the iconic Sunday Silence. The 1989 Kentucky Derby and Preakness winner who lost an epic Belmont Stakes to rival Easy Goer, went to Japan two years later. From his first 3-year-old crop in 1995 to 2008 – six years after his death – Sunday Silence led the Japanese sire earnings tables. Sixteen of Sunday Silence's progeny sired Group or Grade 1 winners.
Those are the feel-good stories of American horses in Japan. Then, there is the dark tale of Ferdinand. The 1986 Derby winner at 17/1 – complete with 54-year-old Willie Shoemaker in the irons – Ferdinand won the 1987 Breeders' Cup Classic. He won the Eclipse Award as 1987 Horse of the Year.
A Grotesque Ending for a One-Time Champion
Ferdinand began his stud career in 1989. In 1994, he was sold to a breeding farm in Japan after a lackluster stallion career in the US. In 2002, news filtered out that Ferdinand quietly perished in a slaughterhouse. With horsemeat a delicacy in Japan, a former Derby winner became either a gourmet meal or pet food.
The outrage coming from a former Derby winner sent to a slaughterhouse led to legislation attempts in the US banning horse slaughterhouses. It also resulted in provisions in future stud contracts – like California Chrome's – mandating the horse's return to the US upon the end of his stallion career.