The fact Bob Baffert's Newgrange won his second Kentucky Derby prep in as many months was more important to the Hall of Fame trainer than the fact that, right now, Newgrange isn't eligible to run in the May 7 Derby.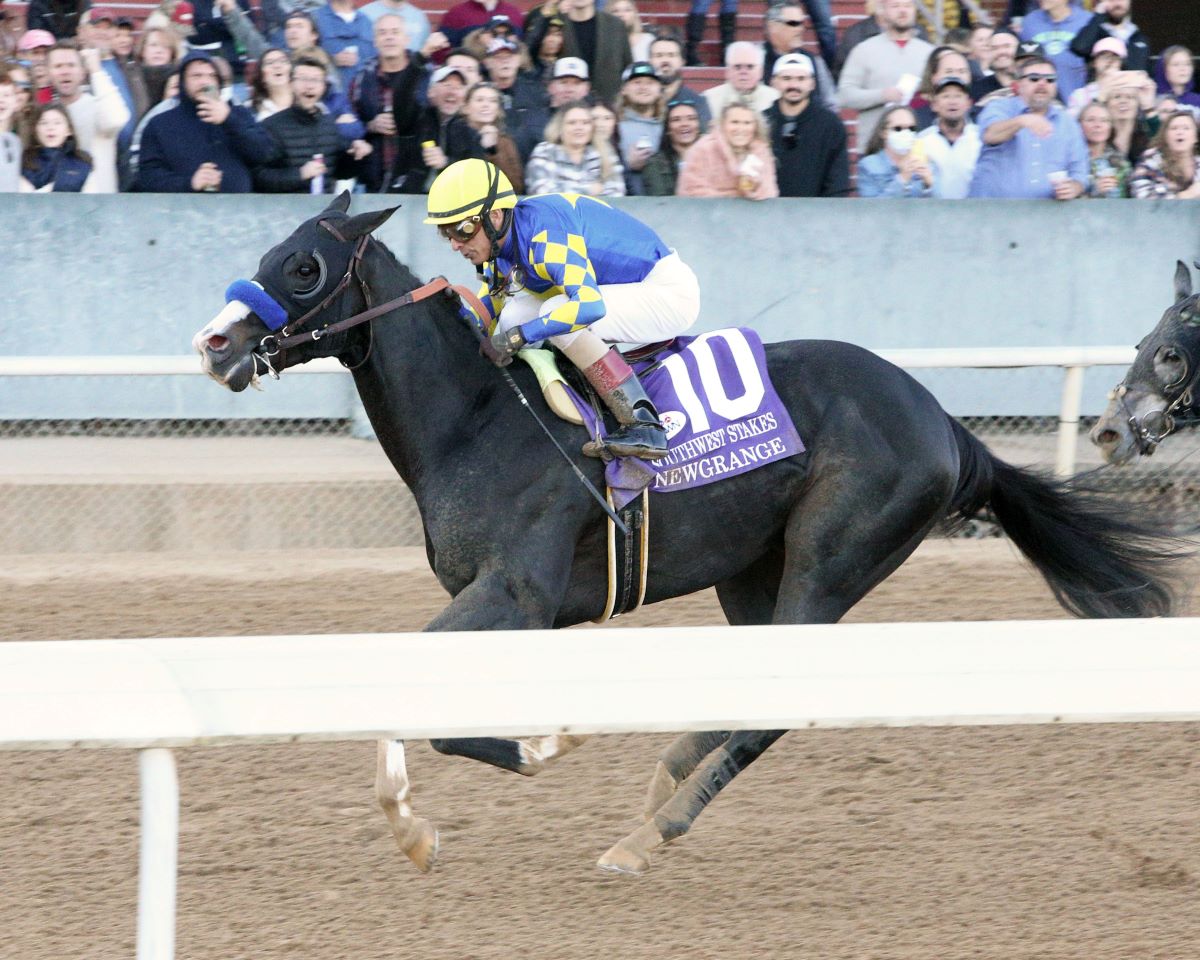 "I'm not going to worry about that right now," Baffert told Oaklawn's Robert Yates after Newgrange rallied for a 1 1/2-length victory in Saturday's Grade 3 Southwest Stakes at Oaklawn Park.
Newgrange's Southwest Stakes victory, piggy-backing off his January Grade 3 Sham Stakes score at Santa Anita, would give him 20 Derby points. That would put Newgrange atop the Derby points ladder in any other year. Alas, Baffert's sophomore armada isn't eligible for the Derby, courtesy of his Churchill Downs suspension.
Regardless, Newgrange is a Derby futures darling. Circa Sports cut his odds from 20/1 to 18/1 and Caesar's-William Hill trimmed the son of Violence from 35/1 to 25/1. Where those odds go from here depends on a couple of factors, most notably where Newgrange will run next and who he'll run for as we get deeper into the Derby prep season.
Newgrange, other Bafferts, keep taking future money
Those odds and the money pouring in on Newgrange — along with Baffert's other Derby contenders, such as Messier, Corniche, Pinehurst, and Rockefeller — are based on horseplayers' beliefs other trainers will get those horses.
As for what's up next on the unbeaten Newgrange's itinerary, Baffert didn't specify where he'll run next. The choices are plentiful. Baffert could keep Newgrange on the Arkansas Derby path, running him in the Feb. 26 Grade 2 Rebel Stakes, then in April 2's Grade 1 Arkansas Derby where he owns a record eight Rebel victories.
"We'll definitely have something for the Rebel. I just don't know which one," Baffert said.
That would allow him to keep Messier and Corniche home in California. Messier is entered in Saturday's Grade 3 Robert B. Lewis at Santa Anita. He and Newgrange dueled to a 47.20-second four-furlong drill on Jan. 23 at Santa Anita that was the second-fastest time of the 114 horses working that distance that day. But it was something intangible that prompted Baffert to ship Newgrange two time zones East.
'A good mind' means he travels well
"I thought this horse kind of had a good mind," Baffert said. "The ship in there is a little bit tougher now. You've got to go to Memphis (about 190 miles northeast of Hot Springs) and get them in a van. I thought Newgrange's got a great mind and Messier's going to run here in the Bob Lewis with some other ones. Try to spread them out, try to see where they fit. So that was the reason."
Baffert's decision to ship Newgrange to Oaklawn revealed another dimension in the colt. A front-running pace-setter in his first two starts, Newgrange found himself in the unfamiliar role of stalker in the Southeast. He tracked pace-setter Kavod down Oaklawn's backstretch. Seemingly out of gas and rhythm, Newgrange found his second wind with a furlong remaining. He turned aside closing Barber Road before the wire.
Already a 400% return on investment
"He had to really gut it out," Baffert said. "Turning for home, I wasn't sure. Then, he came on. I thought it was a good spot for him and, hopefully, he just continues on. He showed today he's a pretty solid horse. I always try to bring my best horses up there that are doing the best."
Newgrange cost his owners, the powerhouse consortium of SF Racing, Starlight Racing, Madaket Stables, and Stonestreet Stables, $125,000 at the 2020 Keeneland September Yearling Sale. In three races, he's earned more than four times that, banking $552,000.