There is a certain dangerous element to giving a Hall of Famer like D. Wayne Lukas a filly like Secret Oath, a dangerous element that went on display Saturday in the Grade 3 Honeybee Stakes.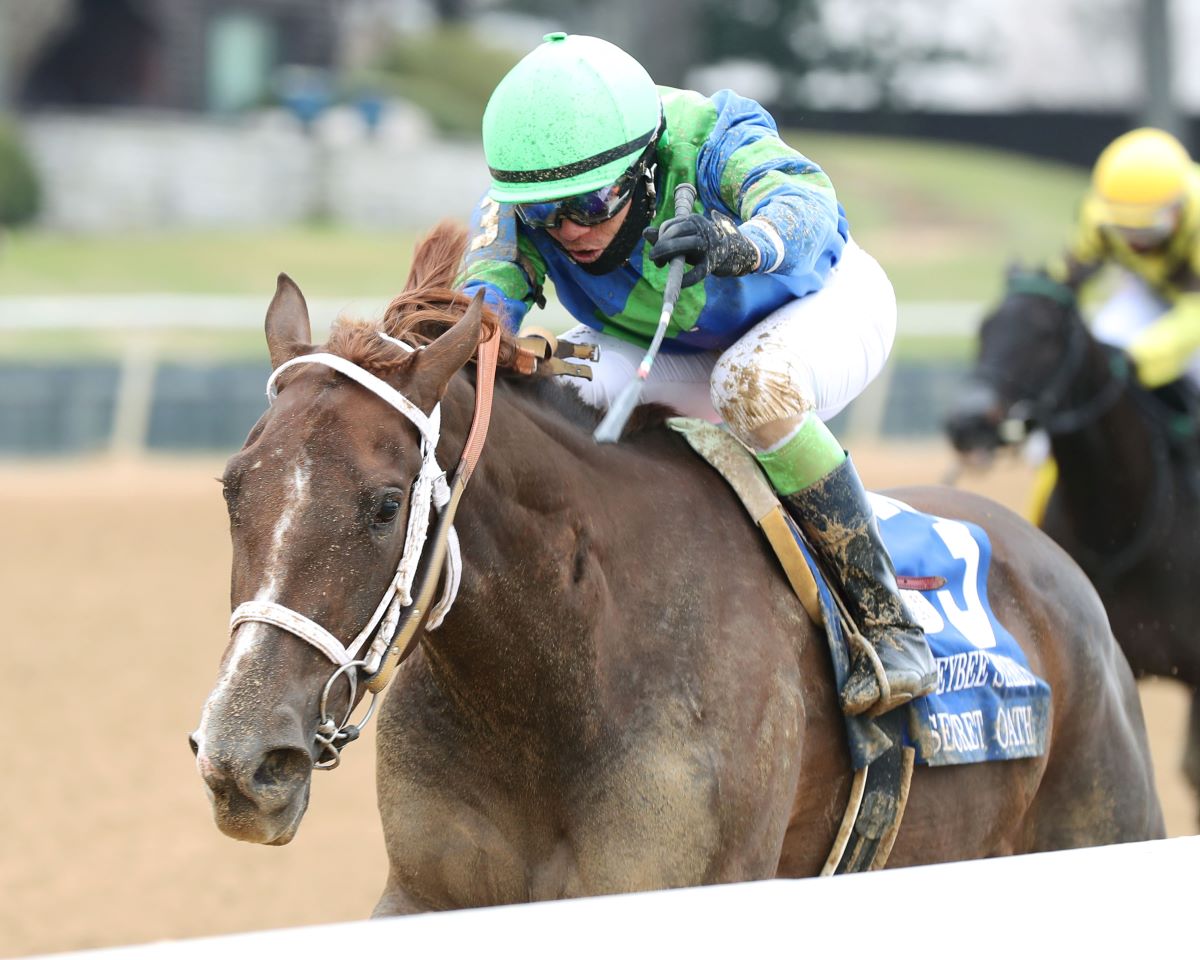 The 86-year-old Lukas isn't quite ready to retire. Not when he nearly swept Oaklawn's two 3-year-old prep races for the Kentucky Derby and Kentucky Oaks. And what does this bode for other trainers when Oaklawn's Lion in Winter is getting his third wind?
Lukas finished second with Ethereal Road in the Grade 2 Rebel Stakes, watching his sophomore get nipped by a half-length by 75/1 Un Ojo. But it was Secret Oath, who opened eyes in a hurry with her 7 ½-length dismantling of the Honeybee field.
It even led Lukas to contemplate running the 3-year-old filly against the boys in the Grade 1 Arkansas Derby April 2. Secret Oath's 92 Beyer Speed Figure eclipsed Un Ojo's Rebel Stakes winning 84 Beyer. And it wasn't close.
Lukas pondering Secret Oath's numerous options
"That filly ran so much faster than the colts too, and she was on cruise control and they're under a drive," Lukas said. "I don't know what we're going to do. We're going to keep it one and one for now, for sure."
That means Ethereal Road heads to the Arkansas Derby and Secret Oath to the Grade 3 Fantasy Stakes on the Arkansas Derby undercard – for now.
Lukas leaves himself wiggle room, because Secret Oath hasn't given anyone else wiggle room. Secret Oath's 60 Oaks qualifying points put her atop the ladder for that race, which is limited to 14 fillies. But Secret Oath's dominance among the sophomores at Oaklawn means Lukas could throw her against the boys.
Lukas plays the crafty veteran yet again
Based on what we've seen – both now and nearly 40 years ago – this isn't proof Lukas is losing it. Far from it. Secret Oath won a New Year's Eve allowance by 7 ¼ lengths, then came back with an 8 ¼-length dissection as the 1/2 favorite in the Martha Washington Stakes Jan. 29. Break it out and the daughter of the late Arrogate won her three Oaklawn Starts by a combined 23 lengths.
Saturday, Secret Oath broke out slowly. She was in third at the three-quarters post. By the stretch, that one-length deficit turned into a five-length lead. That eventually made Secret Oath at 3/10 the lowest-priced winner ($2.60) in Honeybee history. It also gave Lukas his record-extending sixth Honeybee victory.
Secret Oath is Kentucky Derby nominated
"She's nominated (for the Arkansas Derby) and the Kentucky Derby," Lukas said after the race. "You know what's really good here? The thing that I'm most happy about is that (Oaklawn) has changed from (three) weeks in front of the Kentucky Derby to five. Boy, if you're training a good filly, that's another little caveat that I like. I like it if I have a colt. I like that five-week break. But if you have a filly, you'd have to say 'Wow!' You're going to get a little extra time."
Meanwhile, Secret Oath luxuriates in her fourth victory in six starts (4-0-1). The $180,000 first prize gave Secret Oath $465,167 in career earnings. And should Lukas decided to run Secret Oath against the boys, he's got a frame of reference. In 1984, Lukas won the Arkansas Derby with Althea a week after she finished second in the 1 1/16-mile Fantasy.