Arrogate, who put on one of the most memorable runs of 21st-century racing en route to becoming North America's richest racehorse, was euthanized Tuesday morning at an equine hospital in Lexington, Kentucky.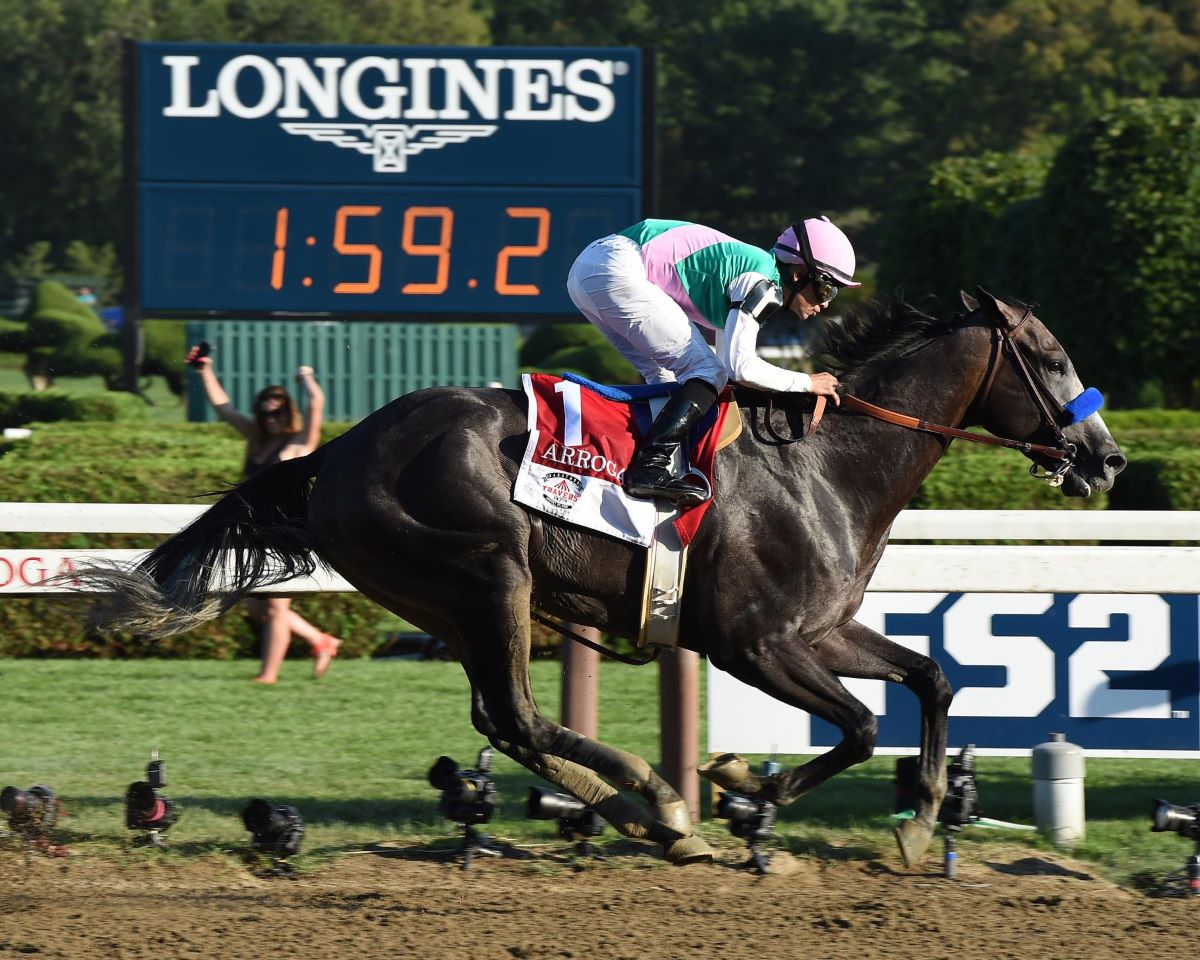 The son of Unbridled's Song suffered a mysterious neck illness last week at Juddmonte Farms, where he neared the end of his third season at stud. Juddmonte Farms issued a statement saying it's unclear what caused the illness, initially diagnosed as a sore neck. Last week, Arrogate's stud season was suspended, and later in the week, he collapsed in his stall, unable to get up.
He was transported to the Hagyard Clinic in Lexington and a battery of tests left more questions than answers. When Arrogate couldn't stand for four days and secondary health issues set in, Juddmonte officials decided to euthanize the Champion 3-year-old Male of 2016.
"This is very hard on everyone at Juddmonte, most especially on Steve Dotsey, Stallion Manager, and Jorge Chavarria, who cared for Arrogate daily and who had such a great rapport with him," Juddmonte Group CEO Douglas Crum said in a statement. "It was a bold decision to ask Bob Baffert to purchase and train top dirt horses for Prince Khalid, and assisted by Donato Lanni, the selection of Arrogate was one of the success stories of the decade on the racetrack."
Arrogate a Perfect Example of a Late-Blooming 3-Year-Old
It was indeed. Arrogate became the poster horse for Thoroughbreds who mature later in the year when he put on a stunning display of racing dominance that captivated the sport. He didn't race until April of his 3-year-old season, which kept him out of the Triple Crown races. Baffert turned him loose in a maiden special weight race at Los Alamitos in April 2016, where he finished third.
Arrogate wouldn't lose again for 15 months. He broke his maiden at Santa Anita in early June and won two allowance races over the summer. Then, Baffert took Arrogate to Saratoga in August 2016 for the Travers Stakes, one of the country's premier, non-Triple Crown races for 3-year-olds.
What happened next became instant Saratoga and Travers lore. Arrogate destroyed the Travers field by 13 ½ lengths, blitzing both reigning Preakness Stakes winner Exaggerator and Belmont Stakes champion Creator like they were claiming horses. His 1:59.36 time for the 1 ¼ miles beat General Assembly's 37-year-old track record of 2:00.00 for that distance.
Making More History at the Breeders' Cup
Then, it was back to Santa Anita for November's Breeders' Cup Classic and a race that defined "classic." Arrogate and 2014 Kentucky Derby and Preakness winner California Chrome put on a stretch duel for the ages, with Arrogate prevailing by a half-length at the wire. The rest of the field was more than 10 lengths behind.
That result aside, California Chrome prevailed in the Horse of the Year balloting, leaving Arrogate the "consolation" prize of Champion 3-year-old Male.
In 2017, Arrogate picked up where he left off in 2016. He added Gulfstream Park to his victory tour, winning the inaugural Pegasus World Cup by 4 ¾ lengths and setting the standing track record of 1:46.83 for 1 1/8 miles. At the time, the Pegasus was the world's richest race, sporting a $12 million purse. That added $7.2 million to Arrogate's earnings total.
Beating Gun Runner Again, Just Like the Travers
Arrogate wrapped up his victory tour two months later in Dubai, capturing the Dubai World Cup by 2 ¼ lengths over Gun Runner, the eventual 2017 Horse of the Year.
As quick as Arrogate's ascent began, it ended. He hit the board only once in his final three races: a second at the Pacific Classic at Del Mar in August 2017. After an unspectacular fifth in his Breeders' Cup Classic defense that November, Arrogate went off to stud. His $50,000 stud fee belied a horse who won $17,422,600 in just 11 races. That represents the highest racing earnings of any horse in North American history.
Arrogate's seven victories came between June 2016 and March 2017. They included four Grade 1s and three of the richest races in the world at that time.
You'll See Arrogate's First Crop on the Track Next Year
Meanwhile, Arrogate's first crop of foals are 2020 yearlings. Next year, that crop will race for the first time as 2-year-olds.
"We will never forget the ride Arrogate took us on," said Juddmonte General Manager Garrett O'Rourke in a statement. "Those four amazing races established him as one of the great racehorses of our time: breaking two track records, taking down champion California Chrome in a battle for the ages and then running by Gun Runner in another worldly performance in Dubai. We hope that the heartbreak of losing him so young can be soothed by proudly watching the achievements of his runners."