Hall of Fame trainer D. Wayne Lukas said Sunday he planned running standout filly Secret Oath against the boys in the Grade 1 Arkansas Derby April 2 at Oaklawn Park.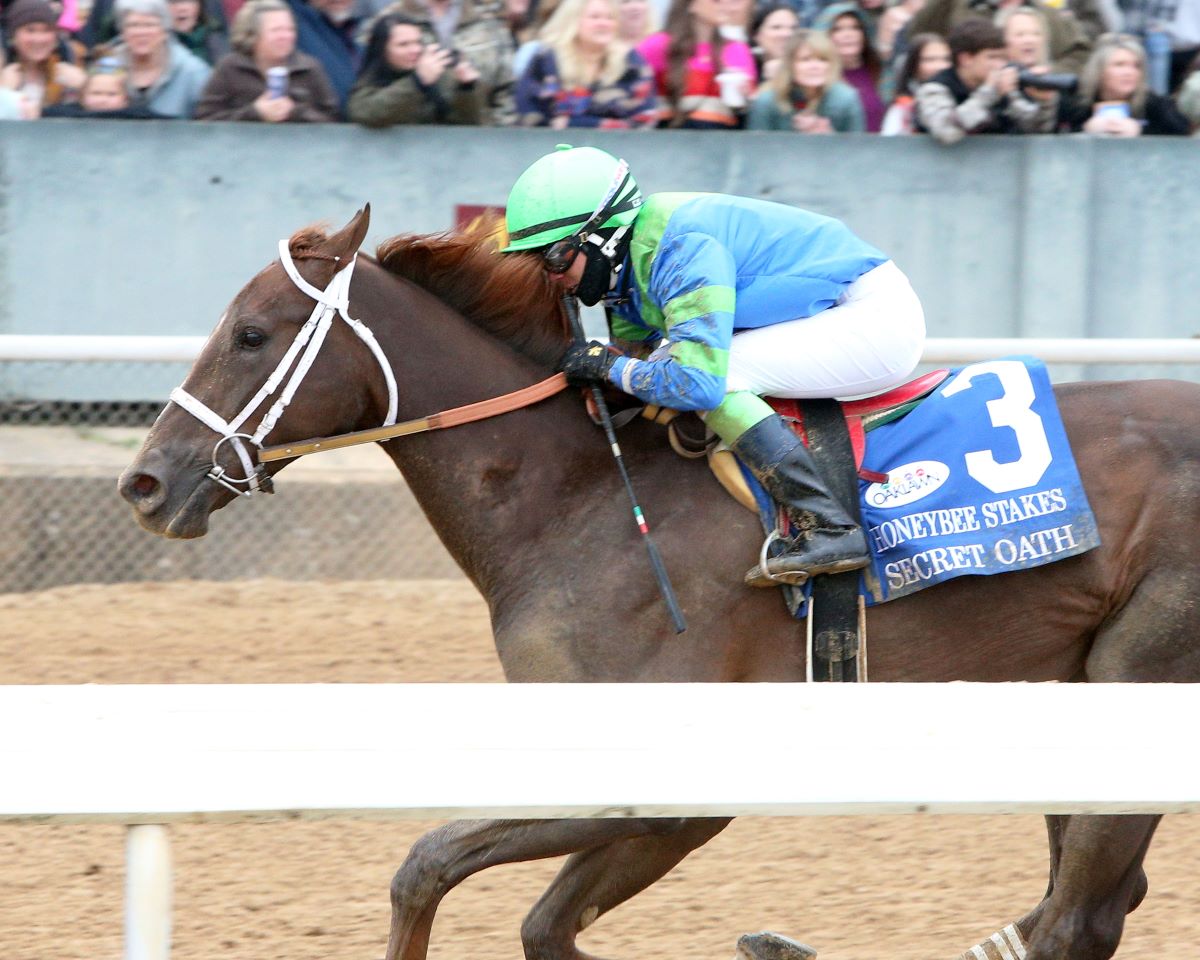 Lukas broke the news to retired Hall of Fame jockey and current jockey agent Gary Stevens late Saturday on Fox Sports' America's Day at the Races telecast.
When you dig deeper, the move to run Secret Oath in the 1 1/8-mile Arkansas Derby makes sense on numerous levels. First off, Secret Oath already qualified for the May 6 Kentucky Oaks through her victories in the Martha Washington and Grade 3 Honeybee Stakes. Her 60 points from those two races puts her safely in that field, where Lukas said she'll run. Secret Oath closed as the 7/2 second choice in this weekend's lone Kentucky Oaks Future Wager pool.
"I've got the Oaks, anyhow," Lukas told Oaklawn's Robert Yates. "That's where I'm going. We have no plans to run in the Derby now. That's not chiseled in stone, either, but that's the way the Mitchells feel. They don't want to run in a 20-horse field. They feel like the Oaks is every bit as prestigious."
Should Secret Oath finish first or second in the Arkansas Derby, a 100-40-20-10-point race for the top four finishers, she'll have enough points to run the Derby. Right now, that's not on the radar of either Lukas or owners Robert and Stacy Mitchell.
Lukas knows this routine very well
Running fillies against colts is straight out of Lukas' playbook. And it's straight out of his playbook for this race. He won the 1984 Arkansas Derby with Althea. Lukas' coup of coups was winning the 1988 Kentucky Derby with filly Winning Colors. In 1986, Lukas' Lady Secret won the Grade 1 Whitney at Saratoga en route to being named Horse of the Year. Then, there was Serena's Song, who finished 16th in the 1995 Derby, then went on to win the Haskell two months later at Monmouth Park.
From a performance standpoint, it makes sense. Secret Oath left a combined 23-length wake of destruction in her three races. She won her debut in a December allowance by 8 ¼ lengths, the Martha Washington by 7 ¼ and the Honeybee by 7 ½. Her time in the Feb. 26, 1 1/16-mile Honeybee was 1:44.74. Later that day in the Grade 2 Rebel Stakes, 75/1 winner Un Ojo went 1:45.69 over that same distance.
Secret Oath clocked a career high 100 Equibase Speed Figure for the Honeybee. Un Ojo, who is expected in the Arkansas Derby, clocked a 91 Equibase.
Then, there is the money factor. The Arkansas Derby offers a $1.25 million purse. The Grade 2 Fantasy Stakes, that day's Oaks prep, offers $600,000.
Secret Oath gets home-track advantage
"First of all, you want to absolutely think that you are as good as any of the other 3-year-olds that might show up and you don't really know who is going to show up," Lukas said. "And then second, you consider that she's been here at home. If you're going to step out of the box, that's probably a good spot to do it. She's been successful on this racetrack. The third thing is a million, two-hundred fifth thousand is probably the most attractive purse she'll ever run for. I was thinking the other day that it will be hard to imagine she's going to run for a bigger one, except in the Breeders' Cup. So we factored that in."
Finally, there is a timing element. Either the Oaks or the Derby come five weeks after the Arkansas Derby, a change from the three-week span between the races run between 1996 and 2021. That's a sweet spot for Lukas from a time factor and a byproduct of Oaklawn's extended, 66-day race season.
Moving the daughter of the late champion Arrogate to the Arkansas Derby has a domino effect on Lukas' prime Derby hope: Rebel Stakes runner-up Ethereal Road. Lukas said he'll now detour Ethereal Road and his 20 Derby points to the Grade 1 Blue Grass Stakes April 9 at Keeneland.