Brad Cox looks at Knicks Go standing in his barn. Then, the trainer looks ahead at next month's Grade 1 Pegasus World Cup Invitational with a mixture of anticipation and sadness.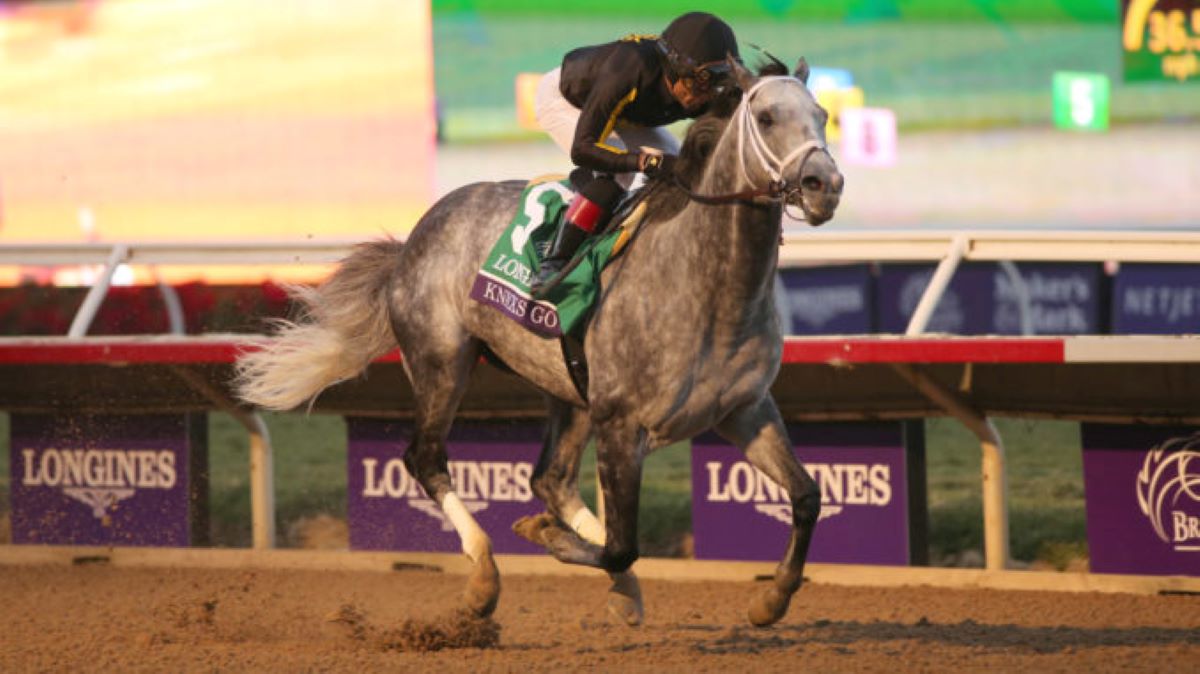 Anticipation at seeing the likely 2021 Horse of the Year finish his career in a $3 million race that he won last year. And sadness, knowing this is Knicks Go's final race.
"It's kind of weird, knowing this is going to be his last run, Cox told Gulfstream Park's media department. "We're enjoying still having him in the barn. Hopefully, we're going to have prepared to the best of our ability when we lead him over there [on] Pegasus Day. It's going to be very exciting. It's going to be bittersweet. But [we're] excited to give him one more run. Obviously, we hope he goes out a winner, and we'll definitely be sorry to see him go."
His competitors won't be sorry to see Knicks Go go off to the breeding shed. The sooner Knicks Go rides off to stallion-hood, the sooner his competitors can forget trying to catch him around two turns. And the sooner they can forget what it's like to cope with a horse with more early and late horsepower than they possess.
Knicks Go riding out on top
Knicks Go comes into his farewell race riding a four-race winning streak. In that streak, encompassing two Grade 1s and two Grade 3s, Knicks Go averaged a 117 Equibase Speed Figure. He won the four races by an average of nearly 5.4 lengths.
He opened his 2021 winning the Pegasus by nearly three lengths. That jump-started a 5-for-7 run in the 2021 season, one producing more than $7.3 million in earnings. Cox called him a "throw-back horse," pointing to the fact he won Grade 1 races at ages 2, 4, and 5, including two Breeders' Cup races, the 2020 Dirt Mile and the 2021 Classic. For good measure, he also posted a second in the 2018 Juvenile.
Since joining Cox's barn prior to his 4-year old season, Knicks Go has followed the same plan: get off to a lightning start. That forces his competitors into a Hobson's Choice: run with him and forfeit any chance of winning, or hang back and wait for a break that doesn't happen. Once Knicks Go gets a lead going into the far turn of a two-turn route, he's impossible to catch.
Quick turn of foot usually comes on the turn
Both recent Grade 1 victories were blueprints of this running style. In August's Whitney at Saratoga, Knicks Go simply grabbed the lead from the outset and never relinquished it. Nor was he seriously challenged. In the Classic, he did the same. Only Hot Rod Charlie coming out of the turn made a serious run. And, after letting him get within a length, Knicks Go shifted into another gear and pulled away.
"He kind of puts them away through the far turn; that's where he gets his separation," Cox said. "People have to go all in. They go into chase mode and they can't get to him while he's still cruising. Speed, that's his weapon. Horses are going into chase mode probably three-quarters of a way through a race, and he's still on cruise control."
The 1 1/8-mile, two-turn configuration at Gulfstream is perfect for Knicks Go. It's right in his wheelhouse: a nine-furlong, two-turn route that allows him to break early and repel any would-be pursuers late.
Ready to get back to work for the last time
Cox can't wait to see Knicks Go try winning a Grade 1 as a 6-year-old, even if it means he won't see him race ever again.
"It's icing on the cake for sure because he's delivered in a big way over the last few years – actually, his whole career," Cox said. "What he accomplished at 2, as well. It will be neat to get one more run in him at the age of 6. He certainly doesn't look like a horse needing any time off or anything. He was let down a little bit for around five days at Taylor Made (Farm) just for inspection for breeders to come over and look at him. But he was ready to get back and go to work and, hopefully, it is icing on the cake with the Pegasus."