How does Knicks Go vs. Life Is Good for the Pegasus World Cup sound? Like the Breeders' Cup Classic winner isn't quite ready for his stud career yet?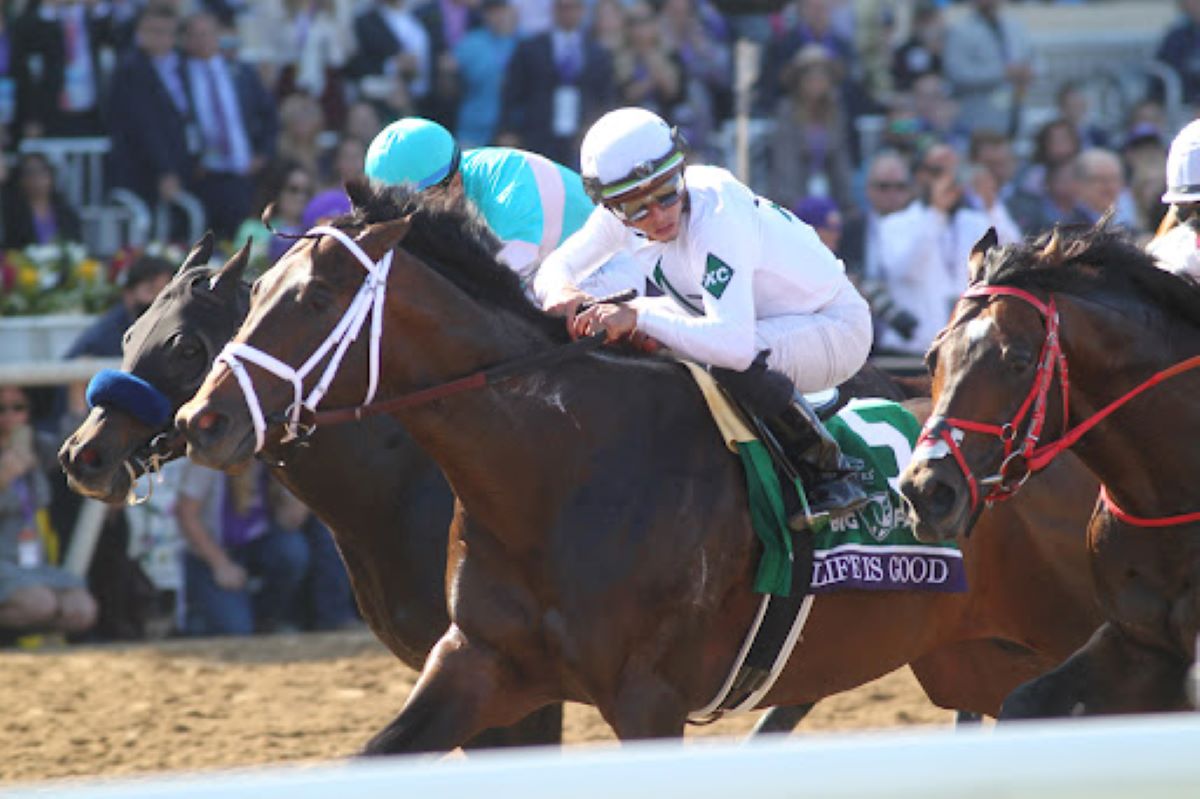 Trainer Brad Cox told the Breeders' Cup notes team that the Classic winner and all-but-anointed Horse of the Year has one more race in him before his stallion career at Taylor Made Farm awaits.
"If he comes out of it good and he trains well, we'll point for the Pegasus," Cox said Sunday. "It's a good purse, it's a surface he likes and if he's doing well, there have been horses that won the Breeders' Cup and ended their careers with that, between the likes of Gun Runner and City of Light. It's always a nice race that you can pick off hopefully before going off to stud."
Knicks Go picked off a strong field in Saturday's Classic where he went off as the 3.20/1 second-favorite. His 112 Beyer Speed Figure was the best Beyer of any Breeders' Cup runner and one point off his career-best.
Complete Beyers for @BreedersCup Weekend @DelMarRacing led by 112 for Knicks Go, 109 for Life Is Good, 107 for Golden Pal.. pic.twitter.com/rx3IvEBnxG

— Steve Byk (@Steve_Byk) November 7, 2021
That's that for Essential Quality
Knicks Go's stablemate and Cox's 3-year-old mainstay, Essential Quality, is headed off to stud after his third to Knicks Go and Medina Spirit in Saturday's Classic. The Belmont and Travers champion takes his 8-0-1 career record and more than $4.7 million in earnings to Darley America's Jonabell, Kentucky, farm. There, he'll stand for $75,000 in his first year at stud.
The only thing left on Essential Quality's racing plate is whether he or Medina Spirit will claim Champion 3-Year-Old honors. You could make a case for either of them, which both Cox and Medina Spirit's trainer, Bob Baffert did in the wake of Saturday's 2-3 Classic finish. Essential Quality was the 9/5 post-time favorite.
"I think he deserves to be champion 3-year-old," Cox said. "He has two big Grade 1s, two very prestigious wins in the Belmont and Travers. He was able to have a campaign all year. It started in the Southwest; he ran a big one in the Blue Grass. The Derby, obviously, didn't work out quite the way we would have liked, but he was able to follow it up with a spectacular summer at Saratoga. And then to come in here and I really think he performed very well. I thought about this this morning when I woke up: 'Is there anything I could have done different with him to prepare for this?' I wouldn't have prepared him any different."
Medina Spirit did beat Essential Quality twice
Mr. Baffert, your response concerning Medina Spirit?
"He was best of all the others and he beat those same 3-year-olds (Essential Quality and Hot Rod Charlie) again by about the same margin," Baffert said, referring to Medina Spirit's victory over his fellow sophomores in May's Kentucky Derby.
Baffert said nothing was on the immediate horizon for Medina Spirit, who finished 2 ¾ lengths behind Knicks Go at 6.80/1. That came with a 109 Beyer, tying Life Is Good's mark in the Dirt Mile for the No. 2 Beyer of the weekend. But he said owner Amr Zedan was interested in running him in the Saudi Cup in February.
Hot Rod Charlie took one for the team, chasing Knicks Go
Hot Rod Charlie, meanwhile, has no immediate plans coming out of the Breeders' Cup after he and his 107 Beyer finished 4 ½ lengths behind Knicks Go. Roadrunner Racing's Greg Helm, who owns the horse with Boat Racing, Bill Strauss, and Gainesway Farm, told OG News you should expect more of the Oxbow colt next season.
"Our plan is to run him. He's America's horse," Helm told OG News via text.
Hot Rod Charlie sacrificed his board-hitting opportunity when he made a strong run at Knicks Go coming out of the far turn. He tired and got passed by his fellow 3-year-olds in mid-stretch.
"He came out of the race fine and scoped clean," trainer Doug O'Neill said. "We will sit down and discuss it (plans for 2022), but right now, nothing is targeted. He's only 3 and it is very exciting to think about the possibilities for him."
Life Is Good was better than good in the Breeders' Cup
That brings us back to Life Is Good, who turned in probably the best performance of the weekend. His 5 ¾-length bludgeoning of the Dirt Mile field as the 3/5 favorite was the biggest victory margin of the 14 Breeders' Cup races. The 109 Beyer came with searing fractions of 21.66 seconds (quarter-mile), 44.94 (half), and 1:08.76 (three-quarters). He stopped the clock in an impressive 1:34.21, going gate-to-wire and forcing jockey Irad Ortiz to gear down in the middle of the turn.
"It was everything that we were hoping for and then maybe even more," trainer Todd Pletcher said. "My first concern was just, hopefully, he hadn't gone too fast, but it seemed like he was relaxed and settled. In spite of the fact that he was rolling right along, he was doing it comfortably. I think that's kind of what we've come to expect from him. It's one of those horses that's extremely fast, has a very high cruising speed, and the ability to continue doing it."
Had it not been for a 5 ½-month layoff between races due to an ankle chip. Life Is Good would be firmly in the discussion for Champion 3-Year-Old. He'll get votes along with another shot at Knicks Go in the Pegasus on Jan. 29.
"That's what we'd spoke about prior to the race that our sort of two-race plan was the mile and then stretch him out further in the Pegasus," Pletcher said. "He certainly ran well enough to proceed in that direction if everything goes smoothly, but we haven't really had any time to really firmly discuss our entire plans yet."
Golden Pal ran a gilded Breeders' Cup race
One of the other lights-out Saturday performances came from Golden Pal, who won the Turf Sprint gate-to-wire with a career-best 107 Beyer. Trainer Wesley Ward said he can't wait to get the 3-year-old on the track for his 4-year-old season.
"I've been singing his praises for a long time and he's the best one we had running," Ward said. "I'm excited to run him in the Breeders' Cup next year at Keeneland. He's going to be a four-year-old and faster. We'll point to Royal Ascot with him in the King's Stand and prep at Keeneland in April in the Shakertown. If he can win in England, he can really stamp himself as a stallion."