Former two-division UFC champion Conor McGregor announced on Twitter on Saturday that he will resume training next year, and plans to return to the Octagon soon thereafter.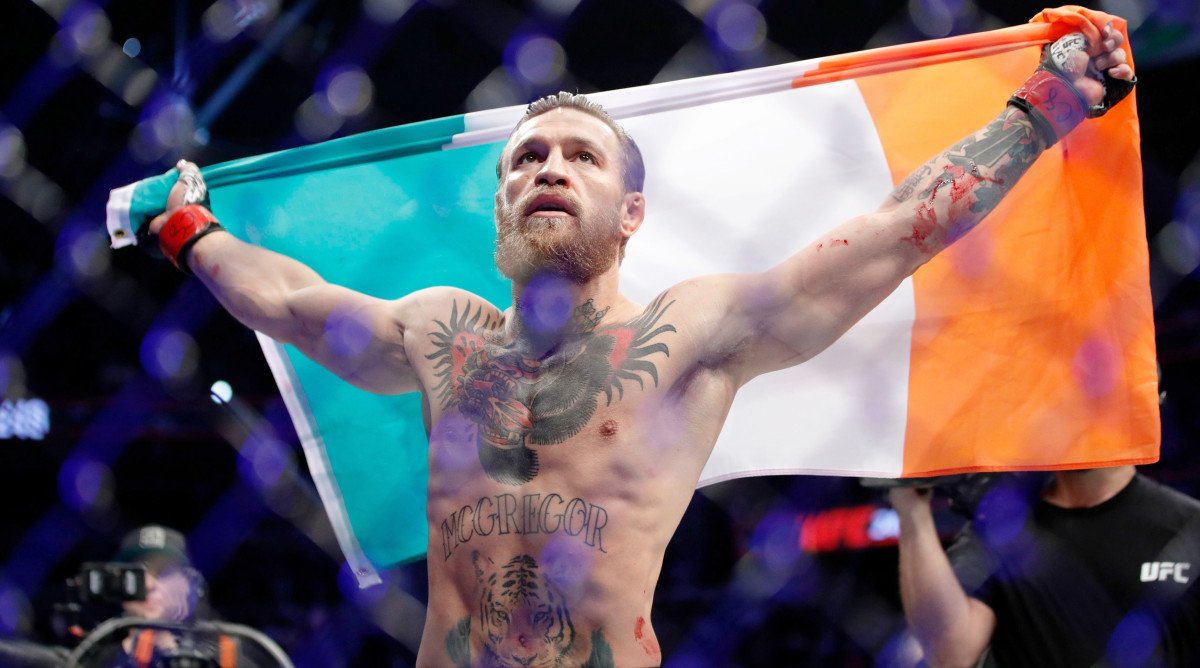 McGregor fractured the fibula and tibia in his left leg during his loss to Dustin Poirier at UFC 264 on July 10.
McGregor tweets out future plans
The Irishman lost that match due to a doctor's stoppage after the first round. That gave Poirier a 2-1 lead in their lifetime series.
The 33-year-old McGregor tweeted that he will be able to start training again by the spring.
I will be full mixed martial arts sparring by April. Easily! By then a return will be imminent. But I must be patient. I will beat this! https://t.co/KmgS9oa9Tv

— Conor McGregor (@TheNotoriousMMA) November 27, 2021
"I will be full mixed martial arts sparring by April," McGregor wrote. "By then a return will be imminent. But I must be patient. I will beat this!"
Last week, McGregor (22-6) tweeted that he wants his next fight to be against the UFC lightweight champion at the time of his return. Poirier will fight Charles Oliveira for that title on Dec. 11 in UFC 269.
Nurmagomedov bringing promotion to Miami
Khabib Nurmagomedov will take his Eagle FC MMA promotion to the United States in 2022, running a card in Miami this January.
Eagle FC has run shows primarily in Russia, with other events taking place in Kazakhstan and Kyrgyzstan. But Nurmagomedov says that he wants Eagle FC to grow, and that means taking the promotion abroad.
"If you want to become big in MMA, you have to be in the USA," Nurmagomedov told ESPN. "For fighters, for promotions – you have to be in the US. If you're not in the US, you can never become No. 1. It's almost impossible."
Nurmagomedov, who retired as UFC lightweight champion with a perfect 29-0 record, says he also wants to expand his roster as a part of that growth.
"2022 is going to be a very big year for Eagle FC," he told ESPN. "We're going to sign more than 50 fighters around the world – young fighters, former UFC and Bellator stars."
Tyron Woodley calls out Jake Paul, promises more fights
Former UFC champion Tyron Woodley says that even if he can't get a rematch with YouTuber Jake Paul, he plans on fighting in a variety of formats in the years to come.
Paul defeated Woodley by split decision in an eight-round boxing match in August. Paul offered Woodley a rematch if he would get a tattoo proclaiming "I love Jake Paul." Woodley got the tattoo, but the rematch never materialized.
"Jake Paul is a b*tch," Woodley told MMA Junkie. "Most people that watched the fight felt like I won the fight I really didn't walk away a loser in the fight. My ceiling doesn't look different right now."
Paul will next fight Tommy Fury on Dec. 18. Meanwhile, Woodley says he'll be picking up more fights wherever he can find them.
"I'm the only free agent in combat sports," Woodley said. "You're going to see my fight multiple times, for different promotions – four different styles of fighting. I'm going to be the first one to do it, and then everybody else is going to follow behind like they always do."