In 2014, Conor McGregor finished Dustin Poirier in less than two minutes to continue his march to the featherweight title. In January, Poirier got his revenge with a second-round TKO over McGregor at UFC 257. Now, both men enter their trilogy bout at UFC 264 on Saturday night.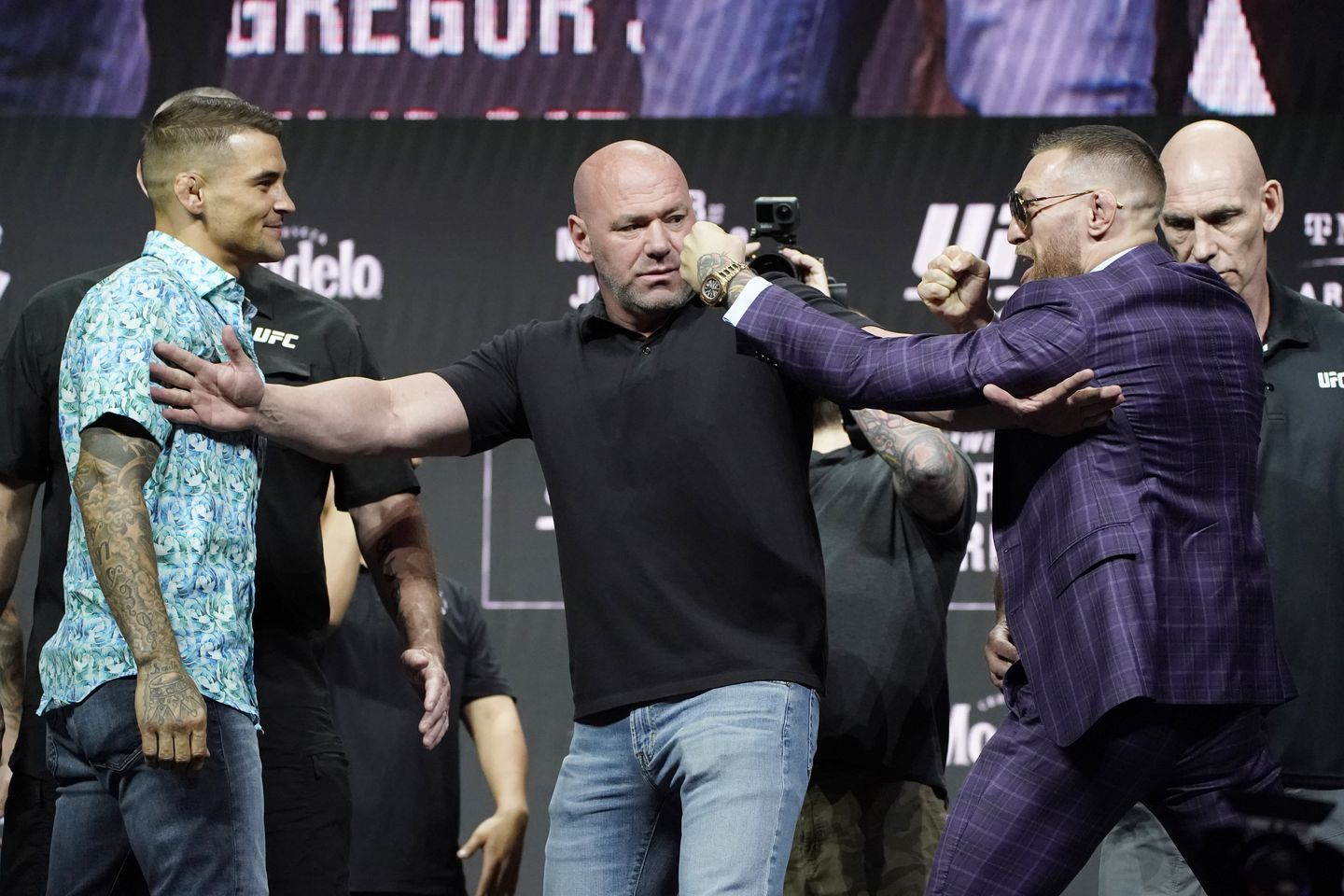 Poirier comes into the fight in Las Vegas as the slight -130 favorite over McGregor (+102), according to FanDuel Sportsbook.
Poirier ignores McGregor trash talk
That's a product of just how dominant Poirier's performance was in January. He neutralized McGregor with leg kicks – a tactic the Irishman seemed unprepared for – before the second-round finish.
Now, Poirier (27-6) will look to prove that the complete turnaround in the rematch wasn't just a fluke. While McGregor has continued to trash talk ahead of the fight – it would hardly be a Conor McGregor fight if he didn't – Poirier says he's unfazed by the chatter.
"I felt like I saw a guy who was unsure of himself, scared, trying to hype himself up," Poirier told ESPN, speaking of McGregor's attitude at the pre-fight press conference. "I knew he was going to be acting crazy. But to see him in the flesh, it just made me feel good because he has that little guy, not that guy he used to be, I feel – though my eyes, anyway."
McGregor (22-5) has tried, of course. After Friday's weigh-ins, he took one last shot at Poirier, vowing to get a lot more than revenge for his January loss.
"In 16 hours time, this many is going to learn that when you disrespect a person's kindness and take it as a weakness, you must pay," McGregor said, speaking to Joe Rogan. "Tomorrow night, I'm gonna make this man pay with his life, and I mean it. You're dead in that octagon tomorrow night."
Once again, Poirier dismissed McGregor's words and promised to do his talking in the Octagon.
"It means nothing. Its noise," Poirier said. "Tomorrow night, tune in. I want to thank you all for the cheers and for the boos."
Adjustments key in third fight
McGregor's best chance at winning Saturday's fight may come in the early going. He could easily find an early opportunity, overwhelm Poirier and put him away before the American can bring a longer-term game plan to fruition.
But it's also possible that McGregor may learn from his mistakes and make the adjustments necessary to compete in a longer bout as well. That's what he did in 2016, when he recovered from a submission defeat to Nate Diaz to grind out a five-round decision victory in the rematch.
---
Poirier vs. McGregor Odds (via UFC 264)
Dustin Poirier: -130
Conor McGregor: +102
Method of Victory
Poirier by KO/TKO: +190
McGregor by KO/TKO: +155
Poirier by Submission: +650
McGregor by Submission: +2300
Poirier by Decision: +600
McGregor by Decision: +850
Draw: +5000
---
Meanwhile, Poirier will likely rely on what stands out as a stronger overall skill set and more variety in his offensive abilities to find one of several paths to victory. While McGregor by KO/TKO (+155) is the most likely result, FanDuel sees reasonable chances for Poirier to win by knockout (+190), submission (+650), or decision (+600).
McGregor and Poirier will headline a UFC 264 card that includes 13 fights. In the co-main event, Gilbert Burns (+136) takes on Stephen Thompson (-174) in a welterweight battle between two former title challenges.