Dustin Poirier defied the critics on Saturday night, scoring a TKO victory over Conor McGregor to avenge his 2014 loss to the Irishman. But with a champion who doesn't want to fight, and several big names in the division, the win did little to clarify the UFC lightweight title picture.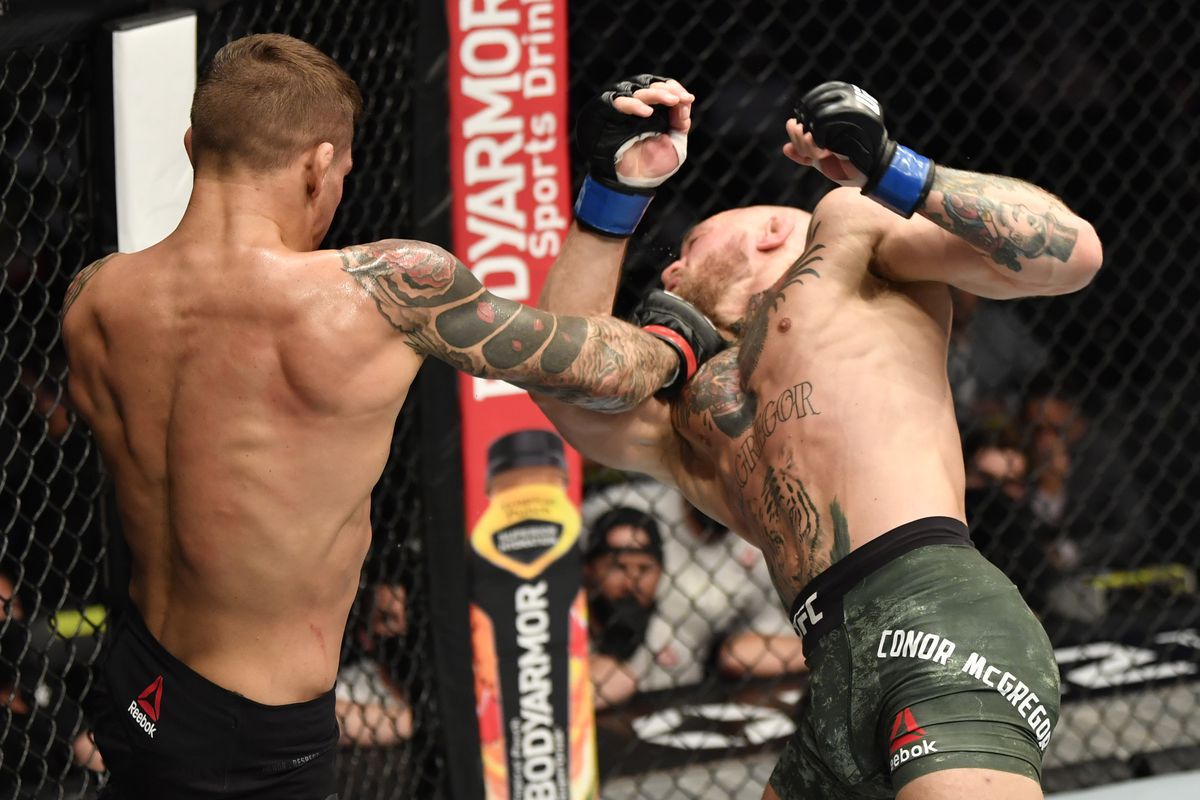 Poirier wasn't the only lightweight to make a statement at UFC 257. Michael Chandler earned some respect of his own by knocking out Dan Hooker in the first round of the co-main event.
Retired Nurmagomedov Looms Over Lightweight Division
The results vault both Poirier and Chandler directly into the title discussion in the 155-pound division. They join top contenders like Justin Gaethje and Charles Oliveira as fighters who can make cases that they should be the heir apparent to the crown.
Still, any discussion of the UFC Lightweight Division begins with Khabib Nurmagomedov. The 29-0 legend remains the champion at 155 pounds, even though he announced his retirement after beating Gaethje last October. UFC president Dana White continues to insist that he might be able to get Nurmagomedov back for one more fight in an attempt to run his record to 30-0.
After UFC 257, White expressed doubts about getting Nurmagomedov back in the Octagon. That was largely due to what the champion saw on Saturday night.
"He said to me, 'Dana, be honest with yourself. I'm so many levels above these guys,'" White said after the show. "I don't know. It doesn't sound very positive."
Nurmagomedov even took a shot at McGregor after his former rival's loss in the main event.
This is what happened, when you change your team, leave the sparring partners who made you a champion and sparring with little kids, far away from reality.

— khabib nurmagomedov (@TeamKhabib) January 24, 2021
"This is what happened, when you change your team, leave the sparring partners who made you a champion and sparring with little kids, far away from reality," Nurmagomedov tweeted.
Poirier Rejects Chandler as Next Opponent
If Nurmagomedov does ever return to action, there will be no shortage of willing opponents. Chandler called out the champion after his win on Saturday.
"THERE'S A NEW KING IN THE LIGHTWEIGHT DIVISION!"@MikeChandlerMMA put the division on notice after his debut win at #UFC257 😤 pic.twitter.com/UTBc1TdDsK

— ESPN MMA (@espnmma) January 24, 2021
"You are right, none of these guys can hold a candle to you. What are you going to do, come back and rematch? It's not going to happen because you don't need to do that," Chandler said in his post-fight press conference, addressing Nurmagomedov. "I promise you, I can beat Khabib and I told him. He will become 29 and Chandler."
The two convincing wins led to immediate speculation about a potential fight between Poirier and Chandler, but Poirier shot down that idea.
"I can guarantee I won't be fighting Michael Chandler," Poirier told reporters. "Not that I don't respect Michael Chandler. I just think there's more work for him to do than beat a guy I just beat."
Instead, Poirier pointed to No. 3 contender Oliveira as a potential opponent, or perhaps a trilogy fight with McGregor.
There's also the question of whether McGregor still figures into the title picture at all. While the 32-year-old will remain a huge draw for the foreseeable future, he's lost two of his past three fights.
In the world of MMA, losses aren't necessarily career-enders. And McGregor has signaled that he wants to ramp up his activity over the next two years.
"The truth is, the fight game will never get rid of me," McGregor told ESPN's Stephen A. Smith ahead of UFC 257. "If they line me up, I'll get about seven fights in the next year and a half. That's what I want."