YouTuber Jake Paul faces the biggest test of his young professional boxing career on Sunday when he battles former UFC welterweight champion Tyron Woodley in Cleveland.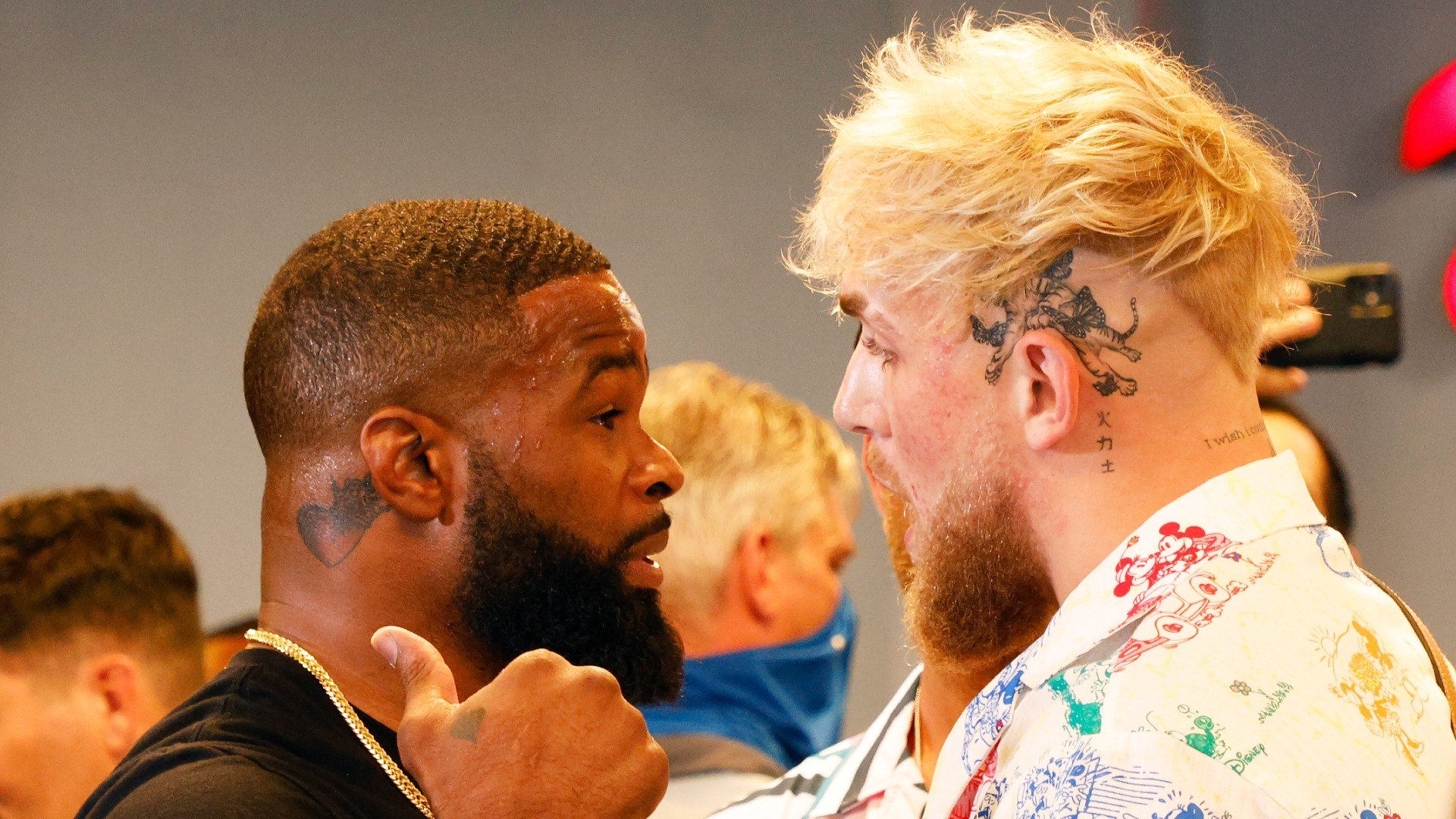 Woodley, like all of Paul's opponents, will be making his debut as a professional boxer in the bout.
Paul carefully steps up boxing competition
Paul has built a 3-0 boxing record, winning all of his fights thus far by knockout. He made short work of fellow YouTuber Ali Eson Gib, former NBA player Nate Robinson, and MMA fighter Ben Askren over the past year and a half, each time seemingly taking a step up in competition — but always avoiding actual boxers, at least for now.
That might not always be the case. But for now, the 24-year-old Paul is sticking to the formula, fighting Woodley, an MMA star who relied more on wrestling than striking during his career. That's not to say that Woodley can't strike: he scored seven knockouts during his time in the Octagon. But he's not a boxer by trade.
---
Jake Paul vs. Tyron Woodley Odds (via DraftKings Sportsbook)
Jake Paul: -185
Tyron Woodley: +155
Method of Victory
Paul by KO/TKO/DQ: -170
Woodley by KO/TKO/DQ: +165
Paul by Decision: +1200
Woodley by Decision: +1800
Draw: +2000
---
Once again, that makes Paul – who has proven he can actually box – the favorite in this matchup, though oddsmakers are keeping the line close. DraftKings Sportsbook lists Paul as a -185 pick over Woodley (+155).
But there are several reasons to think that Paul might hold a larger advantage than that. For one, Paul is the much bigger man. On Saturday morning, he weighed in at 190 pounds, with Woodley tipping the scales at 189.5 pounds. But Woodley fought at 170 pounds in the UFC, meaning he had to bulk up for this bout.
YouTuber training hard for boxing career
Paul has also taken boxing seriously, something his team says makes him extremely dangerous and far better than people realize.
"He's probably sparred close to 500 rounds with good pros all over the world," trainer BJ Flores told Yahoo Sports, speaking of Paul. "He spars with these kind of guys, five, six rounds, all the time. That's why I have so much confidence in him. It's impossible for Tyron to get that kind of work, to gain the experience needed to beat a guy like Jake."
While manufactured conflict is par for the course in boxing and MMA, an incident at a Thursday press conference may have sparked some actual animosity between the fighters. Woodley heard a member of Paul's team talking to his mother, which led to shoving and shouting. The two sides were separated before any real harm was done.
"One thing I don't do is disrespect," Woodley told ESPN. "They shouldn't have said nothing. They shouldn't have asked her what's two times two. I'm looking, I'm trying to do the faceoff and I hear him going back and forth with my mom. Any time something is going back and forth, that's unacceptable."
Even Paul admitted that the incident wasn't the kind of publicity he wanted to generate for the fight.
"If it was something else, I'd be like, 'Great, we sold more pay-per-views,'" Paul told ESPN. "On this day, with how it went down, I just didn't like it."
One thing just about everyone agrees on is that this fight will end with a stoppage. DraftKings is offering +550 on the bout going the full eight-rounds, or -1100 on it ending early.
"If [Paul] gets caught with a lucky shot, he could lose," Flores admitted. "Otherwise, [Woodley] has no chance to win this fight."