Duke's legendary basketball coach Mike Krzyzewski looked sullen from the bench as No. 10 Illinois took his No. 6 Blue Devils to task, 83-68, at Cameron Indoor Stadium Tuesday night. At the post-game press conference, he questioned why the game is going on at all during the pandemic's darkest days.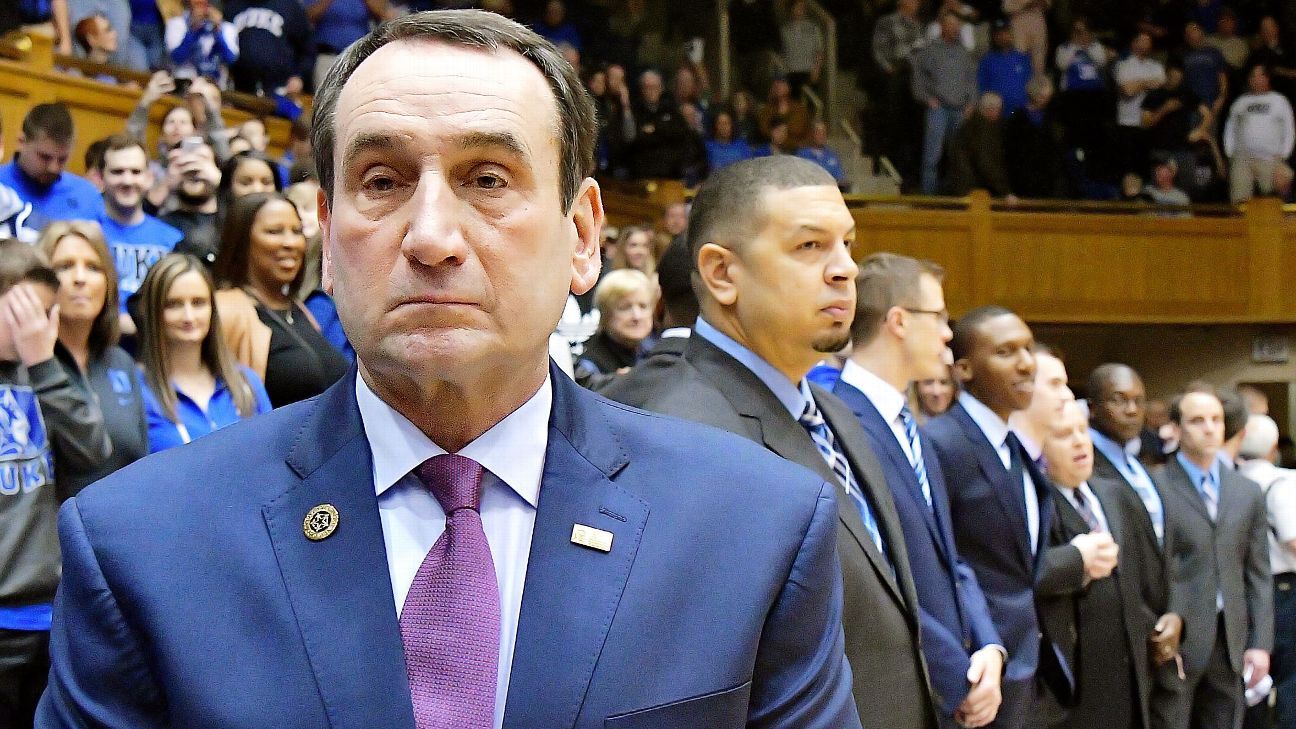 While both schools had enough healthy players to take the floor, yet another COVID-19 outbreak was in the process of canceling yet another Big-Ten-ACC matchup; No. 18 Virginia vs. No. 4 Michigan State. It was the fourth cancellation in less than 24 hours.
Top Programs on Pause, More to Come
Virginia joins No. 25 Louisville, Wake Forest, and NC State among the ACC basketball teams having to pause. No. 1 Gonzaga paused Monday through Dec. 14, and while the tracker continues to grow steadily with affected programs, the show goes on—for now.
Programs on pause:

Alabama St
Alabama A&M
Alcorn St
BCookman
CSU
DePaul
DSU
Duq
Elon
Fresno St
Fordham
FW
GMason
Gonzaga
UH
Ivy
JM
UL
Merrimack
Missouri St
Nicholls
NMSU
QU
Pacific
PV A&M
Presb.
SH
Siena
SJU
Temple
Towson
Tulsa
UConn
UT Martin
Vandy
UVM
Wake
UMES

— Jon Rothstein (@JonRothstein) December 9, 2020
The man with the most wins in college basketball history, Krzyzewski, laid it out in the post-game. "I don't think it feels right to anybody," he said. "I mean, everyone is concerned."
Krzyzewski said the bigger picture of impacted ICUs and the rising death toll across the county — and even in his backyard — is where the focus should be. North Carolina is on a blistering pace for new cases and hospitalizations, which forced Gov. Roy Cooper to implement a curfew from 10 p.m. to 5 a.m., starting Friday.
NCAA Absent from Conversation, Draws Heat from Krzyzewski and Others
The NCAA started the season less than two weeks ago on Nov. 25. As they did with a truncated football season, college athletics' official governing body released no special plans or recommendations for quarantine, travel, or player, staff, or community safety.
The individual conferences or teams have implemented their own protocols, or in some cases, are following guidelines put in place by their host cities or counties.
"I know the NCAA is worried about the end game," Krzyzewski said. "They're not as worried about the game we're playing right now."
Coach K says he understands his words might be parsed or misconstrued, but he stands by doing what's right for the players, the schools, and the greater good.
"I know somebody will take what I'm saying tonight and make it like I'm making excuses," Krzyzewski said. "I don't make excuses. We need to get a lot better. But for the good of the game, and the good of the safety and mental and physical health of our players and staff and whatever, we need to constantly look at this thing. And I think that's … I think that's a smart thing to do."
Many colleges and universities are attempting to quarantine players and, potentially, sequester teams over the forthcoming holiday break. Some schools are scheduling make-up games on the fly with regional opponents to mitigate travel risks.
"Do I think things should be done a little bit differently?" Krzyzewski said. "Yeah. I mean, you know, a lot of kids, kids aren't gonna be able to go home for Christmas, probably a time where they should for mental health. We're just plowing through this."
Vitale: 'This is Total Chaos'
In the meantime, it's clear to many, including some of the game's longest-tenured, that this isn't the way to start a season.
"This is total chaos," sportscaster and former coach Dick Vitale told USA Today over the weekend. "My feeling from Day 1 was that we should've started the season around February and then played conference games because this thing is out of control. Basketball is my life and my love, but it comes secondary when the disease is running rampant. We're going to have a lot of this happen, and we should be listening to the experts."