Less than two weeks into the season and men's college basketball has already seen more than 75 games moved or canceled as the US nears an average of 200,000 new Covid-19 cases a day, according to Johns Hopkins data.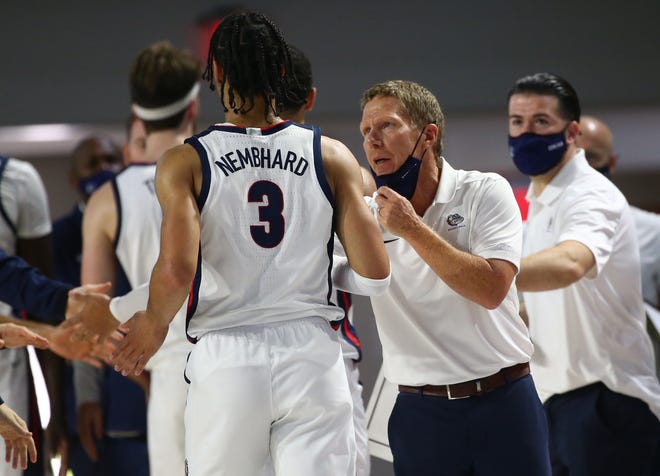 On Saturday, No. 1 Gonzaga canceled its meeting against No. 2 Baylor in Indianapolis. The school subsequently paused all team activities due to COVID-19 protocols one day after two players in the program tested positive.
Zags Cancel Four Games, UConn On Pause
Gonzaga won't return to action until the middle of the month, which means scratching games vs. Tarleton, Northern Arizona, and Idaho. Gonzaga will face No. 3 Iowa on Dec. 19 in Sioux Falls, South Dakota.
"I accordance with COVID-19 protocols, Gonzaga has decided to pause men's basketball competitions through Dec. 14," the school's statement said.
Gonzaga drew heat at the start of the season when it went ahead with its game vs. Auburn on Nov. 27 after one player quarantined due to a positive test and another sat due to contact tracing. Gonzaga posted a 90-67 win in that matchup.
UConn suspended team activities on Sunday after a member of the men's basketball program tested positive for COVID-19. Friday's game vs. St. John's is postponed.
"Per university protocol, team activities will remain on hold," the school's statement said.
The Huskies (3-0) had their game vs. NC State on Saturday canceled because of a positive COVID-19 test for a member of the Wolfpack, raising questions about whether the Mohegan Sun Casino's self-proclaimed "Bubbleville," which hosted a series of college games over the last two weeks, lived up to its name.
West Coast on Lockdown, Conferences and Schools Haven't Released Plans
On the West Coast, where 240,000 Californians have tested positive for the virus in the last 14 days, and about 112 have died each day over the last week, lockdowns and stay-at-home orders are in place for at least half the state in compliance with the Centers for Disease Control and Prevention's advisement that Americans neither travel nor gather in December.
Stanford men's and women's basketball teams are still looking for alternative sites to practice and play during Santa Clara County's mandatory three-week quarantine and shut-down, extending through the middle of the month.
The Cardinal men's team has games scheduled at Stanford for Monday and Wednesday, and on Dec. 19 and Dec. 21. The school hasn't yet released plans for rescheduling or comments on the county's ban on contact sports related.
Some speculate the basketball program may follow the football team's lead. That program is finishing its season on the road, setting up temporary practice facilities at the University of Washington last week and Oregon State this week before their Dec. 12 season finale.
NCAA Mum on Pandemic Policies
As coronavirus cases surpass 10,500 in LA County alone, Southern California basketball's immediate future is in jeopardy. Right now, the USC men are scheduled to host Irvine tomorrow and Stanford on Sunday. UCLA will host the University of San Diego on Wednesday and Marquette on Friday. Each game would violate Gov. Gavin Newsom's new stay-at-home order, which began at 11:59 p.m. Sunday.
The order will remain in effect until at least Dec. 28 for Southern California, and includes the cancellation of live audience sports and the closing of amusement parks.
As with football, the NCAA has been decidedly hands-off in setting protocols or policies during the pandemic. Its lone concession came in November when officials said they're considering a March Madness tournament "bubble" in a single location. The question remains, will the season survive until then?