Being an Instagram influencer is thirsty work. But the biggest celebs get paid handsomely for it, sharing glimpses into their glamorous lifestyles alongside a truckload of endorsements, promos, and sponsorships.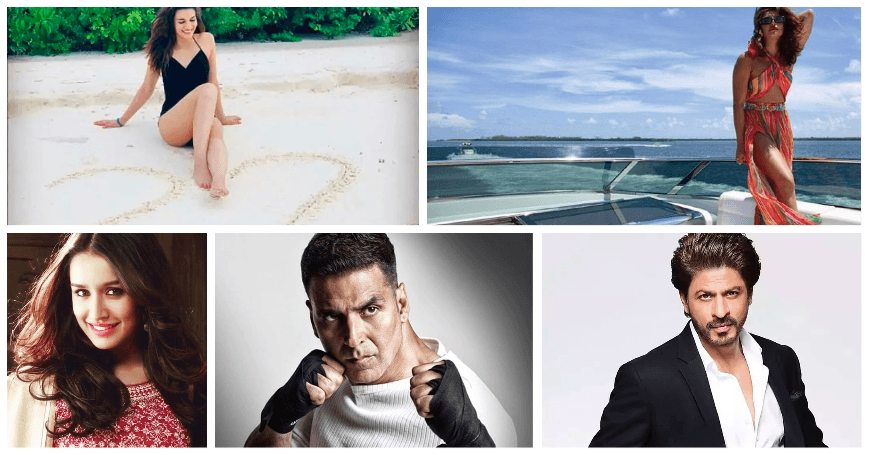 With tens of millions of online followers each, and avid global fanbases, it makes sense that Bollywood's best and brightest are among the most sought-after and best-paid social media stars.
After all, in 2019, reports valued the Indian film industry at a whopping $2.83 billion with around 2.2 billion movie tickets sold annually. Not bad.
But which all-singing, all-dancing superstars earn the most from Instagram? Here at OnlineGambling.com we worked out who Bollywood's biggest Insta earners are by considering the number of followers and potential pay packet per post.
Will 'King Khan' clinch the top spot in the social sphere? And how do Bollywood's big guns stack up against Hollywood's pulling power? Check out our infographics below to find out.
India's Leading Ladies
First up are the queens of the silver screen. Our research into Bollywood's biggest female Instagram earners reveal some not-so-shocking results.
With over 50 Bollywood blockbusters under her belt, and considerable screen time in the US too – not to mention a famous beau in the form of Nick Jonas – it's unsurprising that Priyanka Chopra is number one.
As our highest female Instagram earner with 57.8 million followers and a jaw-dropping $236,980 in potential earnings per post, the former Miss World pips second-placed Shraddha Kapoor. But the Stree and Saaho star could net a not-too-shabby $229,600 per post herself. Yep, that's correct, we did say 'per post'.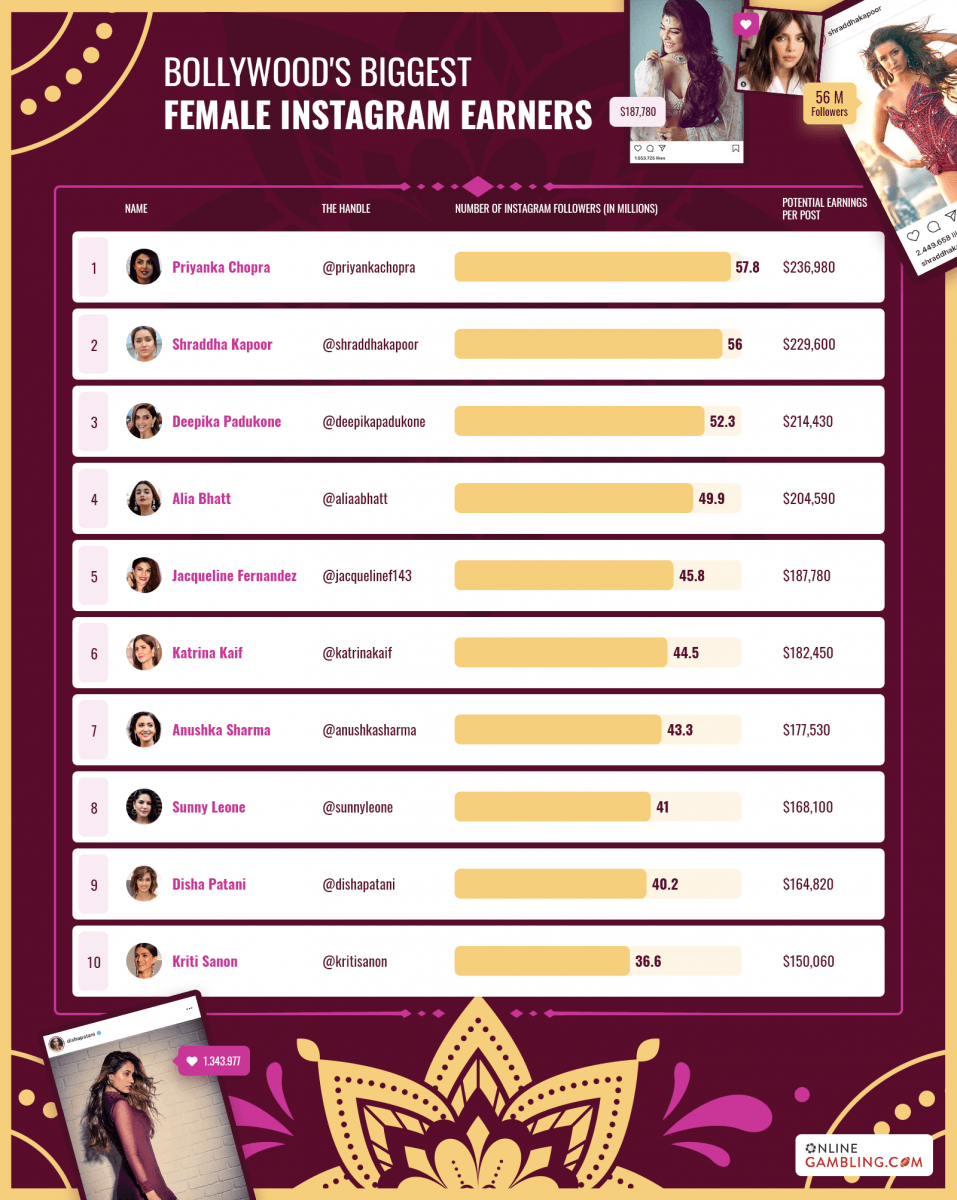 When it comes to acting peers elsewhere, Bollywood's biggest female earners are more comparable to Harry Potter actor Emma Watson – who brings home around $239,030 per post and has a reach of 58.3 million – than Hollywood's leading female influencer, Ariana Grande. The singer-turned-actor has 203 million followers, which equates to an estimated $832,300 per post. Nice work if you can get it.
But what about the guys?
Insta-Sexy
When it comes to Bollywood's top 10 male heartthrobs on the 'gram, the number of followers, and therefore earning potential, drops slightly. Our 10th placed female earner, Krti Sanon, has 36.6 million Insta followers, which is more than our runner-up male, Salman Khan, who 'only' boasts 36.1 million devotees.
So, our female stars lead the way. But who is the king of Bollywood Instagram earning? That would be multiple award-winning actor Akshay Kumar, who stands to scoop $190,240 per post thanks to his 46.4 million followers.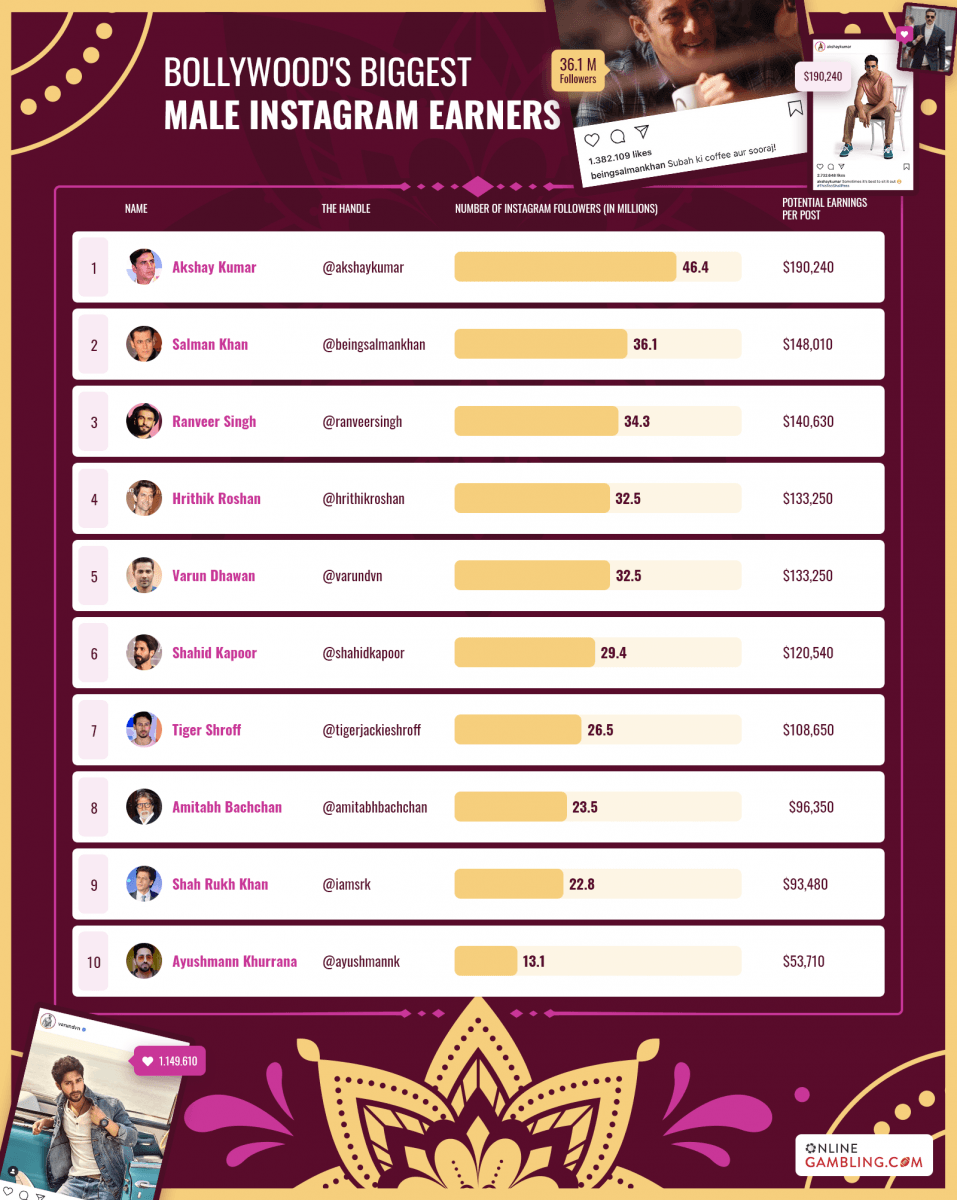 It may not be anything close to Dwayne 'The Rock' Johnson's $820,000 earning potential and 200 million fans, but it beats out other established male Hollywood names like Chopra's husband Nick Jonas, Deadpool's Ryan Reynolds and Spider-Man, aka Tom Holland. Kumar is also just whiskers away from Oscar-winner Leonardo DiCaprio and his $191,060 per post potential.
Other huge, hall of fame names in our Bollywood men's list of top Instagram earners include Ranveer Singh and Hrithik Roshan. While we also love that evergreen acting legend Amitabh Bachchan, he sits in eighth place on 23.5 million followers and $96,350 per post, ahead of even the mighty Shah Rukh Khan, who takes a surprisingly low ninth position. 
Methodology
Here at OnlineGambling.com we used the latest calculations from market research company, eMarketers to estimate how much Bollywood's superstars could earn per sponsored Instagram post.
We chose the celebrities with the most followers and used the calculation that, for every follower, an Instagram influencer is paid 0.0041 cents. Using this data we then worked out how much Bollywood actors would get paid per post and who would be the top 10 male and female earners overall.
Please note that figures and follower amounts were correct at the time of publication.
---
Sources