It seems these days everyone wants to be an influencer, and more and more that everyone and his/her dog is an influencer. But are they really? While looking at someone's list of followers might have been a good way to rate their "impact" we've flipped that theory on its head.
With so many fake followers out there that number actually means very little. Some people will buy followers, which are often bots anyway, just to boost numbers. Whilst these bots can be threatening to the average user – they can steal your data and hack your account – for the big ballers out there they just serve as empty numbers, upping your online fanbase.
Using the latest influencer tool in the market Modash.io we analyzed the top 10 followed sports stars in NFL, NBA, NHL, EPL and MLB to see which stars have the highest fake followers on Instagram. Each star has been ranked from top to bottom within their sports … So to kick off here are the NBA numbers: 
NBA
Even people who don't follow the NBA know about Lebron James, including a whole load of fakes! This basketball star is a worldwide brand and he's in first place in his team with a whopping 15.2m fake followers. That's a quarter of all his 61.6m followers!
In fact every player in the top 10 has their following made up with similar proportions. Kevin Durant has the highest proportion of real followers where just 19.5% (2.2m) of his are fake.
This team are killing it anyway as the player at the number 10 position still boasts 7.1m followers…even if up to a quarter of those are fake, no sweat, they're still reaching plenty of real peeps.
NFL
NFL players have less of an Instagram appeal according to the stats, with our top player, Odell Beckham Jr holding onto 14.1m followers, of which 2.7m of those are fake.
On the whole, the percentage of fake followers for these players is slightly lower, with Antonio Brown taking the lead with 19.95% of his 3.8m following.
Patrick Mahomes is keeping it the most real as only 12.51% of his 3.3m followers are fake.
EPL
In the Premier League, William Borges Da Silva who ranks 9th on the list of Insta following has the most bots hooked up to his feed. 24.5% of his 9m followers are fake.
Even with that chunk of fakes he's nowhere near Paul Pogba and his 39.8m total following. With 20.38% of his followers not coming up as real, the 8.1m bots that follow him almost match Da Silva's total following.
Gabriel Jesus, like his name might suggest, has mostly real support. Only 12.2% of his 14.4m followers are fake. Coming in on 5th place he's got 1.7m fake followers The only other player on the chart who doesn't break the 2 mil mark of bots is Javier Hernandez in 10th place. Of his 5.3m followers there are 1.1m fakes – that's 22.49%.
NHL
Hockey's not got quite the same global appeal and this is reflected by the players' online presence and influence.
Alex Ovechkin is the player with the most followers – 1.5m – of which only 15.07% of these are fake.
The player with the highest proportion of fake followers is Tyler Seguin who, with just over half a million followers in total, has 112.4k bots making up 18.28% of his online fanbase.
Auston Matthews has an impressively low number of fakes on his account. With just 71.9k bots it's a mere 11.18% of his 644K.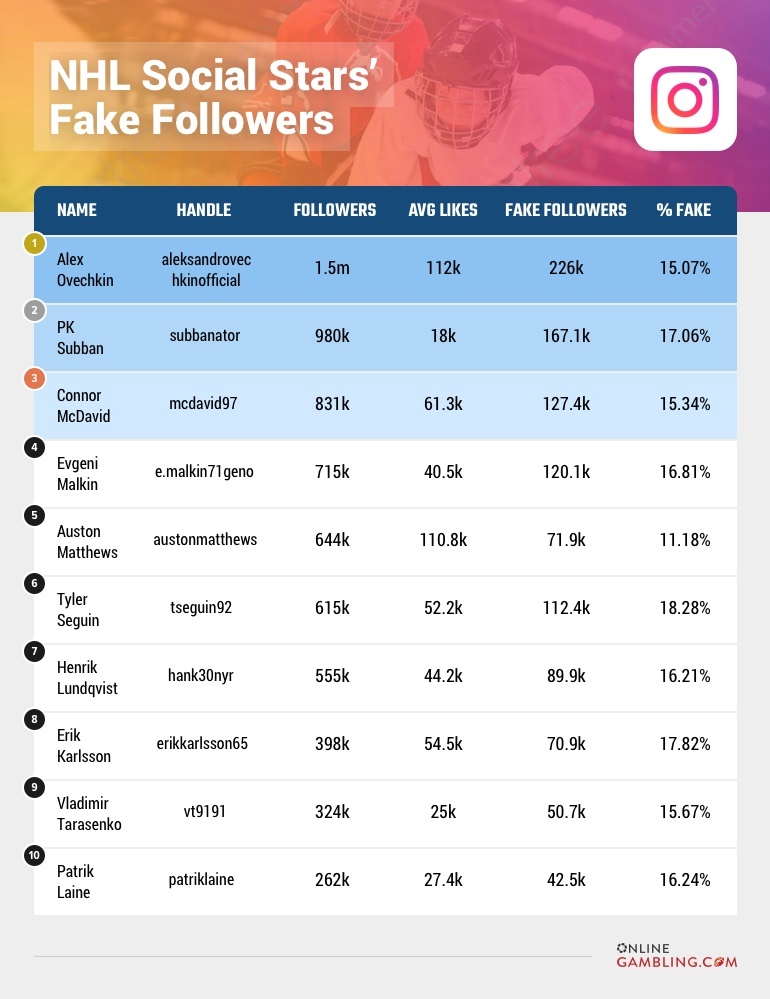 MLB
The baseball stars of USA might rile up a crowd on the pitch but their online influence isn't huge. Saying that, all but one of the top 10 players has less than a 20% bot following.
The player that breaks that stat ceiling is Giancarlo Stanton who in 6th place with 1.2m followers has 256.8k fake followers, which adds up to 21.4%.
Miguel Cabrera sitting in 10th position has one of the highest percentiles of fake followers – 19% – but it hasn't upped his overall 929K count enough to get him in the top five.
*   *   *
So there you have it, the numbers behind your sport stars and their social media following. So why do celebrities have fake followers? There are a couple of reasons, firstly they have bought them, and secondly they might just have been randomly followed.
If your account's open there's a high chance that you've got some fake followers on your account too, so don't judge these guys too harshly.
Suggesting that they bought these followers doesn't seem all too likely for stars like Lebron James. Seriously, you think he needs more appeal?
Where this fake follower buying is really popular is amongst reality show stars trying to boost their dollar.
Companies are more likely to use you for their ad campaigns if they think you're a sure way of reaching a lot of people, so higher numbers means bigger audience. But as we've shown, not always! People buying followers for this reason should watch out, technology's improving so companies will often check how much of your followers are real and therefore how much of a safe bet you are.
---
Sources: