'Hustle' is a new basketball movie from Netflix featuring Adam Sandler as Stanley Sugerman — a former college basketball player turned life-long international NBA scout from the Philadelphia 76ers — who finds a diamond in the rough prospect with Bo Cruz (played by real-life NBA player Juancho Hernangomez), a construction worker and playground hoops hustler from Spain.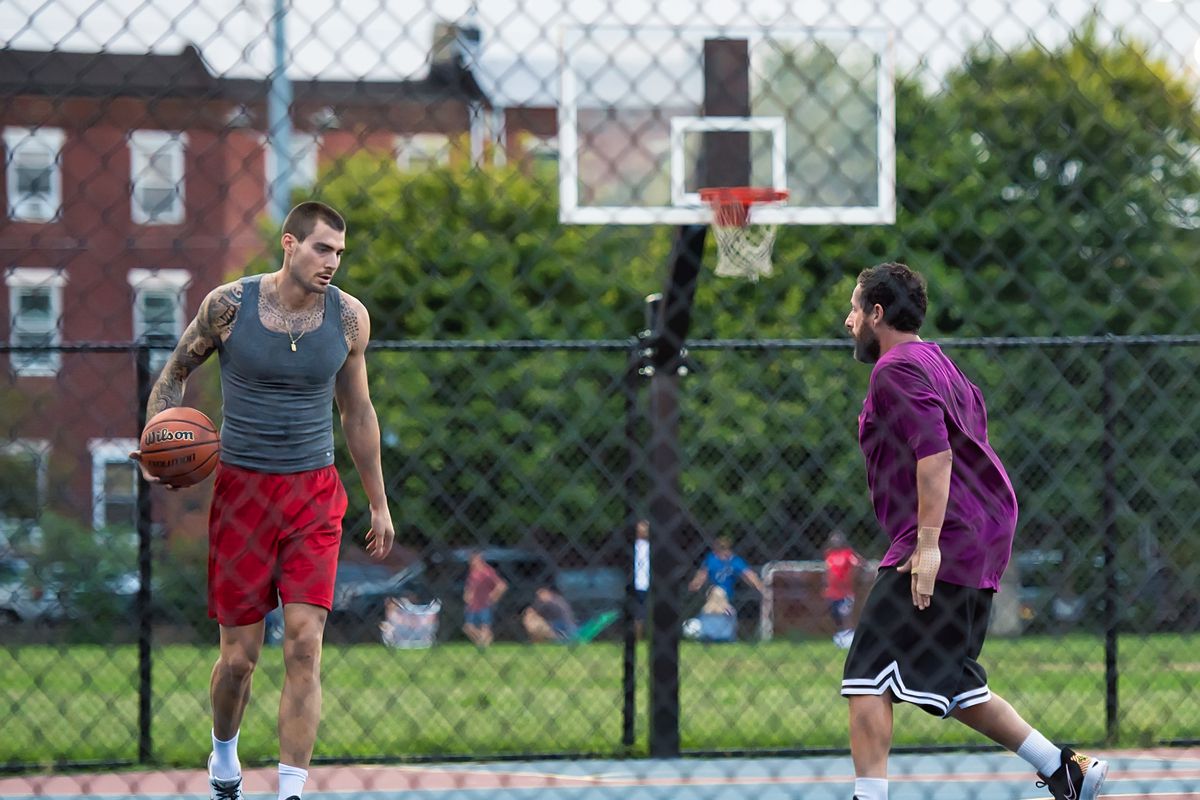 'Hustle' is written by Will Fetters and Taylor Materne. Director Jeremiah Zagar grew up in Philadelphia, which is one of the reasons the film is set and filmed in Philadelphia with cooperation from the 76ers.
Several members of the Sixers — both past and present — make cameos in the film including Julius 'Dr. J' Irving, Charles Barkley, Allen Iverson, Tobias Harris, Matisse Thybulle, and head coach Doc Rivers.
Release: June 2022
Written by: Taylor Materne and Will Fetters
Directed by: Jeremiah Zagar
Produced by: LeBron James, Maverick Carter, Joe Roth, Adam Sandler
Distributed by: Netlfix
---
European-born NBA players — Mo Wagner and Boban Marjanovic — get to play potential European prospects scouted by Sandler.
Anthony Edwards from the Minnesota Timberwolves plays a small yet memorable role as the potential #1 pick in the NBA Draft and nemesis for Bo Cruz.
Former NBA star turned commentator Kenny Smith also has a minor role in 'Hustle' as a big-time agent.
Hustling Hustle
The title 'Hustle' takes on a dual meaning. Hustle is a sports terminology about working hard and pushing yourself to the max no matter what is happening. There's also an entry for hustle in the dictionary that says "a fraud or swindle."
For both the main characters — Stanley Sugerman and Bo Cruz — there's both an element of hard work in the face of adversity, along with a little bit of swindle. Then again, that's show business. And we've become increasingly aware that professional sports — especially in America — has heavy emphasis on the entertainment side of show business. The modern NBA is also driven by big business interests, more so than the actual true nature of sport.
Any good and meaningful piece of fiction tells a multi-layered story with an allegory simmering beneath the surface. 'Hustle' is a basketball movie, yet beneath the surface it's also an allegory about Sandler navigating through three-plus decades in show business and Hollywood.
Several scenes in 'Hustle' give you warm memories of 'White Men Can't Jump.' Yet, there's also similarities to "The Barefoot Contessa", a film from 1954 starring Humphrey Bogart and Ava Gardner. Bograt plays a washed-up Hollywood director who discovers a bar dancer in Spain, and wants to bring her back to America to make her a huge star. Sound familiar?
The Plot: Sugerman Goes to Spain
Sugerman is a former college hoopster from Temple who had his college career prematurely end due to a tragedy. He becomes an NBA scout with his hometown Philadelphia 76ers, but longs to become a coach. Rex Merrick (Robert Duvall) is a self-made billionaire and he finally gives Sugerman a chance to become an assistant coach.
However, when Rex Merrick unexpectedly dies, his son Vince (Ben Foster) decides to go against his father's wishes. Vince demotes Sugerman and puts him back on the road to scout players in Europe. Vince and Sugerman have some salty history, because Sugerman did not want to squander a first-round draft pick on a German player named Hass, but Vince was all-in on the over-hyped kid. Hass ended up a draft bust, proving that Sugerman's assessment was correct which irked Vince.
Sugerman heads to Spain to scout one player, but finds another while looking to play a pick-up game on a local basketball court. He finds Bo Cruz playing in the park with construction boots on, yet he's schooling everyone while hustling a few Euros on the side.
Sugerman tracks down the construction worker with a troubled past, who also has to support his mother and young daughter. Bo had not played organized ball since he was a teenager, so he flew under the radar of other NBA scouts. Sugerman is convinced he found the next big thing and referred to Bo as if "Scottie Pippen and a wolf had a baby."
The Hustle: Bo and Sugerman in America
Sugerman convinces the 76ers to bring Bo to America, but discovers about an aggravated assault charge when Bo gets detained by Homeland Security at the airport. Sugerman keeps the new intel on the down low while Bo has a showcase for the 76ers brass. The workout starts out great, until the top college player — Kermit Wilts (played by Anthony Edwards, the former #1 draft pick by the Timberwolves) — gets under Bo's skin. Bo gets rattled and the 76ers leave unimpressed. Vince and Sugerman get into an argument and Sugerman quits.
Sugerman lies to his wife (Queen Latifah) and Bo when he says the 76ers is still interested, but he finances his training so he can get ready for the upcoming NBA Draft Combine. He asks his former Temple teammate and old friend Leon Rich to help get Bo an invite. When Vince finds out, he leaks information about Bo's shady past to the media, which gets him uninvited to the draft combine.
Sugerman's daughter Alex — an aspiring filmmaker — helps make a video campaign which shows Bo dominating opponents in playgrounds all over Philly. The videos and hashtag go viral and feature numerous current and former NBA players including Dr. J himself. After Bo blows up as an internet sensation with the viral videos, he gets invited to the combine.
SPOILER ALERT: Although the 76ers pass on Bo, we learn that Brad Stevens from the Boston Celtics liked what he saw and ends up drafting Bo. Oh, and Sugerman gets a happy ending too when he gets to join Doc Rivers' coaching staff with the 76ers.
Anthony Edwards is great in #HustleNetflix

— Ballislife.com (@Ballislife) June 8, 2022
Hustle: Did You Know?
Sandler played a degenerate gambler and NBA bettor in 'Uncut Gems', directed by the Safdie Brothers. Sandler is a fan of sports movies and made 'Happy Gilmore' and a remake of 'The Longest Yard.'
During COVID-19 lockdown, Hernangomez and his siblings were quarantining in Charlotte, where he had been playing with the Hornets. His sister encouraged him to go to an audition, which he initially declined. But, because they were bored and he had nothing else to do during lockdown, Hernangomez finally said yes.
Two legendary streeballers get some screen time including Grayson 'The Professor' Boucher and Larry 'Bone Collector' Williams.
Stanley Sugerman (Adam Sandler)
Teresa Sugerman (Queen Latifah)
Bo Cruz (Jauncho Hernangomez)
Vince Merrick (Ben Foster)
Rex Merrick (Robert Duvall)
Kermit Wilts (Anthony Edwards)
Leon Rich (Kenny Smith)
---
Anthony Edwards steals the show as the villain. He's really a great guy in real life, which is surprising to see him play a bad guy. For a non-actor, Edwards has been getting glowing praise for his role.
You cannot have a legit basketball movie without real NBA stars making a cameo, and 'Hustle' includes Luka Doncic, Seth Curry, Khris Middleton, Kyle Lowry, Shaquille O'Neal, Dirk Nowitzki, Trae Young, Jordan Clarkson, and Aaron Gordon.
Check out more basketball movies like Blue Chips and Hoosiers. We also wrote about some of your favorite baseball movies.