Bezos makes his debut today in a maiden special weight race on Santa Anita Park's Super Bowl Sunday card. This is hardly the class of race guaranteed to suck the oxygen out of the room on the biggest sporting day on the American calendar.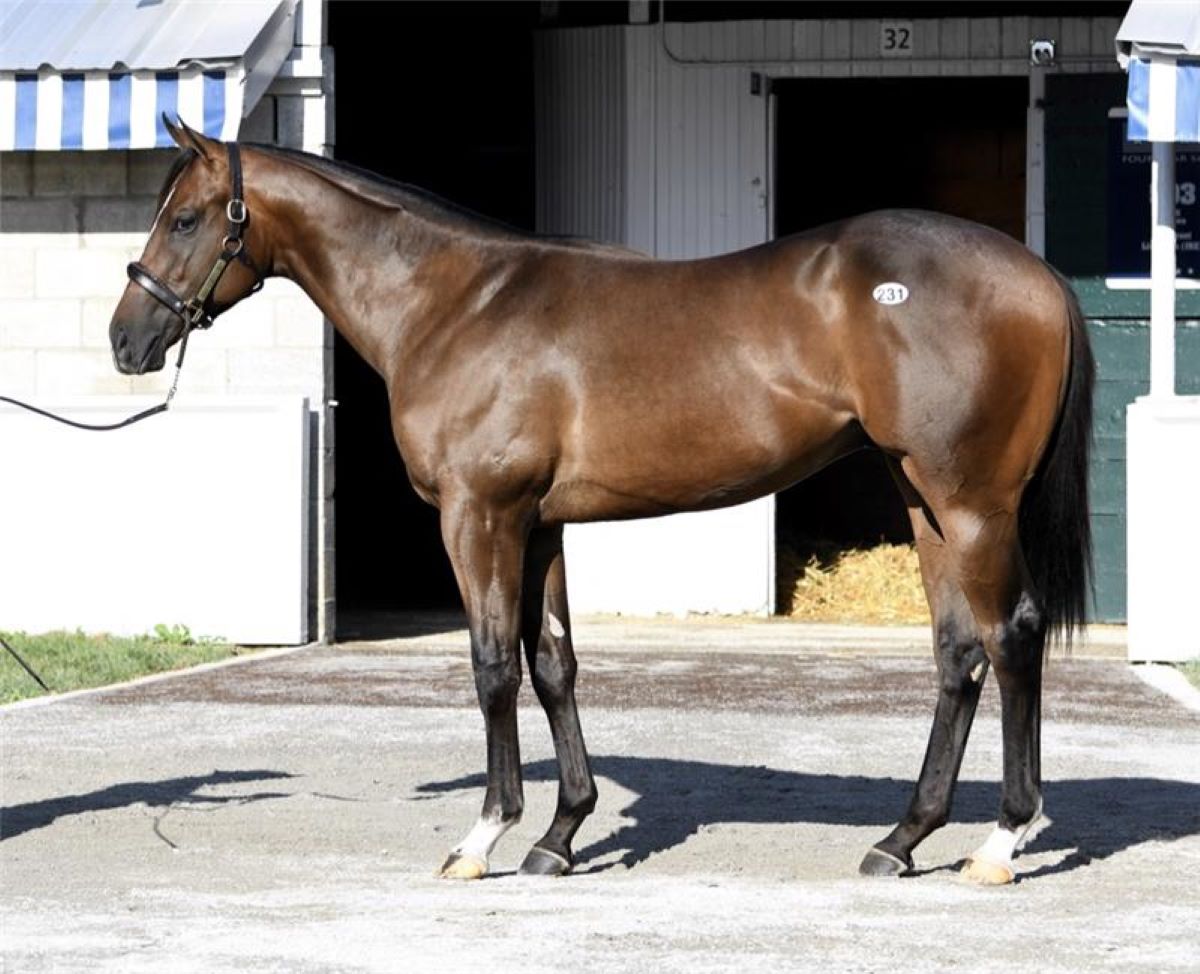 In horseracing, however, today's fifth race on a stakes-free Sunday at Santa Anita has everyone's attention. That's because unraced Bezos is yet another 3-year-old brought to you from Hall of Fame trainer Bob Baffert's barn.
Bezos comes to Baffert from the same connections who originally brought you Authentic. And Charlatan. And one member of the syndicate that owned 2018 Triple Crown winner Justify. That's the partnership of SF Racing, Starlight Racing, and Madaket Stables. Those represent three of the most powerhouse owners in North American racing.
There's more firepower. Taking ownership pieces of Bezos are Stonestreet Stable, Golconda Stable, Siena Stables, and Robert Masterson. This consortium didn't use Amazon to buy Bezos. They paid $400,000 at the 2019 Keeneland September Yearling Sale for the Empire Maker colt out of A.P. Indy mare A.P. Mink.
Could Bezos be the Next Justify?
That Bezos hasn't run yet early in his 3-year-old season hasn't dissuaded bettors from piling on. He's currently 11/1 at Circa Sports and 15/1 at William Hill Nevada. Circa Sports Risk Supervisor Paul Zilm told the Ron Flatter Racing Pod that he wanted to give Bezos loftier odds, but couldn't because of the avalanche of cash coming in on him.
What's more surprising is Bezos' presence on Pool 2 of the Kentucky Derby Future Wager. He closed at 26/1 in the pool that ended Jan. 24. He's the first horse to make the KDFW cut without a race.
But, there's more. Baffert also sends out Tivoli Twirl in the 6 ½-furlong race. Owned by Pandora jewelry baron Michael Lund Petersen, Gamine's owner, the $375,000 Twirling Candy colt comes in after a bullet 59.2-second, five-furlong workout on Jan. 31. That was the fastest time of the 64 runners at that distance that day. The next day, Bezos went 58.8 at the same distance. That was second-fastest of 30 at that distance.
How Many More Derby Prospects Does Baffert Have?
Santa Anita's morning-line author, Jon White, made Bezos the 6/5 morning line favorite. Tivoli Twirl, who starts next to his Post 5 stablemate in Post 4, is 4/1. Six of the nine horses in this race are making their debuts and – contrary to Bezos' presence — he's not a slam dunk here for the 1:03 p.m. PT race.
One of the three horses with a race under their tacks is second-favorite, Mr. impossible (7/2). He finished second by 3-½ lengths to Baffert's Concert Tour in a six-furlong maiden special weight at Santa Anita Jan. 15.
Speaking of Concert Tour, that this comes one day after he nipped stablemate Freedom Fighter in the Grade 2 San Vicente is an embarrassment to the term "embarrassment of riches." How many Derby front-runners can even Baffert send out? But as anyone familiar with the racing game knows, these things can go either way.
There are Lessons to be Learned Here
On one trail, there's Justify, who became the first unraced 2-year-old to win the Kentucky Derby since Apollo in 1882. Partially owned by Starlight Racing, he made his debut Feb. 18, 2018, and ran the table over the next four months. He won his first two preps, then the Santa Anita Derby, then the Triple Crown before retiring undefeated after the Belmont Stakes.
On the other trail, lies the flip side of that coin, Cezanne. The $3.65 million, Baffert-trained colt opened at 55/1 on Circa's board last summer. Within 48 hours, the Curlin progeny was 25/1. He got as low as 12/1 after winning his first two races.
Then, Cezanne went to Del Mar for the Shared Belief Stakes on Aug. 1. He finished fourth and last in his two-turn debut, albeit by only 1-½ lengths with a career-best 103 Equibase Speed Figure.
We haven't seen Cezanne since.