In the heaviest rain ever seen in 143 runnings of the Kentucky Derby, 3/1 favorite Justify made his case to reign over horse racing — winning by more than two lengths at Churchill Downs and jumping ahead of the field as the strongest pick to win the Preakness on May 19.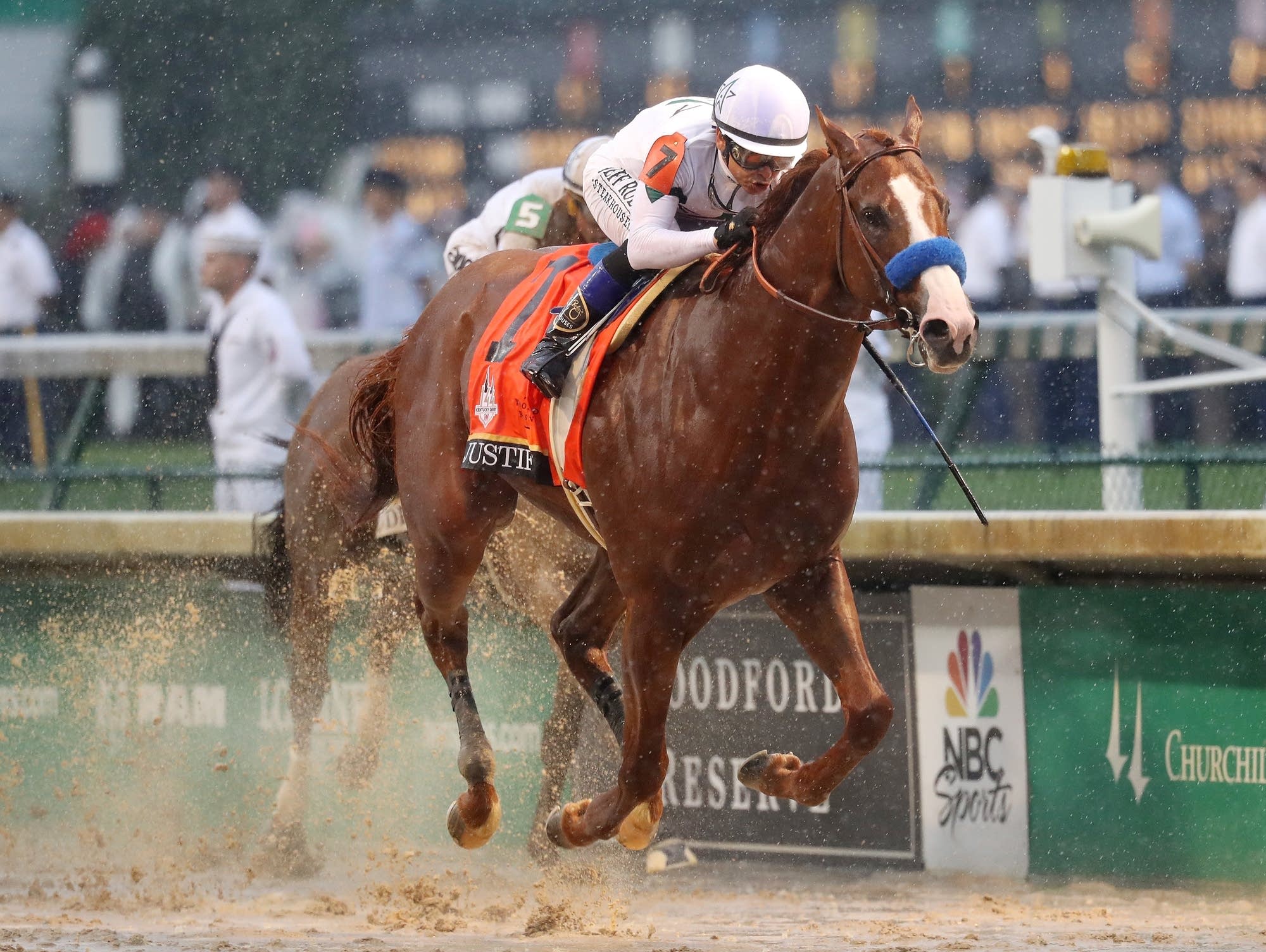 One hour after the 3-year-old colt's romp in the sloppy, muddy track, betting site Bovada posted Justify as a +150 top choice to win the second leg of the Triple Crown.
Before this weekend's Run for the Roses, Justify was a 7/1 top pick to become only the 13th horse in history to win the Kentucky Derby, Preakness, and Belmont Stakes all in the same year. He is now 6/4, but picking no Triple Crown winner is still the favorite at 2/5.
One gambler cashed in big on Justify. He made a $500 bet at the Wynn in Las Vegas in February that the horse would be victorious. He got 300/1 odds and won $150,000. But that wasn't even the biggest Kentucky Derby payout. A Texas woman bet $18 on a Pick 5, requiring her to pick the winner of Saturday's last five races, which culminated Justify's win in the main event — netting her a whopping $1.2 million day at the races.
Fourth-Time Charm
This was the sixth consecutive year that the favorite won the Kentucky Derby, but several experts thought Justify had several factors working against him.
The biggest concern was that he hadn't raced as a 2 year old, and a year later, he had only raced in one stakes race, the Santa Anita Derby. But trainer Bob Baffert had a plan and wasn't worried about his animal's lack of pedigree. After the victory he compared this horse to another of his five Derby winners, American Pharoah. That horse won the Triple Crown in 2015.
"When he got away clean, I thought we had a chance," Baffert said of Justify. "He was doing it easy. Him and American Pharoah, they're just cut from a different c(loth). I rank him up there with my top ones."
His contemporaries were rating Baffert's training of Justify as one of his best efforts. The horse broke the 136-year Apollo curse, named after the last horse not to race as a 2 year old and win the Derby. Baffert is now second in all time Derby wins, one behind Ben Jones.
Zayat Stables racing manager Justin Zayat posted on Twitter what many were thinking.
"I've said it for years and I'll say it again. Bob Baffert greatest trainer of all time. I don't think it's even close anymore! The man knows his horses inside out, his attention to detail is second to none," Zayat wrote.
What's Next for Justify
Barring an injury, Justify will try and win the Preakness in less than two weeks. He is the clear favorite at better than even money and the next closest horse is Audible, who finished third last Saturday, at +450. Good Magic, who finished second in the Derby, is +650.
The Preakness should not be a challenge for Justify, but capturing the third leg of the Triple Crown might be. Pimlico Race Course is similar to Churchill Downs, but the Belmont is what trips up horses. The Elmont, NY layout is 1.5 miles, longer than other two races.
TVG Network analyst Joaquin Jaime posted on his Twitter account that the horse may be too tired to run well at the Belmont.
"At some point, I do wonder when it will become too much for Justify. The Preakness will be his 5th race in 3 months. If the Belmont happens, his 6th race in roughly 4 months. No doubt he's special, but they aren't machines," Jaime wrote.