Honor A.P. is safely in the Kentucky Derby. So safe, he's one of the favorites. Thousand Words is not-so-safely on the Derby bubble. And Cezanne is nowhere near the Churchill Downs gate, nor the bubble. That's the scenario all three would-be Derby contenders face entering Saturday's Shared Belief Stakes at Del Mar.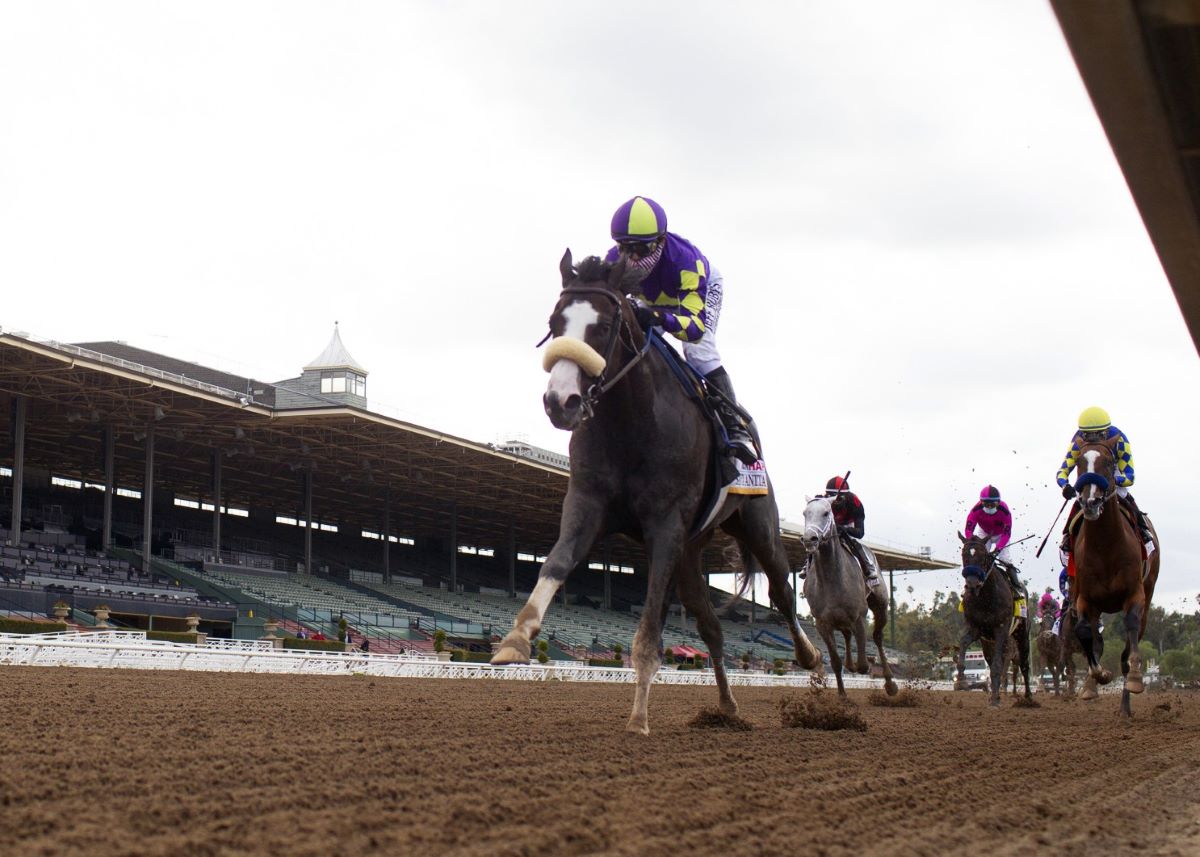 The Shared Belief, named after the late gelding who won 10 of 12 races – eight of those stakes – before suddenly dying of colic at 4, is the West Coast's final Derby prep. It offers 50-20-10-5 Derby qualifying points, gets lengthened from a mile to 1 1/16 miles, and features a small field of four horses.
Six were originally entered, but trainer Bob Baffert pulled Uncle Chuck and shipped him to Saratoga to run in next week's Travers Stakes. Anneau d'Or's trainer, Blaine Wright, pulled his charge out, too. He'll head to Kentucky to run the Aug. 9 Ellis Park Derby.
Even with only four horses — 15/1 long shot Kiss Today Goodbye completes the foursome — the Shared Belief comes with plenty of storylines and Derby implications. Even for 8/5 favorite Honor A.P., who is properly a prohibitive favorite.
Get This Horse Some Reps
In Honor A.P.'s case, this is only his fifth career race and third of 2020. And, for the first time in three races, he won't have rival Authentic pushing him. Honor A.P.'s only work since beating his rival in the June 6 Santa Anita Derby were five workouts. In his last one, his long strides covered the final furlong in an impressive 12 seconds.
In other words, even as the second-favorite at +550 on Circa Sports' Derby Futures board, Honor A.P. needs the work. While other horses, such as Tiz the Law (six career starts), Modernist (seven), Art Collector (eight, with nine coming at the Ellis Park Derby), and Ny Traffic (nine) raced more frequently this year, Honor A.P. stayed home in Southern California. Much of the layoff was due to a foot injury earlier this winter, but much of it was due to trainer John Shirreffs and his desire to keep his prize charge home.
"I want to see him run well, have a quick recovery, and get ready for the next one," Shirreffs told the Daily Racing Form.
Cezanne Provides Speed, Will His Focus Follow?
In this one, Honor A.P. gets to contend with the early speed of a horse with a lot more riding on the outcome – Cezanne. One of two Baffert entries, along with Thousand Words, Cezanne makes his stakes debut after winning a Los Alamitos allowance with a pedestrian (for him) 85 Beyer Speed Figure. His 1 ¾-length victory wasn't what you'd expect from a 1/10 favorite.
For Cezanne (7/2), who comes in with zero Derby points, it's all-or-nothing Derby-wise. A win Saturday brings the $3.65 million prodigy 50 points and a spot in the Churchill Downs gate. Finish second, and his 20 points won't be enough, which will no doubt annoy futures bettors who pounded Cezanne's future odds from 55/1 to as low as 12/1 at Circa. They currently reside at 17/1.
This puts a premium on jockey Flavien Prat, who chose Cezanne ahead of Thousand Words, and his ability to keep Cezanne and his tactical speed engaged enough to finish. He is the speed of this race.
Thousand Words Wants Off Points Bubble
Which brings us to Cezanne's stablemate, Thousand Words (8/1). Currently sitting at 35/1 on Circa's futures board, Thousand Words sits 18th in Derby points with 33. Even finishing third would vault him to 13th and likely secure a spot. Among many reasons why is that filly Swiss Skydiver (40 points) is above him, but is unlikely to run the Derby.
Thousand Words was in the front row of Derby hopefuls on New Year's Day. But lackluster efforts in the San Felipe Stakes and Oaklawn Stakes sent his Derby stock plummeting. He turned in a credible effort losing by four lengths to Uncle Chuck in the Los Alamitos Derby, and a credible workout with Cezanne. Thousand Words kept up with his stablemate in a July 25 breeze at Del Mar, clocking a 1:13.8 time for six furlongs.
"There's been a big change in him since he got down here," Baffert said.
The pick: Honor A.P. If you pay attention to nothing else in this race, pay attention to how much ground the big ridgling covers with his strides. You'll remember it come betting time Sept. 5.