Israel Adesanya may not have dominated Robert Whittaker, but he did just enough to hold off the former champion and retain his middleweight title belt in the main event of UFC 271.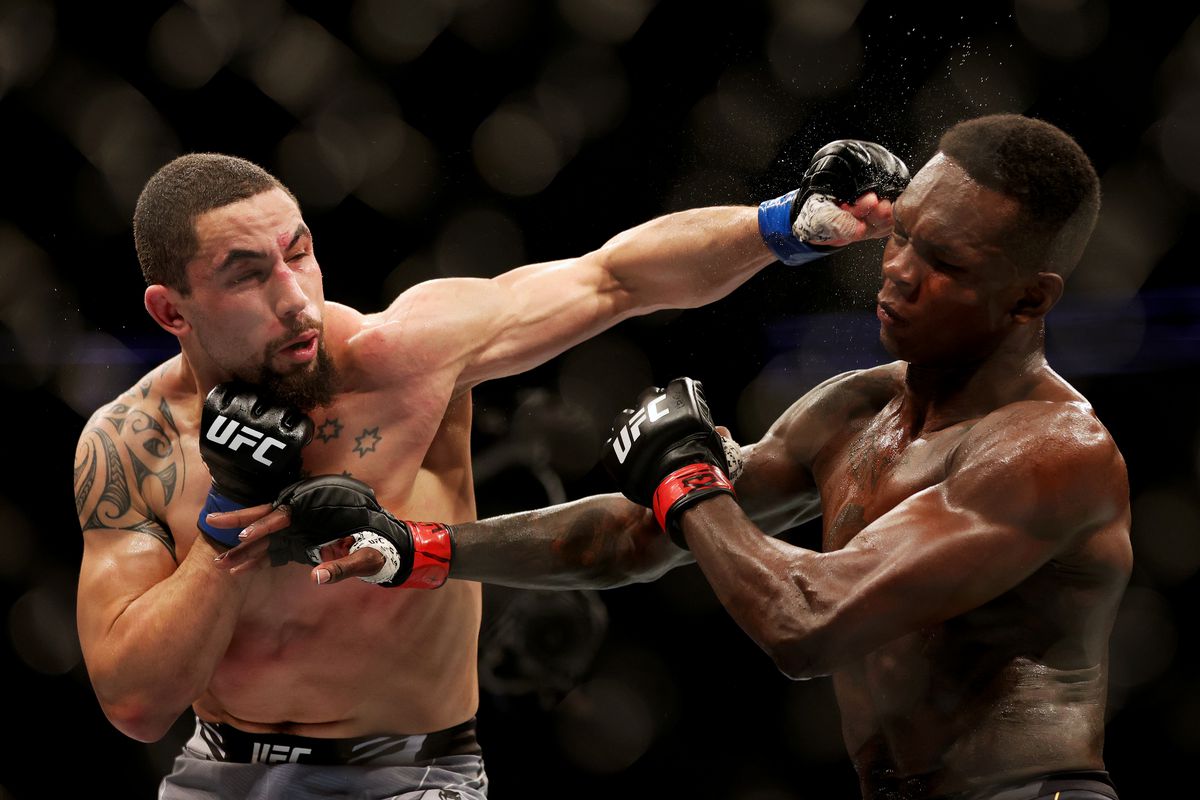 Adesanya (22-1) scored a unanimous decision victory (48-47, 48-47, 49-46), much to the chagrin of many in attendance for the championship fight.
Adesanya: Whittaker didn't take the belt
In the end, all three judges saw the fight in Adesanya's favor. The champion landed more strikes than Whittaker (23-6), and used his length to hit Whittaker with damaging leg kicks throughout the fight.
The vast majority of media scorecards also had Adesanya as the winner. At MM2ADecisions.com, 20 of the 25 cards put Adesanya on top, with five picking Whittaker as the victor. Whittaker said after the fight that he thought he did enough to win the bout, though Adesanya was quick to shut down that idea.
"He did not win that fight, and he knows it," Adesanya said. "He needs to go have a shower as well and reflect and realize that's not true…you don't 'do enough' to win the title. You take the belt. That's how this works."
UFC president Dana White ultimately agreed with that assessment, saying he thought Adesanya won a close fight.
"He's the champ," White told reporters. "He continues to win. That's just the way it works."
Freire, McKee headlining Bellator 277
Undefeated featherweight champion AJ McKee (18-0) will defend his title against Patricio "Pitbull" Freire (32-5) in the main event of Bellator 277 on April 15 at SAP Center in San Jose.
McKee took the featherweight title from Freire last July. The 26-year-old has been on a tear through Bellator, as all 18 of his professional victories have come in the promotion. McKee won the first fight vs. Pitbull via a guillotine choke in the first round.
The Bellator 277 card will also feature a title fight between light heavyweight champion Vadim Nemkov (15-2) and Corey Anderson (16-5) as the co-main event.
Harrison tiring of job search
Kayla Harrison may be the hottest free agent in all of MMA. But the two-time PFL champion says she's ready to land a job somewhere and get back to fighting.
"At first it was kind of fun. You got to all the dances, go get wined and dined," Harrison told MMA Junkie. "But at this point, I know the fans are sick of it. I know the media is sick of it. I'm sick of it.
Harrison (12-0) could well return to the PFL to go for a third straight title. However, she has also talked to White and Bellator president Scott Coker about potentially moving to either company.
"I don't really know what's going on," Harrison said. "I can't comment on where I'm going or what I'm doing, but I can comment that I'm getting real sick of it. Whoever wants me, I'm ready to fight."