The 78th annual Golden Globes, presented by the Hollywood Foreign Press Association (HFPA), takes place this Sunday in Beverly Hills and New York City. Lin-Manuel Miranda's "Hamilton" comes into the 2021 Golden Globes as a favorite to win best musical or comedy at -150 odds. It's a two-horse race for best motion picture drama with Aaron Sorkin's "The Trial of the Chicago 7" as the favorite at -110 odds, and Chole Zhao's "Nomandland" close by at +100 odds, according to BetOnline. The late Chadwick Boseman, in his final performance in "Ma Rainey Black Bottom", is the overwhelming favorite to win best actor at the Golden Globes at -900 odds.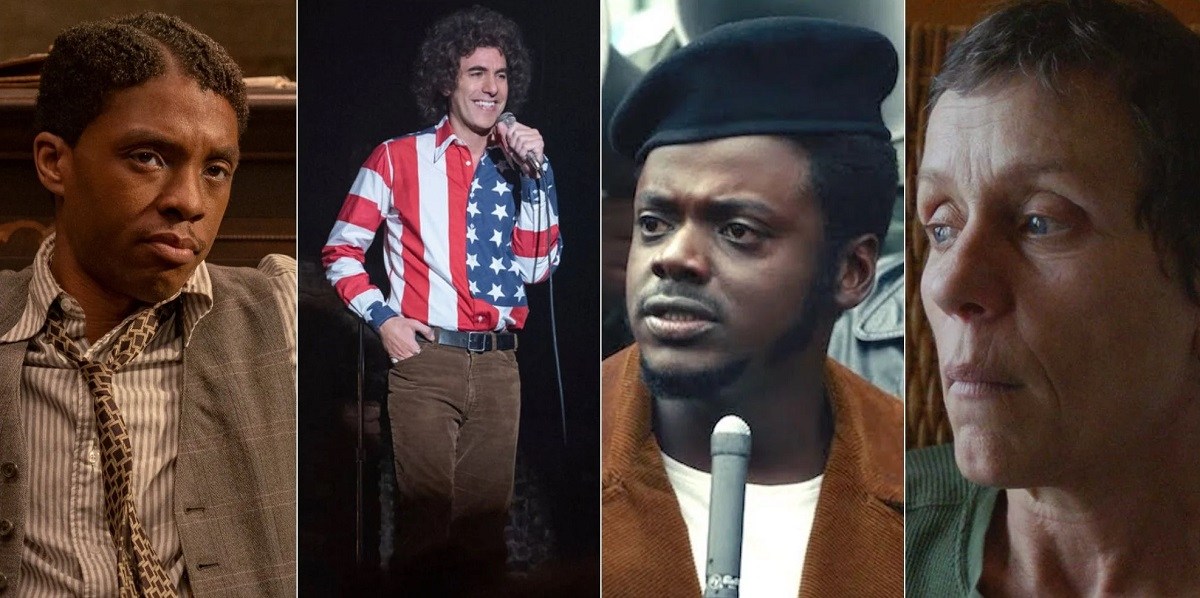 "The show must go on!" is the golden rule of the entertainment industry. The 2021 Golden Gloves continues in a tweaked format. Tina Fey will co-host from the Rainbow Room in New York City on the East Coast. Amy Poehler handles co-hosting duties from the West Coast at the Beverly Hilton in Beverly Hills. Nominees and presenters will take part in the live broadcast in either Beverly Hills and NYC, in addition to various locations around the world.
During the 2021 Golden Globes, the HFPA honors Norman Lear (Carol Burnett Award recipient) and Jane Fonda (Cecil B. deMille Award recipient).
Even though movie theaters were shuttered during the global pandemic, many of the nominated films also debuted on streaming services ranging from Netflix, Hulu, Disney+, HBOMax, and Amazon.
We compiled a complete list of odds for all of the motion picture and film categories at the 2021 Golden Globes, and we even added our picks to win each category.
Best Drama: Nomadland, Mank, Chicago 7
The best picture category is split between drama and musical or comedy. In the drama category, the 1960s anti-war protest movement comes to life in "The Trial of the Chicago 7", which includes Sacha Baron Cohen as Abbie Hoffman, Eddie Redmayne as Tom Hayden, Jeremy Strong as Jerry Rubin, and Mark Rylance as attorney William Kunstler.
In "Nomadland", Frances McDormand plays a widow named Fern who sheds her home and possessions to live in her van. She lives off the grid, travels American west, and chases seasonal employment that included an Amazon warehouse and the Badlands in North Dakota.
"Mank" is a bio pic about a well-lubricated screenwriter named Herman J. Mankiewicz. Mank struggles to develop and write a screenplay for Orson Wells loosely based on media titan William Randolph Hearst. Mank's script becomes Wells' masterpiece known as "Citizen Kane." Yes, if you like movies about making movies, then Mank checks all the boxes.
Best Motion Picture Drama Odds
The Trial of the Chicago 7 -110
Nomadland +100
Promising Young Woman +800
Mank +1200
The Father +2500
---
"Promising Young Woman" is a dark comedy with Carey Mulligan avenging the sexual assault, cover-up, and subsequent suicide of a friend.
If you're a primary caregiver to elderly family members, then "The Father" strikes deep. Anthony Hopkins plays an 80-year-old stubborn Englishman who slowly slides into dementia while under the care of his daughter (Olivia Colman).
It's almost a coinflip between "Chicago 7" and "Nomadland", which have close odds to win the Golden Globe for best motion picture. So, pick a side: hippies or nomads? We lean hippie, but backing nomads.
OG's Pick: Nomadland +100
Best Comedy/Musical: Hamilton and the Return of Borat
"Hamilton" started out an insanely successful musical by Lin-Manuel Miranda. It's a hip-hop version of the fascinating life and hard times of Alexander Hamilton before he died in a duel. Miranda filmed a performance of "Hamilton", and it became an instant classic on Disney+ for everyone who did not get a chance to watch it on Broadway.
"The Prom", directed by Ryan Murphy ("Glee"), is based on the popular Broadway musical. In "The Prom" a girl wants to take another girl to the prom, which turns a small Midwestern town upside down.
Sacha Baron Cohen reprises his role of Borat to expose the hypocritical, over-politicized American zealots. The mockumentary "Borat Subsequent Moviefilm" is 100% pure comedy gold. Also known as "Borat 2", it comes in as one of the betting favorites at +120 odds.
Best Motion Picture Musical or Comedy Odds
Hamilton -150
Borat Subsequent Moviefilm +120
The Prom +800
Palm Springs +1600
Music +3300
---
"Palm Springs" with SNL alum Adam Samberg became an overnight smash hit when it debuted on Hulu during the initial lockdown.
"Music" is a controversial musical created by song-writing legend Sia and starring Kate Hudson.
It's tough to avoid the front-running "Hamilton" to take home the Golden Globe for best musical/comedy because it's impossible to get all the songs out of your head after you finally see it. However, don't forget that the Golden Globes are presented by the Hollywood Foreign Press, which means they don't care about American history as much as Borat.
OG's Pick: Borat +120
Screenwriting: Sorkin, Papa Fincher
If it weren't for writers, a bunch of talentless suits in Hollywood would churn out remakes of same four movies over and over again.
Aaron Sorkin took another stab at directing, but his Sorkinisms impressed the HFPA this year. He's up for both best screenplay and best directing with "The Trail of the Chicago 7." In these politically-charged times, Sorkin is the heavy favorite to win best screenplay at -300 odds.
Jack Fincher, the father of David Fincher, is a journalist who penned the screenplay for "Mank", which is based on a real-life person and screenwriting legend Herman J. Mankiewicz.
Emerald Fennell is best known as the showrunner of the "Killing Eve" series. She penned the screenplay for "Promising Young Woman", while also making her directorial debut.
Best Screenplay Motion Picture Odds
The Trial of the Chicago 7 -300
Promising Young Woman +200
Nomadland +1000
Mank +1200
The Father +1600
---
Florian Zeller and Christopher Hampton co-wrote "The Father", which is based on a French play by Zeller. Chloe Zhao, directed "Nomadland" and she adapted the screenplay from a non-fiction book titled "Nomadland: Surviving America in the Twenty-First Century" by Jessica Bruder.
It's boring to pick chalk all the time, which is why we like an upset here instead of Sorkin. Besides, during awards season, it would totally be a "Hollywood" vibe if the HFPA handed out a screenwriting award for a film about a screenwriter penning a script for the greatest film in cinematic history.
OG's Pick: Mank +1200
Best Directing: Zhao, Finger, King, Sorkin, or Fennell
Three women were nominated for best directing and they're up against two big dogs from Hollywood. With "Promising Young Woman", Fennell earned a nomination in her feature-length debut.
Zhao shot "Nomandland" on location in Nevada, South Dakota, California, Arizona, and Nebraska. She typically casts real people and non-actors in her films, but blended real actors with this project.
Regina King won Best Supporting Actress at the 2019 Golden Globes, but this was her first nod as a director. "One Night in Miami" dramatizes a fictionalized meeting in a Miami hotel room in 1964 including Muhammad Ali (just after he changed his name from Cassius Clay), Sam Cooke, Jim Brown, and Malcolm X.
Best Director Motion Picture Odds
Chloe Zhao – Nomadland -500
David Fincher – Mank +500
Regina King – One Night in Miami +600
Aaron Sorkin – The Trial of the Chicago 7 +1200
Emerald Fennell – Promising Young Woman +2000
---
Although "Mank" is a comedy, Fincher still leaves his fingerprints all over this film, which was shot in black and white. Fincher previously hit a grand slam at the Golden Globes with "The Social Network" in 2011.
In the last few years, Sorkin pivoted to directing. Just like Fennell and Zhao, Sorkin earned dual nominations at the Golden Globes for both screenwriting and directing.
Zhao is the Golden Globes favorite at -500 odds to win best director for "Nomadland." Fincher's "Mank" is her closest competition at +500 odds.
OG's Picks: Chloe Zhao -500
Best Actress: McDormand, Davis, and Return of Pfeiffer
Carey Mulligan from " Promising Young Woman" comes into the Golden Globes as the favorite at -200 odds. Any time Viola Davis appears in a film, she has a shot at earning a nod for a Golden Globe or an Academy Award. This year, Davis' work with "Ma Rainey's Black Bottom" is recognized as another stellar performance. Davis is the second-best favorite at +250 odds behind Mulligan.
Andra Day plays jazz legend Billie Holiday on "The United States vs. Billie Holiday", but Day comes in as a long shot at +1800.
Best Performance Actress Drama Odds
Carey Mulligan – Promising Young Woman -200
Viola Davis – Ma Rainey's Black Bottom +225
Frances McDormand – Nomadland +450
Andra Day – The United States vs. Billie Holiday +1800
Vanessa Kirby – Pieces of a Woman +1800
Best Performance Actress Musical Comedy Odds
Maria Bakalova – Borat Subsequent Moviefilm -500
Michelle Pfeiffer – French Exit +350
Anya Taylor-Joy – Emma +1000
Rosamund Pike – I Care a Lot +1400
Kate Hudson – Music +2000
---
Anya Taylor-Joy made waves in "The Queen's Gambit" as a chess prodigy, but she earned a nomination in the comedy category with "Emma." Bulgarian actress Maria Bakalova crushed it with her performance in the Borat sequel.
We like two upsets in this category with Frances McDormand at +450 odds to win best actress in a drama, and Michelle Pfeiffer to cap off her comeback role as a broke widow in "French Exit", based on a play from Patrick deWitt.
OG's Picks: Frances McDormand +450 and Michelle Pfeiffer +350
Best Actor: Boseman, Hopkins, Borat or Hamilton?
Chadwick Boseman passed away from cancer three months ago, so it's a bit eerie to see his final performance as an actor. In "Ma Rainey's Black Bottom", a play by August Wilson, Boseman is the huge favorite at -900 odds to posthumously win best actor at the 2021 Golden Gloves. Boseman gave a memorable powerful performance as an ambitious musician in a period film set in the 1920s about a black blues singer during a troubled recording session.
Don't miss "Sound of Metal" with Riz Ahmed. He gave a commanding performance as a punk-rock drummer (and really played the drums) who loses his hearing.
Best Performance Actor Drama Odds
Chadwick Boseman – Ma Rainey's Black Bottom -900
Anthony Hopkins – The Father +600
Riz Ahmed – Sound of Metal +1000
Gary Oldman – Mank +1200
Tahar Rahim – The Mauritanian +2500
Best Performance Actor Musical Comedy Odds
Sacha Baron Cohen – Borat Subsequent Moviefilm -225
Lin-Manuel Miranda – Hamilton +175
Andy Samberg – Palm Springs +1000
Dev Patel -The Personal History of David Copperfield +1200
James Corden – The Prom +2500
---
It looks like a close race for best actor in a musical/comedy category between Sacha Baron Cohen or Lin-Manuel Miranda. Will the Hollywood Foreign Press give the Golden Globe to a Brit over an American? A comedy over a musical? Borat over Alexander Hamilton?
Andy Samberg, Dev Patel, and James Corden round out the other nominees in the musical/comedy category. But all three are long shots compared to Cohen and Miranda.
OG's Picks: Chadwick Boseman -900 and Sacha Baron Cohen -225
Best Supporting Actress: Seyfried, Close, Foster
In "Mank", Amanda Seyfried playsa femme-fatale actress with a lot of pluck. Seyfried first made a name for herself in "Mean Girls" with Lindsay Lohan, but she might earn her first major win with Mank. She's the favorite at -130 odds.
You caught a glimpse of Glenn Close as trailer park trash in "Hillbilly Elegy", and Close is also one of the favorite at +175 odds to win best supporting actress.
Olivia Colman plays Queen Elizabeth in "The Crown", which earned a slew of Golden Globe nominations in the television categories. On the film side, Colman earned a nod from her best supporting role in "The Father".
Best Supporting Actress in Film Odds
Amanda Seyfried – Mank -130
Glenn Close – Hillbilly Elegy +175
Olivia Colman – The Father +300
Jodie Foster – The Mauritanian +1400
Helena Zengel – News of the World +1600
---
In "The Mauritanian", Jodie Foster plays an attorney who represents one of the masterminds of the 9/11 terrorist attack.
German actress Helena Zengel is still only a kid, but she more than held her own against Tom Hanks in a western titled "News of the World", directed by Paul Greengrass. The versatile Zengel spoke in German, English, and Kiowa, a Native American dialect. Zengel is a long shot at +1600 odds during her debut at the Golden Globes.
OG's Pick: Amanda Seyfried -130
Best Supporting Actor: Kaluuya, Cohen, Odom, Murray and Leto
You might remember Daniel Kaluuya from his excellent work in "Get Out" or "Black Panther", but the British actor also did a heck of a job playing Fred Hampton, one of the founders of the Black Panthers. Kaluuya is a slight favorite to win best supporting actor at -130 odds over Cohen's portrayal of counter-cutler activist Abbie Hoffman.
Leslie Odom Jr., most known for his role of Aaron Burr in the stage version of "Hamilton", played crooner Sam Cooke in "One Night in Miami."
Best Supporting Actor in Film Odds
Daniel Kaluuya – Judas and the Messiah -130
Sacha Baron Cohen – The Trial of the Chicago 7 +190
Leslie Odom Jr. – One Night in Miami +300
Bill Murray – On the Rocks +1200
Jared Leto – The Little Things +1400
---
During "On the Rocks", Bill Murray stole the show as a father trying to help his daughter seek revenge of a cheating lover.
Jared Leto earned a nod for playing a creepy serial killer in "The Little Things". The film also featured Denzel Washington and Rami Malek, but was panned by the critics.
If Cohen does not win a Golden Globe for leading actor in a musical/comedy with Borat, he has another shot in the supporting actor category. We didn't realize Cohen was in "The Trail of the Chicago 7" until we saw his name when the credits rolled at the end of the film. Cohen could give Kaluuya a worthy challenge at +190 odds to secure his first win at the Golden Globes.
OG's Pick: Daniel Kaluuya -130
All odds via BetOnline.