You know things are near rock bottom when "Saturday Night Live" parodies your favorite football team in a sketch. Then again, when you're known as the LOL Jets, everything you do is a dark comedy. In the latest episode of NBC's SNL with guest host Timothee Chalamet, the 0-12 New York Jets were the subject of a sketch by a sports station that spews conspiracy theories in a tweaked alt-reality.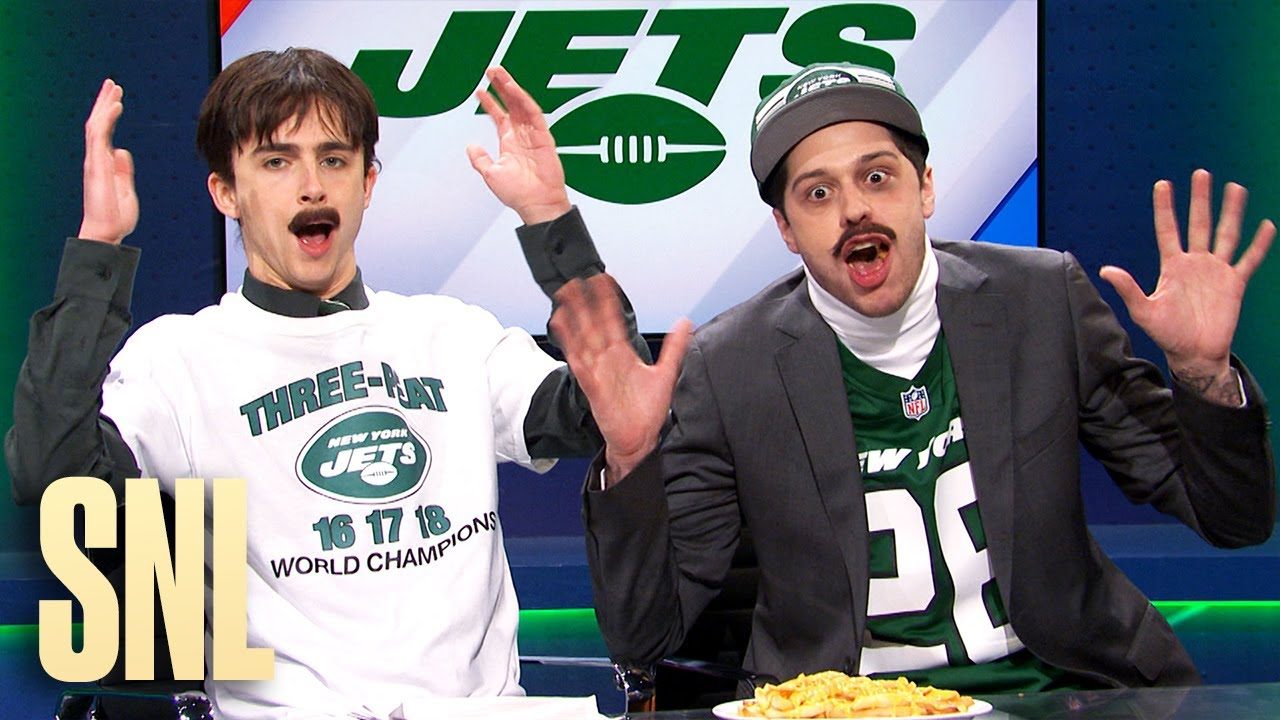 SNL always takes on a heavy political bent during an election year. The latest SNL sketch about the LOL Jets was more a not-so-subtle jab on the twisted, pro-Trump conspiracy-driven distortion of reality put forth by the far-right wing news channels. Newsmax continues to push baseless conspiracy theories that the election was stolen from the incumbent President.
Instead of the President losing the election, the winless Jets are propped up with senseless propaganda in a reality-twisting sketch in which Newsmax creates a their own 24/7 sports network, known as Sportsmax. To keep in line with the alternative reality modus operandi of Newsmax, the Sportsmax segment on the Jets had the team as a three-time modern Super Bowl champion with 11 wins versus the harsh, ugly reality of an embarrassing 0-12 team that hasn't won a Super Bowl in over 50 years.
Jets Are 11-1 in SNL Alt-Reality
Chalamet and Davidson appeared in the Saturday Night Live sketch as superfans of the New York Jets known as Deluca and Delvechio. Chalamet even wore a Jets t-shirt bragging about the franchise's three-peat Super Bowl victories in 2016, 2017, and 2018. Wow, they live in an upside-down world in which the Jets not only won a Super Bowl, but they won three in a row!
Both Chalamet and Davidson, with wicked mustaches, suggested the distorted-reality Jets with an 11-1 record were robbed of a perfect season after their beloved Jets lost to the Buffalo Bills. Since the Jets were ahead 3-0 at the end of the first quarter, Gang Green should have been awarded the victory.
"Either the Jets won 3 to nuthin', or this whole game is rigged!" said a pro-Jets pundit, played by SNL cast member Beck Bennet.
In case you're wondering about NFL Week 14 action, the 0-12 Jets visit the Seattle Seahawks. According to bookies in the real world, the LOL Jets are +16 underdogs. If you want to take a flier on the Jets via a money line wager, the Jets are +710 (compared to -1000 by the Seahawks).
For more musings of a disgruntled fan of the New York Jets, check out other columns on the LOL Jets.