With four weeks of the NFL season remaining, Week 14 features several fun games, including the Kansas City Chiefs (11-1) at the Miami Dolphins (8-4), and the Indianapolis Colts (8-4) at the Las Vegas Raiders (7-5) in matchups that have AFC wild-card implications. Meanwhile, the Pittsburgh Steelers (11-1) visit the Buffalo Bills (8-3) on Sunday Night Football in another AFC shootout.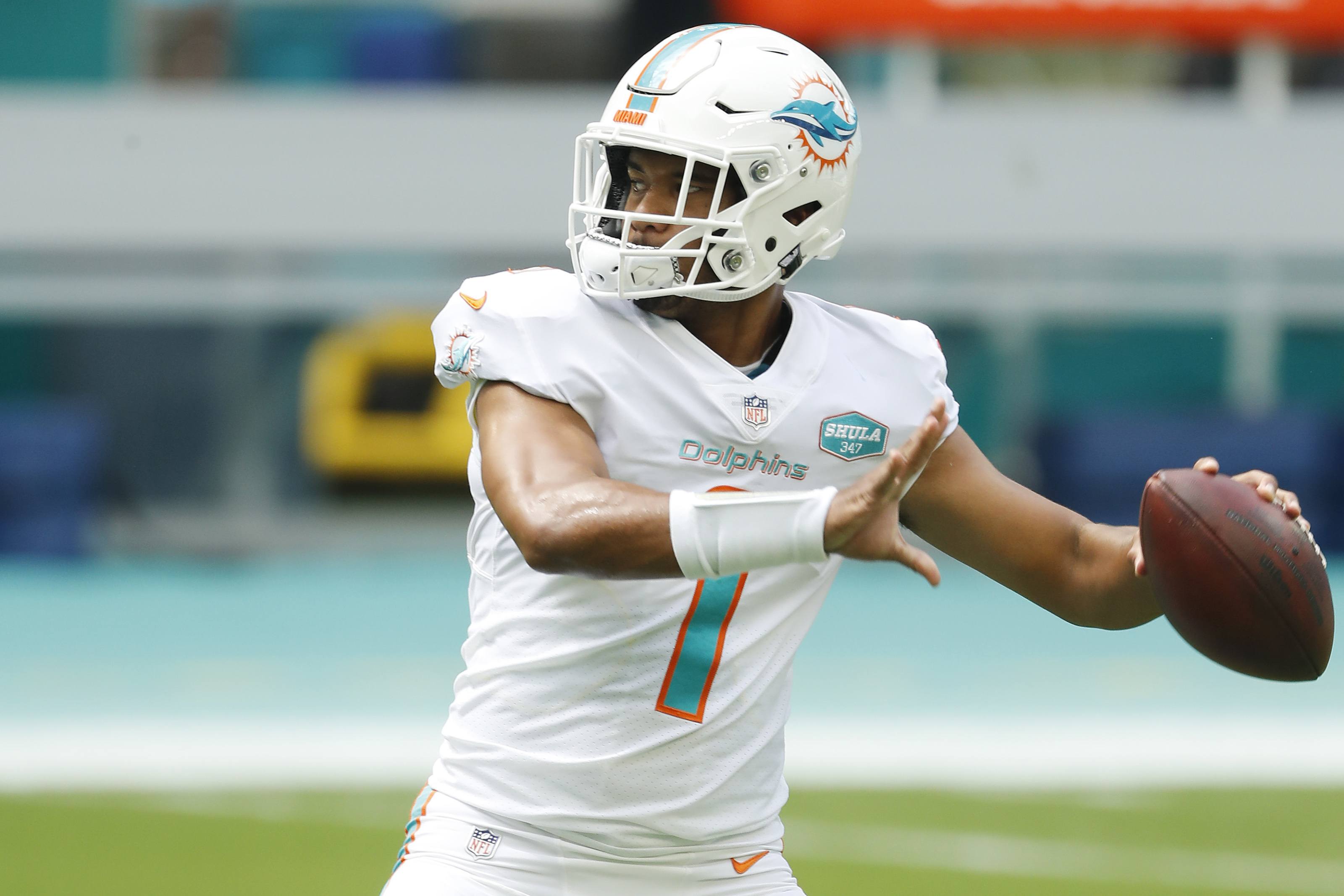 The plot thickens in Week 14 for teams seeking one of the three wild-card spots in each conference. In the AFC, the Raiders and the Ravens are stuck on the bubble. In the NFC, the Minnesota Vikings overtook the Arizona Cardinals for the final wild-card spot.
If you're a fan of smashmouth football, don't miss Monday Night's street fight between the Ravens (7-5) and the Cleveland Browns (9-3). The Browns are inching closer to ending their postseason drought and would love to clinch this week. Meanwhile, the Ravens can't afford a loss if they expect to secure an AFC wild-card berth.
The NFC East, easily the worst division in the NFL, is now down to a two-horse race between the first-place New York Giants (5-7) and the Washington Football Team (5-7). Washington ended the Steelers' bid for a perfect season in Week 13. Both NFC East teams square off against NFC West teams in Week 14.
Game of the Week: Mahomes vs Tua
Kansas City Chiefs (11-1) at Miami Dolphins (8-4)… Mahomes spearheads the second-highest offensive attack in the league, averaging 30.8 ppg and ranking #1 in offensive DVOA. Travis Kelce recently joined the Madden 99 Club after earning a 99 rating. It's Tua time this week for the Dolphins, who currently are in the #6 seed in the AFC. LINE: KC -7
Who Dat!
New Orleans Saints (10-2) at Philadelphia Eagles (3-8-1)… Now that the Steelers lost, the Saints hold the longest winning streak in the league with nine straight wins. Rookie Jalen Hurts gets the start at QB for the Eagles in Week 14 to fill in for an awful Carson Wentz. Too little, too late for Philly. Meanwhile, Doug Pedersen's days are numbered and he could end up the next head coach of the Jets. LINE: NO -6.5
0-12 vs the 12th Man
New York Jets (0-12) at Seattle Seahawks (8-4)… Jamal Adams faces his old team, who lost their DC Gregg Williams after getting axed on Monday. We've been fading the LOL Jets all season, but they're huge dogs with the Seahawks spotting them two touchdowns. LINE: SEA -13.5
AFC Bubble Time
Indianapolis Colts (8-4) at Las Vegas Raiders (7-5)… The Colts are currently in, but the Raiders are out. The Raiders avoided a loss to the LOL Jets last week thanks to a ridiculous cover-zero call resulting in a touchdown to end the game. LINE: LVR +3

NFC Bubble Time
Arizona Cardinals (6-6) at New York Giants (5-7)… The first-place Giants are one of the hottest teams in the NFL with four-straight wins, including a 17-12 victory at Seattle last week. The Cardinals are trying to become the third NFC West team to secure a wild-card spot, but they're currently on the bubble after three straight losses. LINE: AZ -3
Minnesota Vikings (6-6) at Tampa Bay Bucs (7-5)…  A win over Tommy Boy and Tampa Bay would help solidify the Vikings' playoff position. Tampa, ranked #3 in total DVOA, started the season 6-2. They've gone 1-3 since then, including a two-game skid courtesy of back-to-back 3-point losses. LINE: TB -6.5
Home Cat Teams
Tennessee Titans (8-4) at Jacksonville Jaguars (1-11)… After a 5-0 start, the Titans went 3-4. They lost to the Browns 41-35 last week after their defense forgot to show up in the first half. The Titans average 29.9 ppg for third-best in the NFL, and they face the fourth-worst scoring defense in the league with the Jags allowing 29.3 ppg. LINE: TENN -7.5
Green Bay (9-3) at Detroit Lions (5-7)… The Lions are now 1-0 since Matt Patricia got fired. The Packers have a sick offense (NFL leading 31.6 ppg and ranked #2 DVOA), but a sickly defense (ranked #20 DVOA). LINE: GB -7.5
Denver Broncos (4-8) at Carolina Panthers (4-8)… A pair of 4-8 teams meet. The Panthers lost five of their previous six games, but they'll have Christian McCaffrey back in the line-up. The low-scoring Broncos are 1-4 since Halloween. If it weren't for the LOL Jets, the Broncos would have the worst offense (18.8 ppg) in the league. LINE: CAR -3
Dallas Cowboys (3-8) at Cincinnati Bengals (2-9-1)… The Cowboys have a shoddy and leaky defense that allows a league-worst 32.8 ppg. That's good news for the offensively-challenged Bengals, who are ranked fourth-worst in scoring offense with 19.8 ppg. LINE: DAL -3.5
Fake Bubble Teams
Houston Texans (4-8) at Chicago Bears (5-7)… Da Bears lost six in a row. They need to run the table to backdoor an NFC wild-card spot. After a 1-6 start, the Texans went 3-2 in their last five games with two narrow losses to the Browns and Colts. LINE: HOU -1
Washington (5-7) at San Francisco 49ers (5-7)… Heading into Week 14, Washington is still in the thick of the NFL playoff hunt in the subpar NFC East. The Niners dropped four out of their last five games, and host another home game in Arizona. LINE: SF -3
Poo Emoji Game of the Week: Falcons vs Bolts
Atlanta Falcons (4-8) at Los Angeles Chargers (3-9)… The Falcons are 3-2 in their last five games with a pair of losses against the Saints, including a close 21-16 battle last week in Hotlanta. The Bolts were blanked 45-0 by the Patriots last week because rookie quarterbacks stand no match against Bill Belichick. LINE: ATL -2.5
TV Games: Smashmouth Football and Bills Mafia
SNF: Pittsburgh Steelers (11-1) at Buffalo Bills (9-3)… These two teams could meet in the playoffs in January. The Steelers were stunned by Washington last week to stop their undefeated season. The Bills lost to two of the top teams in the AFC (Chiefs and Titans), and it took a "Hail Murray" to beat them in Arizona a few weeks ago. Josh Allen goes up against the toughest defense in the league that allows only 17.6 ppg and which is ranked #1 in DVOA. LINE: BUF -3
MNF: Baltimore Ravens (7-5) at Cleveland Browns (9-3)… Monday Night Smashmouth Football to cap off Week 14! The Browns lost to the Ravens by 32 points in Week 1, but that's so long ago does it even count? The Browns jumped out to a 38-7 lead at halftime against the Titans, but were outgunned 28-3 in the second half, and almost choked. The Ravens ended a three-game skid with a big win against the Cowboys. Did they turn the corner, or just get lucky beating a bad team? LINE: CLE +2