If Zion Williamson wants out of New Orleans, then his recent poor behavior indicates that the Pelicans will most likely trade the detached Zion, after he was called out by teammate CJ McCollum and ex-teammate JJ Redick.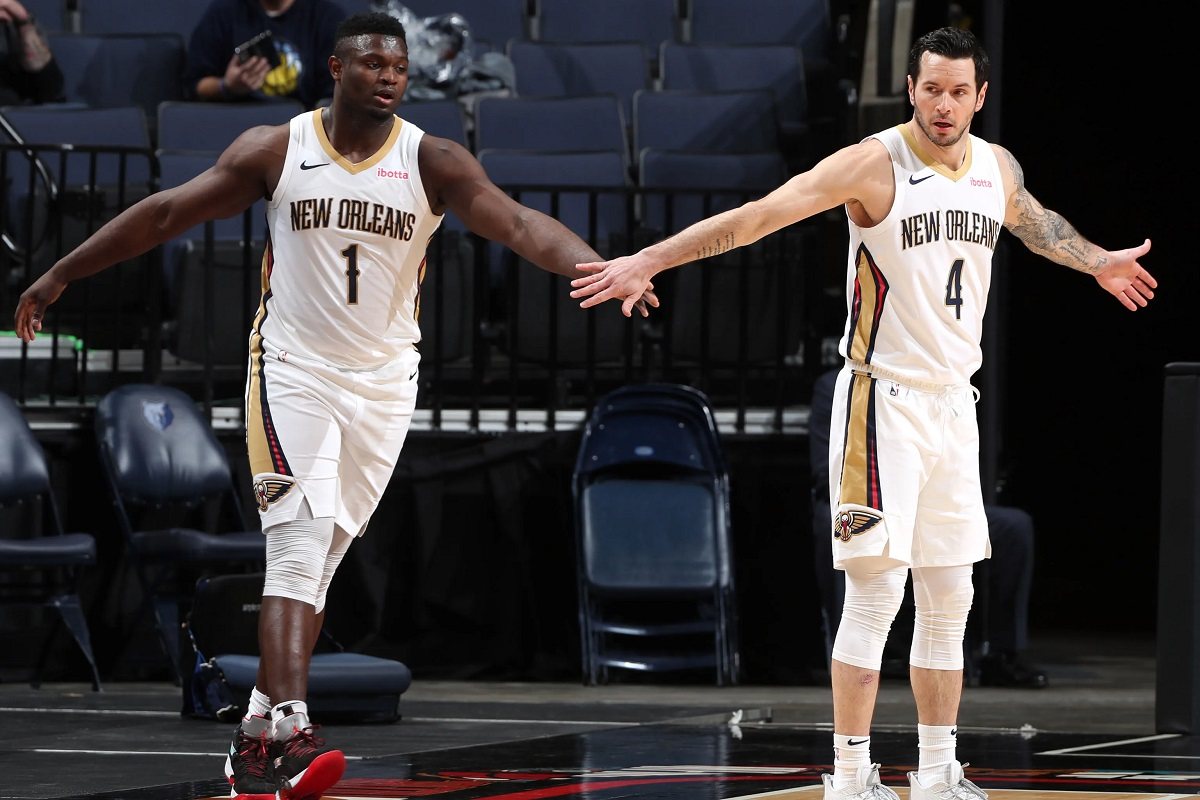 Zion fractured his foot during offseason workouts in the summer. He suffered a setback in his rehab in December and has yet to play a game with the Pelicans this season. Last week, the Pelicans reported that Zion could undergo a second surgery to fix his foot. Surgery or no surgery, it's highly unlikely Zion returns to the Pelicans this season.
At the same time, his overall behavior and professionalism is currently under fire. Zion has been living in Portland while he recovers from his injury and he's away from the team. However, recent comments from McCollum and  Redick are troublesome.
"Zion has been amazing when he's been on the court," said Redick on ESPN. "100%, he's amazing to watch. There's no one that can do what he does on a basketball court. But as a teammate, as a fully invested individual in New Orleans, there's a pattern of behavior. This is worrisome."
Redick and Zion both played at Duke under Coach K, and former Duke players in the NBA share a common bond that's similar to being in the same fraternity. The two were also teammates together with the Pelicans.
Whether it's intentional or not, Zion and his recent actions alienated himself from the Pelicans, the front office, the fans, and the city of New Orleans.
Zion Draft Bust?
The more time he misses with injuries, the more and more it looks like Zion was a complete bust. It's not the first time a highly touted #1 pick in the NBA Draft did not pan out. There's a tremendous pressure thrust upon the shoulders of a #1 pick on both the player and the organization. However, in this instance, Zion played great when he was on the court. He's been too banged up to show the Pelicans and the rest of the league what he could truly achieve.
The Pelicans won the Zion sweepstakes when they secured the #1 pick in the 2019 NBA Draft. The Knicks and other teams were tanking in an effort to land Zion, but the Pelicans hit the lottery with the #1 pick. The Pelicans selected Zion, but he's missed more games than he's played. He appeared in just 85 games in three seasons including zero games this season. Through the 2022 All-star Break, Zion missed 117 games. By the end of this season, Zion will have missed twice as many games as he played.
At this point, fans in New Orleans are wondering if they made the wrong choice and should've selected Ja Morant instead. The Grizzlies selected Morant with the #2 pick that year, and Morant emerged as one of the most exciting players in the NBA. We have not been shy about our love for Morant, who was our pick for MVP in OG's NBA Midseason Awards.
McCollum and Redick Call Out Zion
The Portland Trail Blazers imploded their team before the trade deadline and shipped McCollum to the New Orleans Pelicans. Since he arrived in the Big Easy, McCollum has not seen Zion once. They haven't chatted even via text or social media apps.
"I haven't had conversations with him directly," said McCollum. "I've spoken with some people close to him and look forward to sitting down with him sooner than later. I know about as much as you do right now, but I'm gonna get to the bottom of it."
Redick shared his opinions about Zion and his unprofessionalism about McCollum on ESPN. Redick framed Zion as a "detached teammate" during their stint together with the Pelicans.
"This just shows a complete lack of investment in your team, in the organization, in the city," said Redick. "You just traded for one of the 50 best players in the league. A guy that's supposed to be paired with you. Reach out and say, 'Hello.' This is a pattern of behavior with Zion that we are seeing again and again. I was his teammate, I can describe him as a detached teammate, that is an accurate statement."
Will Pelicans Trade Zion to the Knicks?
It's yet to be seen whether or not this is just a ploy from Zion to get out of New Orleans and punch his ticket to the Big Apple. Sure, it's widely known that the Pelicans are not the best franchise in the NBA and have their own deep history of incompetence. However, the current generation of stars are thin-skinned and entitled in a way that rubs the older generation the wrong way. Anthony Davis and his departure from New Orleans is a perfect example after he forced a trade to the Los Angeles Lakers. The same thing could be said about Ben Simmons refusing to play for the Philadelphia 76ers this season before they finally traded him for James Harden.
Zion mentioned numerous times that Madison Square Garden is his favorite arena to play basketball, which made Knicks fans lose their minds at the thought of landing Zion in the future.
Perhaps the Knicks will not have to wait until Zion becomes a free agent to see him at MSG. The Knicks will be one of the first teams in line to take a flier on Zion in a trade.
There's been rumblings that the Knicks want to trade Julius Randle. Plus, the Knicks have a bunch of talented young players they could send to the Pelicans in a trade package for Zion.
Of course, knowing the Knicks history, they could overpay to acquire Zion in a trade and it would backfire. That's the big risk to acquire a talented, but injury-prone player like Zion who has a bad reputation as a detached player.