Magnus Carlsen has held the World Chess Championship since 2013 when he first beat Viswanathan Anand for the title. Starting Friday, the Norwegian legend will attempt to make his fourth title defense when he takes on challenger Ian Nepomniachtchi in Dubai.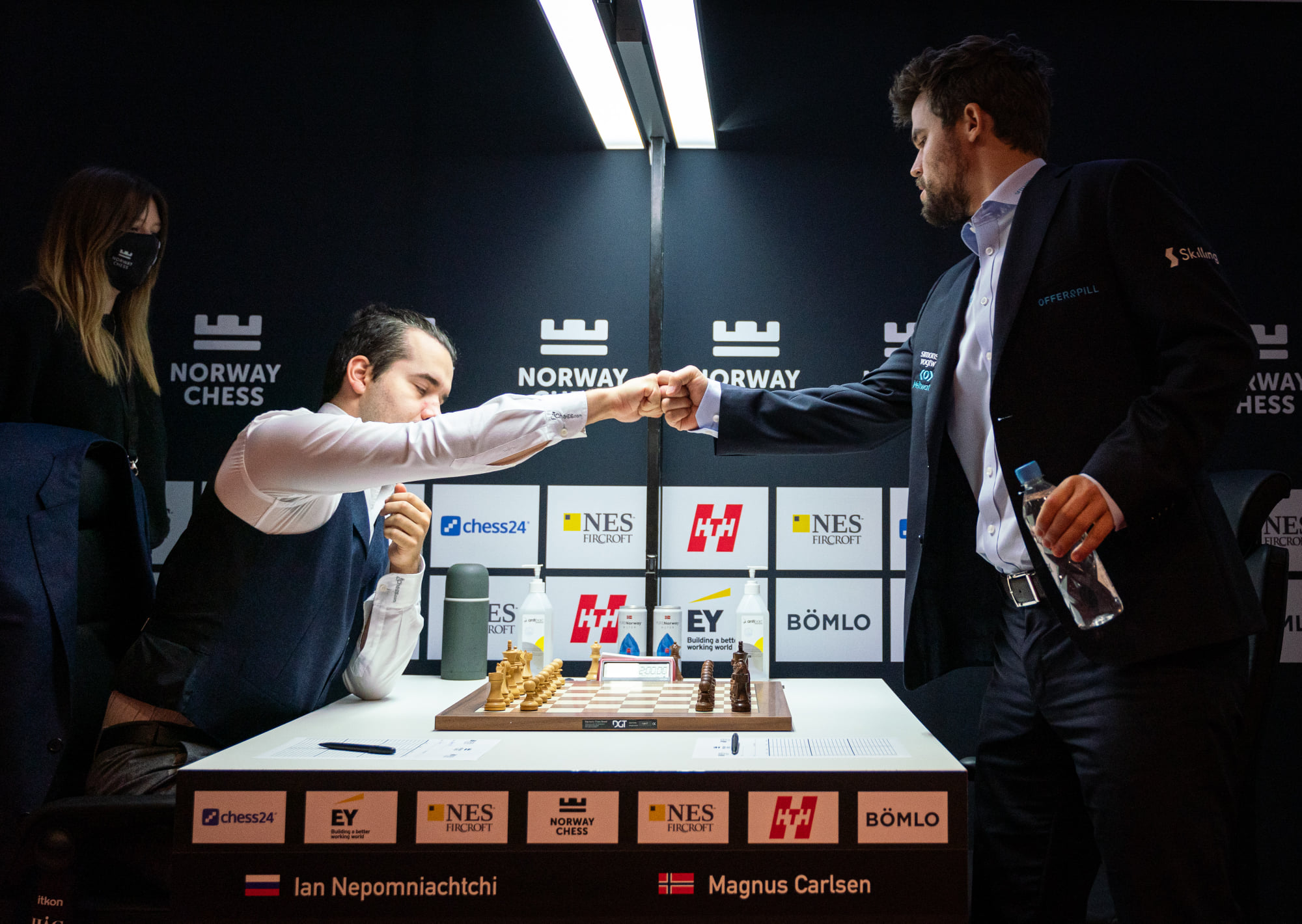 Carlsen and Nepomniachtchi will compete in a 14-game match, up from the 12 games played in recent World Chess Championship contests.
Nepo has history of success vs. Carlsen
Many fans and pundits already regard Carlsen as the greatest chess player of all time, and virtually everyone names him alongside legendary players like Garry Kasparov and Bobby Fischer. The 30-year-old has beaten all of the top challengers of his era, has dominated in every form of chess – including online play – and has won every honor a grandmaster could hope to achieve.
Nepomniachtchi is 31 and came up through junior chess alongside Carlsen. And while the Norwegian may have outshined him, Nepomniachtchi has consistently shown that he can play — and play well — against Carlsen over the years. The two have played 13 times in classical chess, with Nepomniachtchi holding a 4-1 edge, though three of those wins came in the first four times the two played against each other, and two of them came before either had turned 15.
Still, Nepomniachtchi continues to give Carlsen trouble when they play. Many experts put this down to a contrast in styles. While Carlsen prefers to grind out small advantages and beat his opponents into submission, Nepomniachtchi favors an aggressive style.
"I think the most important thing first is that Nepo's style is somehow incompatible with Magnus', in the sense that for Magnus it's not easy to lock into this style," Viswanathan Anand said via Chess24.com. "[Nepomniachtchi]'s the only one who has the ability to get this tactical style against Magnus."
Nonetheless, Carlsen comes into the match as a significant favorite. Unibet sees the world champion as a -400 pick to retain his title, with Nepomniachtchi at +270 to return the crown to Russia. Carlsen outrates the No. 5 ranked Nepomniachtchi by over 70 points, a difference that may well show over 14 games.
Wins at a premium in World Chess Championship
Carlsen entered each of his last two World Chess Championship matches as the favorite, yet ended up needing tiebreakers to win. In 2016, he and Sergey Karjakin won just one game each in regulation; in 2018, Carlsen and Fabiano Caruana played 12 draws before the world champion won three straight rapid tiebreakers.
This time around, Carlsen says he wants to see more decisive results in the classical games.
"Personally, I'm hoping that this time there will be fewer draws than there have been in the last few times because, basically, I have not led a World Championship match in classical chess since 2014," Carlsen told Ignacio Martin, manager of the Royal Hideaway Sancti Petri near Cadiz, Spain – the location where Carlsen's team prepared for the match. "I'm really hoping that there will be a little more back and forth rather than a drawn-out battle that it's been the last few times."
---
World Chess Championship Odds (via Unibet)
Magnus Carlsen: -400
Ian Nepomniachtchi: +270
Score Handicap (After 14 Games)
Carlsen (-1.5): -134
Nepomniachtchi (+1.5): +100
---
The two players are competing for more than just the title of World Chess Champion. The winner will take home $1.2 million, with the loser earning $800,000. For Nepomniachtchi, the money – significant as it is – isn't what's motivating him for this match.
"It really is a lot of money, the highest prize money in my career," Nepomniachtchi told Match TV. "But this is that case where the result is much more important than the prize that follows from it."