Ian Nepomniachtchi drew Maxime Vachier-Lagrave in the 13th round of the Candidates Tournament on Monday, a result that was enough to clinch the tournament for the Russian grandmaster and book his place in the World Chess Championship.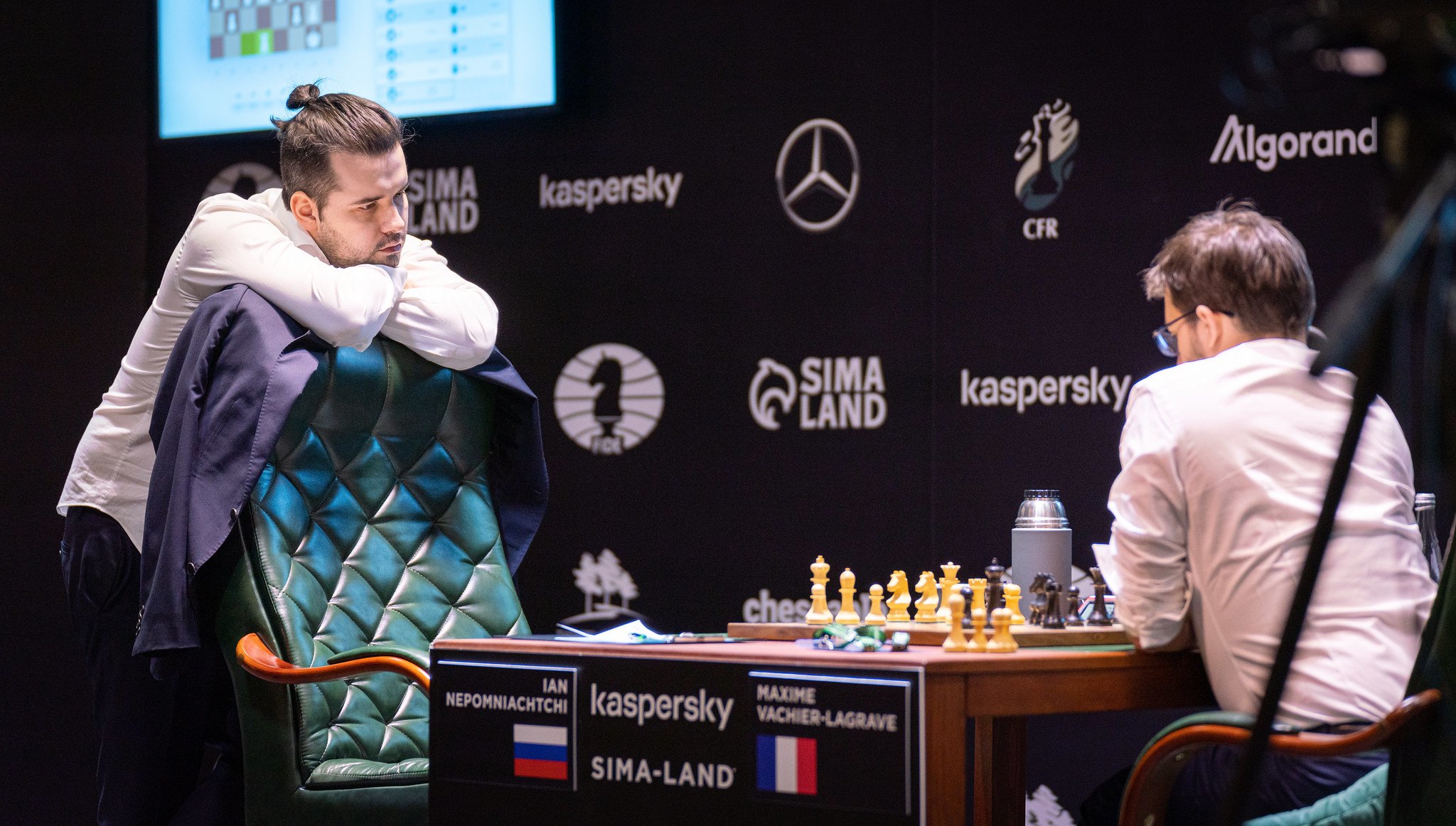 Anish Giri also lost with Black to Alexander Grischuk, giving Nepomniachtchi a full point lead with just one round to play.
MVL salvages position, but can't find win
Nepomniachtchi owns the head-to-head tiebreaker over Giri. That means that even if he were to lose his final game, and Giri beats Kirill Alexseenko on Tuesday, Nepomniachtchi will still win the tournament on tiebreakers.
Taking the white pieces on Monday, Nepomniachtchi opened with Nf3 on his first move. Vachier-Lagrave came into the round down 1.5 points and desperately needed a win, so he played dynamically with Black, though the Frenchman found himself in a poor position in the middlegame.
Vachier-Lagrave found a nice pawn sacrifice that suddenly gave him opportunities. Ultimately, however, the French grandmaster only achieved equality. Nepomniachtchi was able to trade off pieces and reach a clearly drawn position. The two players agreed to split the point after 42 moves.
"It's not easy but at least I got some sort of fighting game," Vachier-Lagrave said afterward. "Of course, as a drawback of getting a fighting game with Black is that generally you end up being clearly worse and this was no exception."
Giri loses, hands victory to Nepomniachtchi
Meanwhile, Giri came into the round just a half-point behind Nepomniachtchi, but knowing that the tiebreak situation favored the Russian. That means he needed to play for a win with Black against Alexander Grischuk.
Giri tried to surprise Grischuk in a Bogo-Indian Defense, and achieved a fair position. But it wasn't one that offered winning chances, and the Dutch grandmaster played for victory anyway, given the tournament situation. Inevitably, that led to the collapse of his position, allowing Grischuk to win simply by playing solid chess.
"It was a very poor game," Giri said afterward. "It was a combination of a mindset that doesn't suit the position, combined with a heavy lack of understanding of the position, and I made a lot of terrible mistakes."
When Giri resigned, Nepomniachtchi officially became the challenger to Carlsen's title. Afterward, the Russian reflected on a tournament that spanned two years due to the COVID-19 pandemic.
The moment Anish Giri resigned was the moment Ian Nepomniachtchi was confirmed as Magnus Carlsen's next World Chess Championship challenger! https://t.co/hOoYioQgGW #FIDECandidates #c24live pic.twitter.com/VBcvzRTYwH

— chess24.com (@chess24com) April 26, 2021
"It's obviously a huge milestone in my career and perhaps in my life also," Nepomniachtchi told reporters. "I'm extremely tired. I don't think I would like again to play a tournament which lasts more than one year."
Carlsen favored, Nepo dangerous in World Championship
Online bookmaker Unibet rates Carlsen as a -335 favorite over Nepomniachtchi (+230) in the World Chess Championship 2021, which will take place in Dubai beginning on Nov. 24. But those odds may underrate the danger Nepomniachtchi poses to the champion in the 14-game match.
Time to say Dubai @lachesisq 👏👏

— Magnus Carlsen (@MagnusCarlsen) April 26, 2021
Nepomniachtchi is the only top grandmaster with a winning record against Carlsen in classical chess games, having won four times against just one loss and six draws. As a footnote, Nepomniachtchi won the U12 World Youth Championship in 2002, beating Carlsen on tiebreak.
Carlsen's first reaction to Nepomniachtchi's win: "It's very interesting. He's a very, very strong opponent. Somebody who also plays very aggressively, and usually gives his opponents chances as well. In that sense, there is every chance there's going to be an exciting match" pic.twitter.com/EekiDaqa3q

— Tarjei J. Svensen (@TarjeiJS) April 26, 2021
Fellow Russian grandmaster Alexander Grischuk summed up Nepomniachtchi's chances in the match simply by saying "he has some."
"For most players, they are a bit illusory, but for him, they definitely exist," Grischuk said. "Less than 50%, but much more than zero."