For 12 games, Magnus Carlsen and Fabiano Caruana battled to draw after draw, neither able to secure an edge in their World Chess Championship match. But Carlsen proved too much for his American challenger to handle on Wednesday, sweeping the rapid tiebreak games to retain the title he has held since 2013.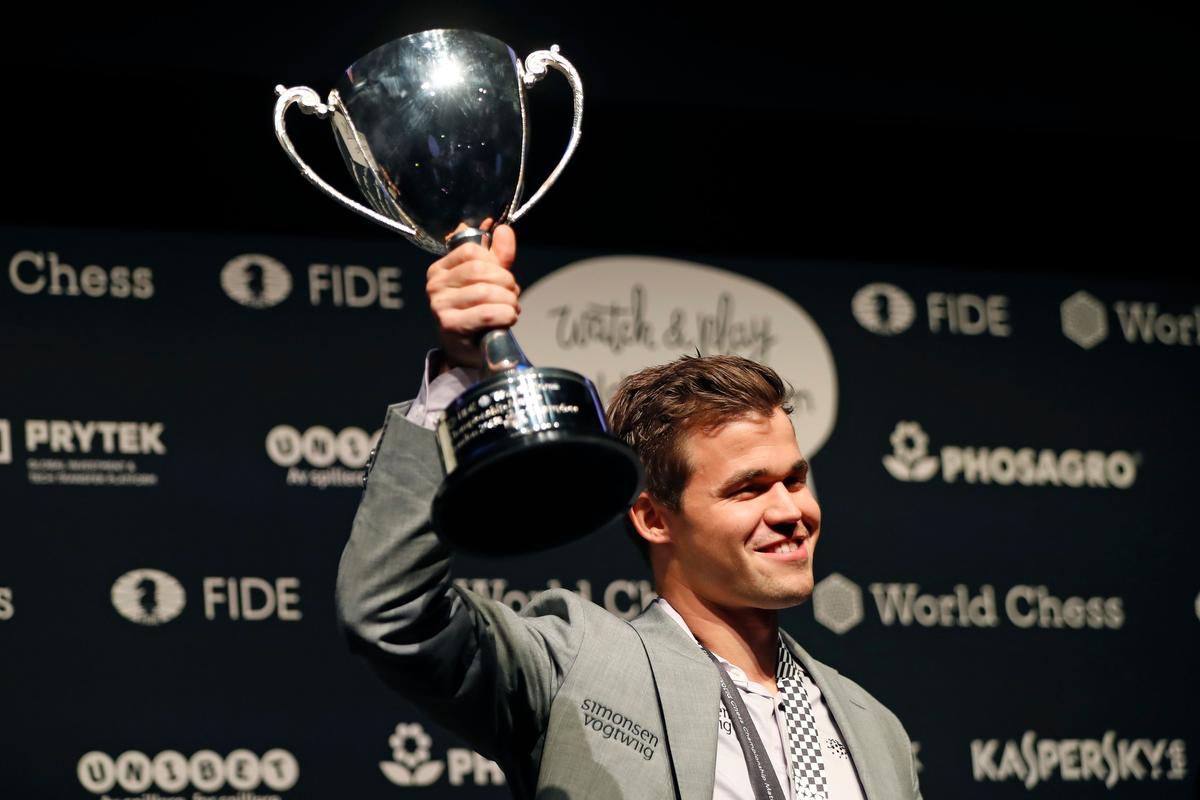 Carlsen won the first three games in a four-game rapid tiebreaker match, ending the action early and guaranteeing that he will hold on to his crown for at least another two years.
Carlsen Justifies Game 12 Draw Offer
The tiebreakers were set up by an unusual scene on Monday, when the players sat down for the 12th and final regulation game of the match. Carlsen gained a significant advantage in the game, and Caruana was facing time pressure, having to make nine moves with less than 10 minutes of thinking time.
Virtually all observers believed that would lead Carlsen to press for a win, especially since he seemed to be able to do so with almost no risk of losing. But Carlsen instead made a shocking draw offer to his opponent, opting to head for the rapid tiebreakers instead. That drew the ire of many prominent chess players, including former World Champion Garry Kasparov.
In light of this shocking draw offer from Magnus in a superior position with more time, I reconsider my evaluation of him being the favorite in rapids. Tiebreaks require tremendous nerves and he seems to be losing his.

— Garry Kasparov (@Kasparov63) November 26, 2018
But rather than showing a lack of nerve, the decision may have instead been a sign of extreme confidence. While the main match was contested with each player having 100 minutes to make 40 moves, as well as additional added time after the 40th and 60th moves, the rapid tiebreaks gave players just 25 minutes of thinking time along with 10 seconds added after each move.
Carlsen is the top-rated chess player in the world at all time controls. But while Caruana is just behind him in second place when it comes to classical chess, the gap is much larger in rapid play, where Carlsen is seen as far and away the best player on the planet.
Clean Sweep Keeps Carlsen on Top
That played out over the board in a dominant display on Wednesday. Carlsen found a precise endgame move to squeeze out a win in Game 1, then crushed Caruana with the black pieces in Game 2. Desperately needing two wins to force more tiebreakers, Caruana had no choice but to take huge risks in Game 3. That led to another Carlsen win and a 3-0 sweep, a result that elicited praise for the Norwegian's abilities from the same critics who questioned him days earlier.
Carlsen's consistent level of play in rapid chess is phenomenal. We all play worse as we play faster and faster, but his ratio may be the smallest ever, perhaps only a 15% drop off. Huge advantage in this format.

— Garry Kasparov (@Kasparov63) November 28, 2018
"I'm a bit surprised that it's never occurred to anybody that I might know what's best for me," Carlsen told the BBC after his victory. "It was a purely sporting decision and regardless of the result today I would have felt that it was the right one."
For Caruana, the loss denied him the opportunity to become the first American world champion since Bobby Fischer defeated Boris Spassky for the crown in 1972. After the match, Caruana regretted that he didn't play well in the tiebreakers, but gave full credit to his opponent for the victory.
"I think the results show that he's the strongest player in the world," Caruana said at a post-match press conference. "I look forward to the opportunity to make another bid for the title."
Carlsen will likely next defend his title in 2020. His challenger will be determined through a Candidates Tournament, with top grandmasters having several avenues for qualification. Caruana will almost certainly be a part of that event, as the losing player from the previous championship match has traditionally earned an automatic entry into the Candidates Tournament.