The WNBA is coming to NBA Hot Shot this week as the popular NFT platform will release its first WNBA: Best of 2021 common packs this Friday.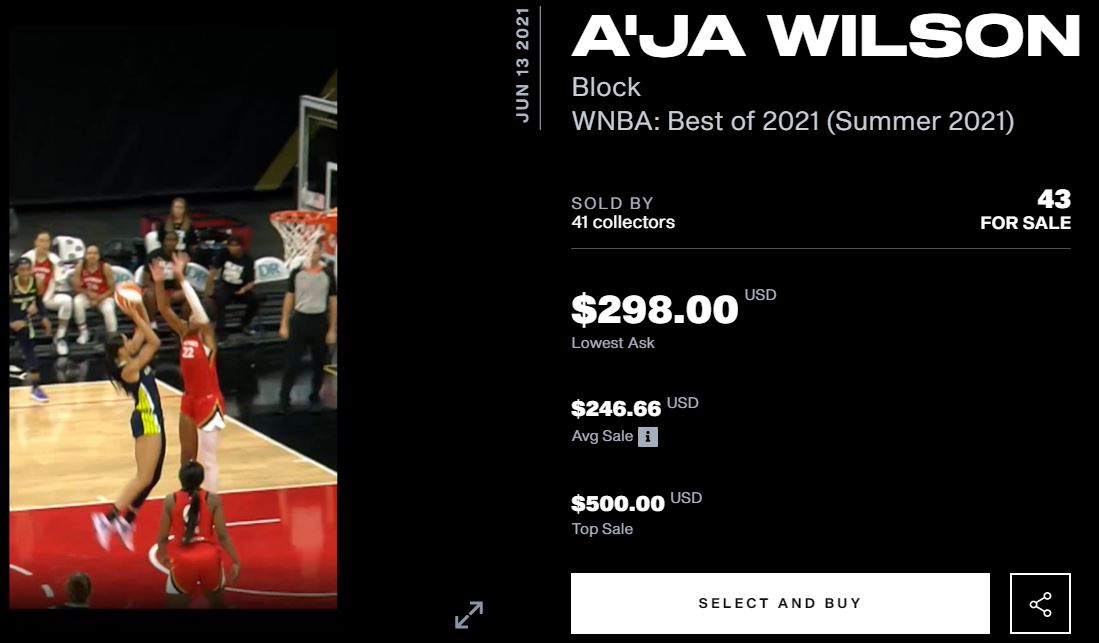 Each pack will contain three moments from the 2021 WNBA season. Users can purchase a pack for $9.
Wilson moment shows potential for WNBA NFTs
Collectors aren't guaranteed to buy a pack. As in other drops, users will queue up in the hopes of being randomly selected, with 50,000 packs available in the general queue.
NBA Top Shot added a method for ensuring access to the WNBA NFT drop. New users who signed up for an account this week earned an A'ja Wilson moment as a reward. Anyone with one of these moments in their account gains access to an earlier priority queue for Friday's drop, guaranteeing the opportunity to purchase a pack.
Top Shot began dispersing those Wilson moments on Thursday afternoon. At the time of this writing, the site had released under 700 copies of the moment – a block by the Las Vegas Aces star – and fewer than 100 hit the marketplace for sale. Those hoping to buy a Wilson moment to gain access to the priority queue were paying over $300 apiece to do so.
It's unlikely that those prices will hold after Friday's release, or that those numbers are a sign of things to come for the WNBA NFTs. But they do show that there is plenty of demand for the product. And with these being the first WNBA moments on the platform, they should carry a premium in the future.
Rare, legendary drops to follow
The WNBA sees joining Top Shot as a way to both excite existing fans and engage with people who might not yet be familiar with the league.
"Top Shot presents an exciting opportunity for the WNBA to engage passionate fans on a whole new level and celebrate the league as it continues to make history," WNBA COO Christy Hedgpeth said in a statement. "We have been at the forefront of innovation in many respects, and partnering with Dapper Labs on Top Shot allows us to highlight the talent and incredible performances of WNBA players in a heightened way through a digital experience."
The common packs will include 25 moments from the current season, featuring stars like Brittney Griner, Breanna Stewart, and Diana Taurasi, among many others. Top Shot has already announced further WNBA drops as well, including a rare pack with historical moments, and a legendary pack filled with moments from the postseason.
The @nbatopshot marketplace has just seen the largest sale of all time!

$230k for a Lebron James, 2020 NBA Finals, Legendary, #23 Jersey Match

You spotted it, @dingalingts. Now you going to top it? pic.twitter.com/V4xpO8H1pr

— Own the Moment NFT (@OwnTheMomentNFT) August 26, 2021
Overall, the NBA Top Shot market is enjoying a sharp turnaround after falling from the staggering highs it hit early this year. Market indicators show a broad recovery across the board, and a LeBron James moment broke a record on Wednesday with a $230,000 sale, the largest ever on the platform.