Panini America continued its foray into sports NFTs on Monday, as it began dropping its 2021 Prizm Baseball NFT packs for collectors.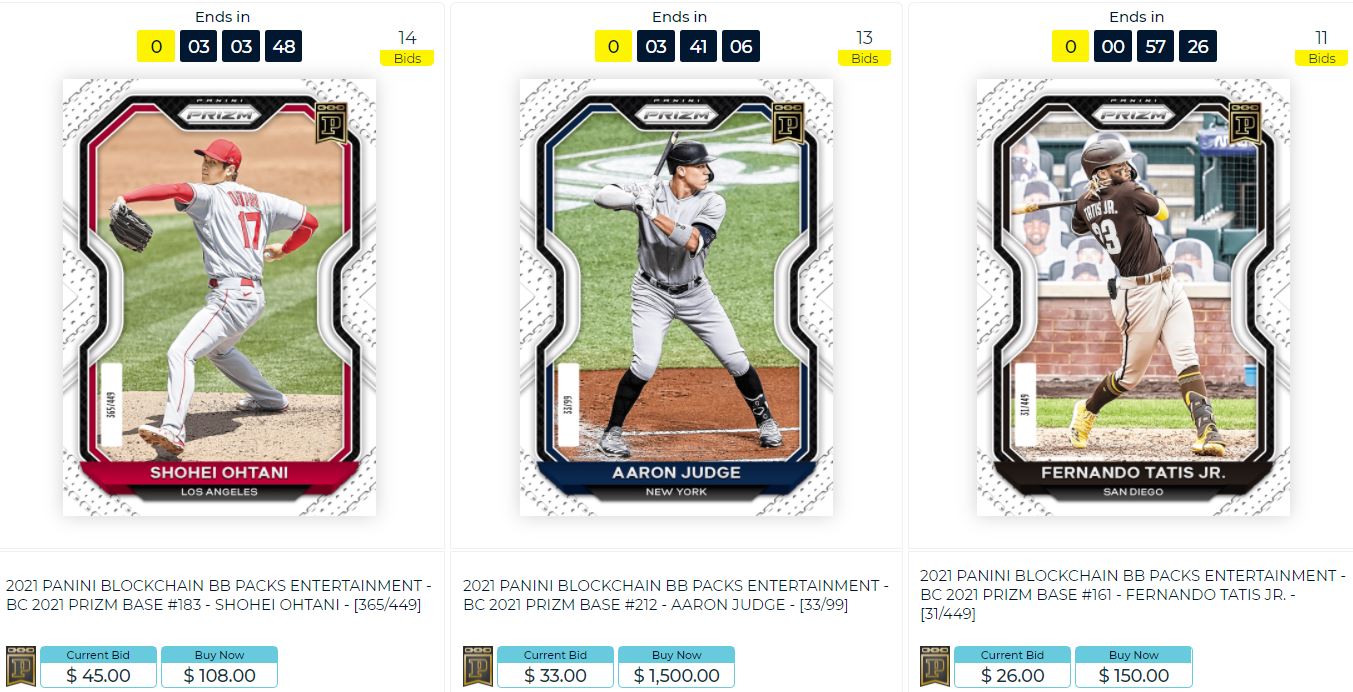 Each $10 pack contains three cards of varying rarity, with inserts saved for later pack drops.
Panini baseball NFTs attract tepid prices
The first of those inserts appeared on Tuesday, with "Whammy" insert packs dropping for $15 each. The Whammy packs sold out immediately on release.
Those buying the Panini baseball packs will notice something odd: the fact that no MLB logos or team names appear anywhere in these products. While Panini holds a license from the MLB Players Association, it lacks a corresponding deal with Major League Baseball. Thus, each NFT – much like Panini's physical cards – include player names and images along with city names, but no references to specific MLB teams.
Panini has announced five more baseball drops featuring various inserts, many of which are parallels of the base set. The release will conclude on Sept. 6 with the Gold Vinal Prizm drop. As with their NBA and UFC products, these packs will be sold via Dutch auction, and each will contain a 1/1 insert.
While both Panini baseball drops have sold out quickly, collectors aren't getting rich quickly on these NFTs. Only a handful of cards have sold for $100 or more, including several base Shohei Ohtani cards, which are numbered to 449. The top sale so far belongs to a Pedro Martinez 1/99 NFT, which went for $200.
The long-term prospects for these NFTs are difficult to evaluate. Stars like Ohtani, Mike Trout, and Fernando Tatis already command reasonable prices, and the first-run release could easily appreciate over time. Some cards are also surprisingly cheap: Ronald Acuna Jr. NFTs – numbered to 999 – are generally selling for between $10 and $20. That could represent a great investment opportunity for the future, or be a sign of weakness for a product without an MLB license.
NBA Top Shot, Topps MLB enjoy gains
NBA Top Shot collectors aren't enjoying the absurd gains they saw earlier this year either. But, after months of sliding prices, the market for the premier sports NFTs has bounced back nicely over the past three weeks.
On Aug. 1, the MomentRanks.com MR 100 index sat at 1,732, which is near its all-time low after launching on May 8 at about 4,241. As of Tuesday afternoon, the MR 100 sits at 3,282.94, an 89.5% increase from the beginning of the month.
It's hard to say exactly what precipitated this increase. Perhaps the end of Series 2 releases – and the closure of the Series 2 base set – gave the market confidence after a potential over-saturation during the season and the NBA playoffs.
Meanwhile, prices on the Topps MLB market have risen, despite the news that Topps is losing its MLB and MLBPA licenses in the coming years. Instead, a boom in the price of the WAX cryptocurrency – on which the Topps MLB NFTs are based – pushed up prices across the market.
How much this has really improved the market is hard to know, however. According to CryptoSlam.io, the Topps MLB market was only generating about $10,000 to $20,000 in sales per day before WAX briefly jumped to nearly $0.49 on Sunday night. That led to a huge spike in sales – nearly $100,000 on Sunday – as collectors jumped on cards priced in US Dollars, which were now comparatively cheap in WAX. But sales numbers have already begun to dip again, while WAX prices have retreated to about $0.33.