Heading into Week 2 of the NFL fantasy football season, consider adding waiver wire pickups such as tight end Juwan Johnson, running back Elijah Mitchell, running back Mark Ingram, wide receiver KJ Hamler, wide receiver Christian Kirk, and running back Latavius Murray.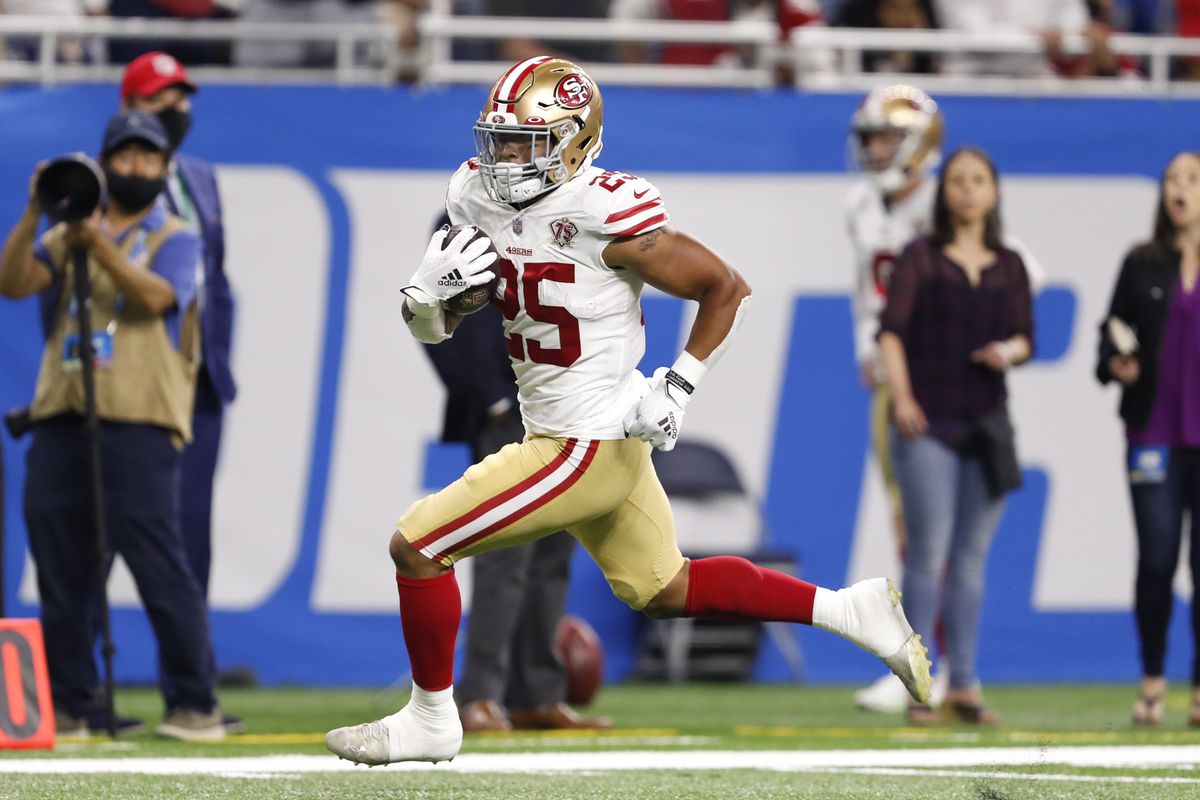 Several teams are struggling with injuries after only the first game of the season. The Baltimore Ravens lost three running backs within a two-week stretch, but they have a veteran like Murray to step up for them.
---
Week 2 Waiver Wire Pickups
Juwan Johnson (TE, New Orleans Saints)
Elijah Mitchell (RB, San Francisco 49ers)
Mark Ingram (RB, Houston Texans)
Latavius Murray (RB, Baltimore Ravens)
KJ Hamler (WR, Denver Broncos)
Christian Kirk (WR, Arizona Cardinals)
---
The San Francisco 49ers lost a couple of starters to injuries in Week 1, including running back Raheem Mostert. The 49ers took a flier on Mitchell with a sixth-round pick in the 2021 NFL Draft and they're lucky to have the former Louisiana Ragin' Cajun on their roster.
Ground Attack: Mitchell, Ingram, Murray
After Mostert went down early with a knee injury, the 49ers turned to a rookie to carry the workload. Mitchell excelled with 19 carries for 104 yards and a touchdown. He averaged 5.5 yards per carry and scampered for a 38-yard touchdown in the second quarter. If you're looking to bolster your bench or need a running back, then Mitchell is a viable waiver wire addition.
Veteran running back Mark Ingram passed 1,000 rushing yards in a single season three times since 2016 with the New Orleans Saints and Baltimore Ravens. Ingram was the primary back for the Houston Texans in Week 1. He looked a bit like his old self with 26 rushes for 85 yards and a touchdown in a win over the Jaguars.
The New Orleans Saints cut Murray due to a contract dispute, but the Ravens were fortunate to sign the veteran backup. If you're desperate for a running back in Week 2, then add Murray to your waiver wire pickups. Ty'Son Williams rushed nine times for 65 yards and a touchdown, but Murray earned more touches with 10 carries for 28 yards and a touchdown.
Elijah Mitchell with his first NFL TD! #49ers pic.twitter.com/PxfloZb2sa

— Coach Yac 🗣 (@Coach_Yac) September 12, 2021
Air Attack: Johnson, Hamler, Kirk
The Denver Broncos had high hopes for second-year wide receiver Jerry Jeudy before he suffered a nasty ankle injury in the second half. Jeudy was lucky it was only a high sprain and not a compound fracture, but he'll miss up to six weeks. Target the other wideouts on the Broncos, including KJ Hamler and Tim Patrick, as noteworthy waiver wire additions. Teddy Bridgewater looked strong in his debut with the Broncos with 264 yards and two touchdowns. Patrick caught four passes for 39 yards and a touchdown, while Hamler added three receptions for 41 yards.
Juwan Johnson was a former favorite target for Justin Herbert while they were at Oregon. He saw limited action in his rookie season with the New Orleans Saints, but now he's their primary tight end. The local press dubbed Johnson as the "Baby Megatron," which is a nod to Hall of Famer Calvin Johnson. Johnson and Jameis Winston hooked up for two touchdowns in the Saints' blowout against the Green Bay Packers. Johnson caught just three receptions for 21 yards, but found the end zone twice.
Kyler Murray lit up the Tennessee Titans with five touchdowns, including four passing scores and a rushing TD. Murray spread the ball around between future Hall of Famer DeAndre Hopkins and Christian Kirk. Hopkins caught six passes for 83 yards and two touchdowns. Kirk added five receptions for 70 yards and two touchdowns. The Cardinals host the Minnesota Vikings in Week 2, and the Vikes are fresh off an overtime loss against Joe Burrow and the Cincinnati Bengals. The total in the Arizona/Minnesota game is 51, and Murray should feast off the porous Vikings' secondary.