The Denver Broncos expected big things from promising second-year wide receiver Jerry Jeudy before he suffered an ankle injury against the New York Giants in the opening game of the season.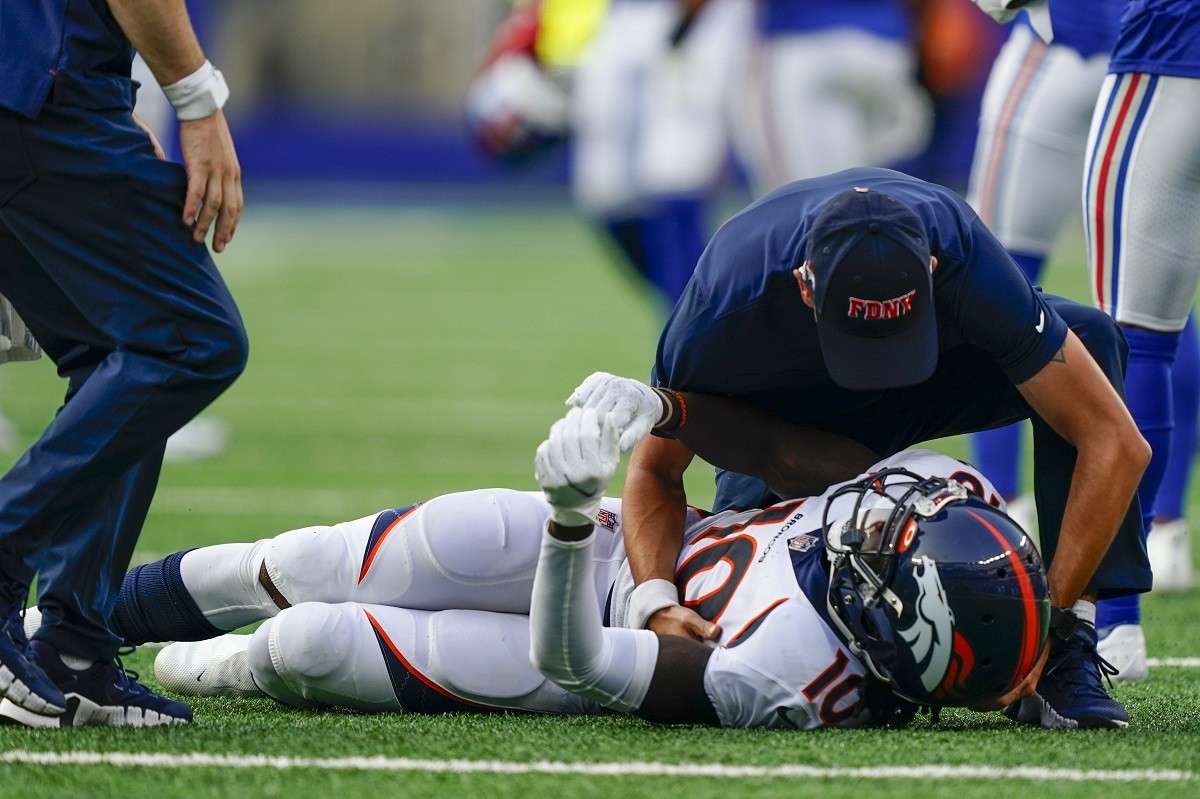 Jeudy went down with a gnarly injury in the third quarter after hauling in a 20-yard pass from Teddy Bridgewater. He held onto the ball, but rolled his ankle after a tackle from New York's James Bradberry. Jeudy didn't get up from the pile and needed assistance getting off the field.
When the training staff called for the medical cart, Broncos fans universally held their breath. An X-ray revealed a bit of good news and Jeudy avoided a fractured ankle. He will undergo more testing and a comprehensive MRI on Monday after the team returns to Denver.
Jerry Jeudy has his ankle rolled up on BADDD pic.twitter.com/KdWv2LcIzb

— Alex Wilson (@AlexWilsonESM) September 12, 2021
Prior to his injury, Jeudy caught a team-high six passes for 72 yards. He was targeted by Bridgewater seven times and averaged 12 yards per catch. The Broncos went on the road and defeated the Giants 27-13 to start the season 1-0. Bridgewater looked good in his debut with 264 yards, two touchdowns, and no interceptions.
Tight end Noah Fant was Denver's second-best receiver on the day with six catches for 62 yards. Tim Patrick caught four passes for 39 yards and a touchdown, while KJ Hamler added three catches for 41 yards.
"I talked to Jerry briefly," said Bridgewater after the game. "He means a lot to this offense. You watch him and he's creating separation in the pass game, he's making tough catches across the middle, he's getting open for us on third downs. We're going to continue to pray for him and can't wait to get him back."
"I'll be back soon," posted Jeudy on his Instagram account.
High-ankle sprains are tricky injuries. Jeudy could return in a couple of weeks, or he could miss two or three months of action.