Aspen Ladd will look to continue her rise up the UFC women's bantamweight rankings as she takes on No. 1 contender Germaine de Randamie in the Main Event at UFC Fight Night 155 in Sacramento, California.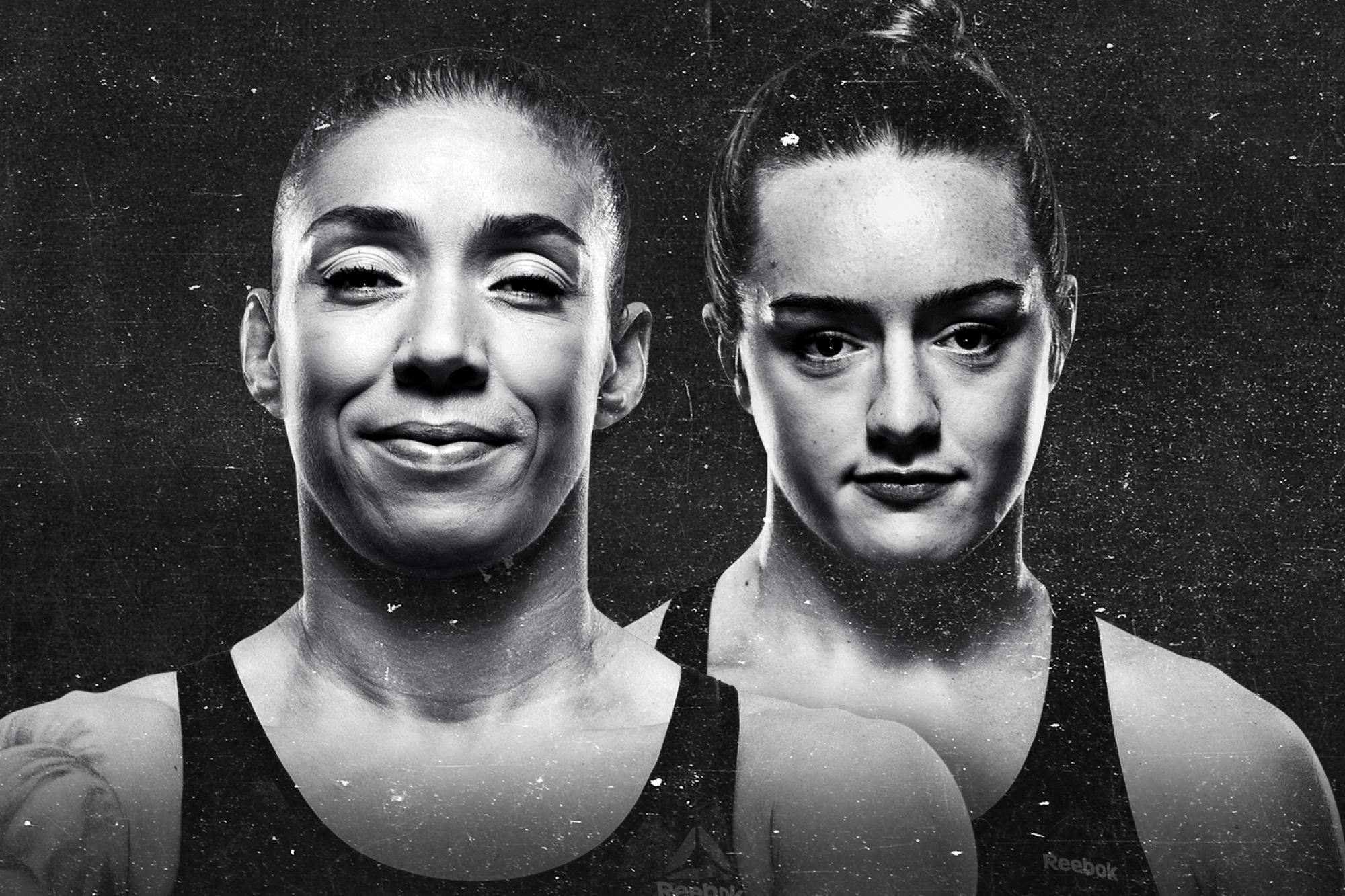 The undefeated Ladd will face a sharp rise in her level of competition in de Randamie, who was once the women's featherweight champion in UFC.
Undefeated Prospect vs. Experienced Veteran
Now, the No. 4 contender in the division, Ladd (8-0) could well see herself inserted into a title match against Amanda Nunes with a win over de Randamie on Saturday. But the 24-year-old isn't about to look past the opponent that the UFC has put in front of her.
"I'm not putting any pressure on myself and I'm not thinking of anything other than doing what I have to do to win this one fight," Ladd told Yahoo Sports. "Everyone wants to talk to me about her experience and fighting for the title and Amanda and all of that, but none of that is important. What's important is the fight that is in front of you and for me, that's [de Randamie.]"
There's no doubt that de Randamie (8-3) does have an experience advantage. While she doesn't have a tremendous amount of MMA fights under her belt, she has extensive competitive kickboxing in her background.
She's also a former UFC champion, though in the minds of many, that doesn't count for much, since she was stripped of that title when she refused a fight against Cris Cyborg. Still, the 35-year-old Dutch fighter believes her trials and tribulations will help her against Ladd.
"I've seen it all, I've faced it, and I've been through it all. If it comes to it, and I have to rely on something, my experience is one thing and the stormy weathers that I have conquered [are another]," de Randamie told MMA Fighting. "I always tell people, 'I've stood in the storm, but now I am the storm.'"
It's likely that de Randamie will look to finish her younger opponent early, as Ladd is unlikely to have ever faced such a dangerous striker in her career. But as the fight goes on, Ladd's superior strength should start to wear down de Randamie. FanDuel Sportsbook sees Ladd (-164) as a slight favorite over de Randamie (+134) heading into the fight.
Faber Returns for UFC Fight Night 155
In the co-main event, UFC legend Urijah Faber (34-10) is back in the Octagon for the first time since his retirement in late 2016. The 40-year-old is restarting his career against Ricky Simon (15-1), a promising bantamweight prospect who has just scraped his way into the UFC rankings as the No. 15 contender in the division.
Simon is 3-0 in UFC fights, and while it's hard to say what Faber has left in the tank, the 26-year-old American is hoping he gets a trust test from the former great.
"I've prepped for the best Urijah, and I'm hoping for the best Urijah," Simon told MMA Junkie. "This has been a dream fight of mine for forever."
While it's nearly impossible to know what to expect from Faber after nearly three years away from fighting, making this a difficult one to handicap. Simon is a highly aggressive fighter who pressures opponents from the opening bell to the end of a fight. If Faber is up to the challenge, his experience could easily give him the opportunity to take advantage of overzealous offense from the youngster. But age and ring rust make it seem more likely that he'll wilt under the pressure, which is why bookmakers have Simon (-380) favored over Faber (+280).