The Ultimate Fighting Championship will celebrate the company's 25th anniversary on Saturday with UFC Fight Night 139 at the Pepsi Center in Denver, Colorado.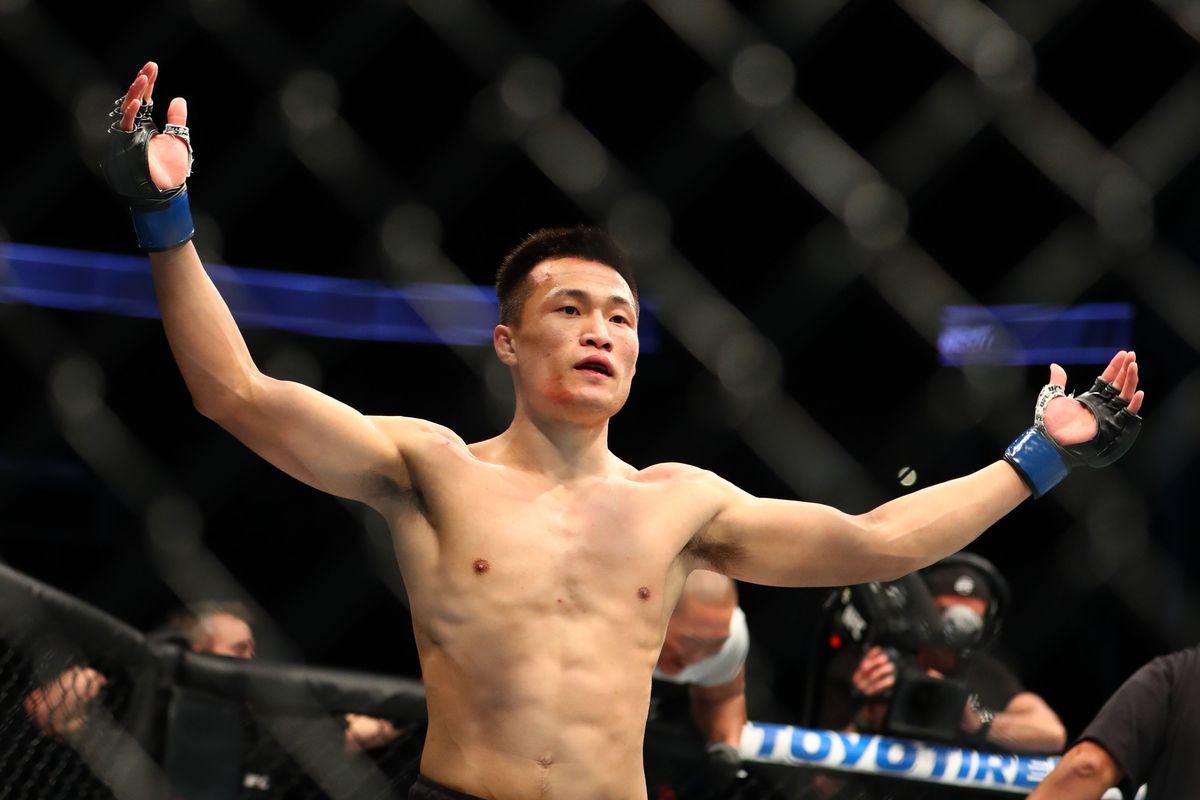 The UFC hosted its first ever event on Nov. 12, 1993, with UFC 1 having also taken place in Denver.
Long Layoffs Create Intriguing Main Event
Saturday's card won't have the hype of that first mixed martial arts competition, and doesn't feature the depth of top-tier talent the UFC now regularly puts together for its pay-per-view events. But there are still a number of intriguing fights between ranked contenders for the televised show.
The main event features a featherweight clash between "The Korean Zombie" Chan Sung Jung and Yair Rodriguez. The 10th-ranked Jung (14-4) has only fought once in the past five years, as military service and injuries have kept him largely out of action. But the 31-year-old Korean has been a force in the division before, once losing to Jose Aldo for the UFC title back in 2013.
Rodriguez (10-2) is coming off his own 18-month layoff due to his own injury problems. A promising prospect, Rodriguez's last fight ended in a TKO loss to No. 3 ranked Frankie Edgar, who was meant to be Jung's opponent before an injury ruled him out of the bout. That gives Rodriguez another opportunity to work his way up the division.
"There are ups and downs in this career," Rodriguez told reporters on media day. "It's just part of the game. My style of fighting is going to be always be the same. It's who I am."
The winner of this bout will have the kind of momentum that will give themselves the chance to work their way back into the featherweight title picture, and bookmakers are expecting a competitive fight. Jung (-125) has been made a slight favorite by Bwin over Rodriguez (-105), though it is hard to know exactly what to expect given how little time the two men have spent in the Octagon over the past two years.
Cerrone Has Chance to Set UFC Wins Record
The co-main event sees No. 12 ranked welterweight Donald Cerrone (33-11) meet up with Mike Perry (12-3).
Cerrone has been one of the most active fighters in the UFC, known for taking just about any fight the promotion wants him in. That has allowed Cerrone to become one of the winningest fighters in UFC history: with 20 wins, he is tied with Georges St-Pierre and Michael Bisping for the most all-time, a record he could make his own with a victory over Perry.
"It's cool, especially on such a historic 25th anniversary," Cerrone told ESPN.
Perry is coming off a split decision win over Paul Felder at UFC 226 that ended a two-fight losing streak for the 27-year-old, who was once considered a hot prospect in the division. Oddsmakers predict that Perry (-227) will book his second straight win, as his aggressive, pressuring style may be too much for Cerrone (+165).
Also on the card is a fight between top-five women's bantamweights Raquel Pennington (+150) and Germaine de Randamie (-200), a bout which could establish the winner as a serious title contender in the division.