Yair Rodriguez took the win in a key featherweight matchup on Saturday night when opponent Brian Ortega appeared to dislocate his shoulder, leaving him unable to continue.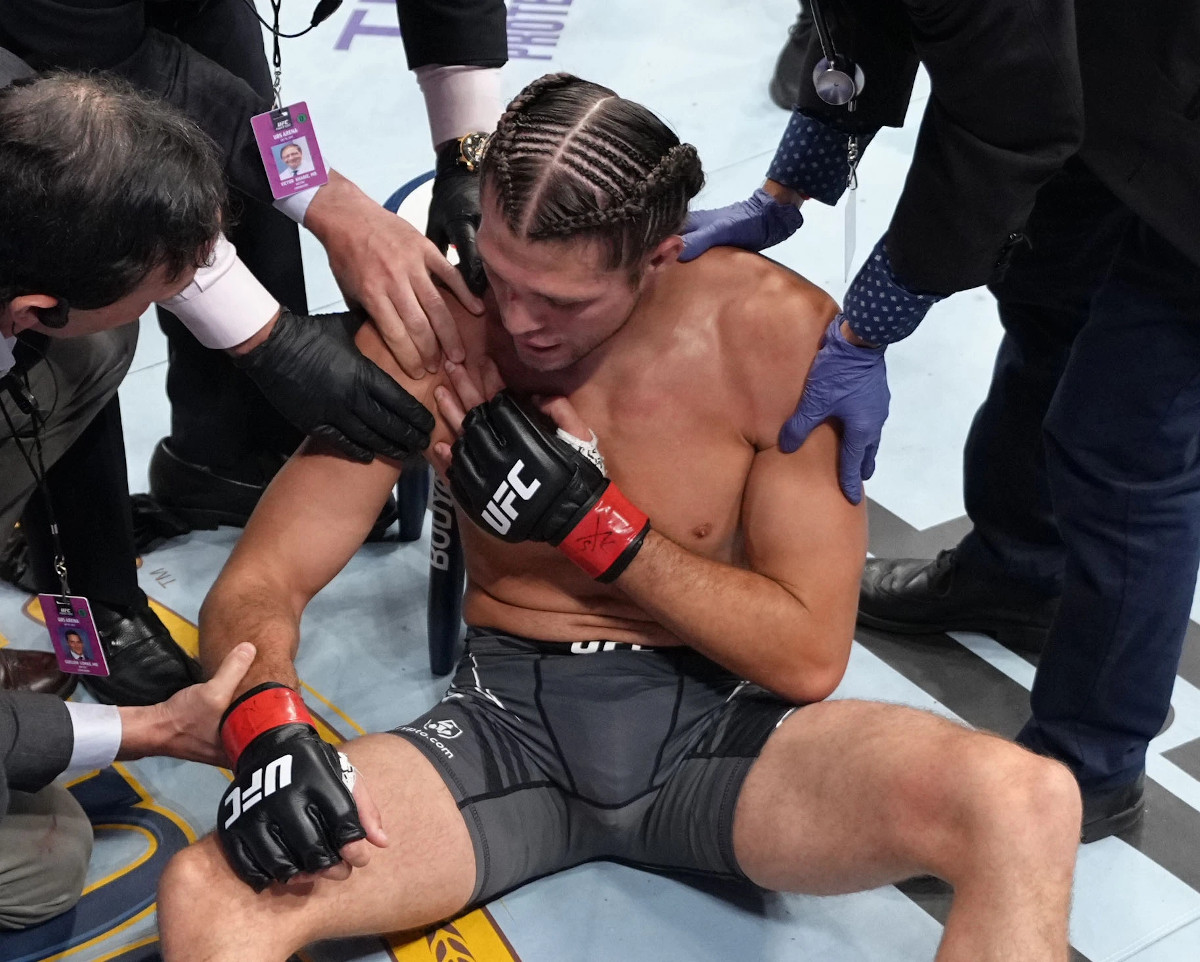 The injury occurred just over four minutes into the opening round, resulting in a TKO victory for Rodriguez.
Rodriguez willing to run it back with Ortega
Both Ortega and Rodriguez came into the main event at UFC on ABC 3 with the intention of scoring an impressive win and securing a title shot against Alexander Volkanovski. Ortega rated as a -170 favorite at DraftKings Sportsbook in what most expected to be a competitive fight.
The bout started that way, with both men landing sharp punches in the opening minute. Ortega even opened a cut under Rodriguez's right eye and managed to take him to the ground.
That's when the injury occurred. Rodriguez threw out an attempted armbar from his back, a move that was more about the threat than a true attempt at a submission. Ortega pulled his right arm away, apparently causing the dislocation at that point.
"I don't know how it happened," Ortega told reporters. "I wanted to keep going. I've had two shoulder surgeries, and I might need a third one."
Rodriguez agreed that this was not how he wanted to win this fight.
"I already told him we can run it back, but I would rather do it for a championship," Rodriguez said afterward. "This was unfortunate. I was prepared to win, but that's not the way I wanted."
Frankie Edgar calls out Dominick Cruz for final fight
Former UFC lightweight champion Frankie Edgar says he wants to fight one more time before he retires. He also says that he has an opponent in mind.
Edgar told ESPN that he'd like to face former bantamweight champion Dominick Cruz, though Cruz is already fighting Marlon Vera on Aug. 13.
"He was a champion at 135 when I was a champion at 155, still both pretty much top of the division," Edgar told ESPN. "I think that could be an interesting fight. But again, he's got a fight coming up against 'Chito,' so we'll see what happens."
The 40-year-old Edgar (24-10-1) has lost four of his past five fights, with his last three losses coming by stoppage. His last title bout came in 2019 when he lost to Max Holloway by unanimous decision for the featherweight championship. At one point, Edgar held a 15-1-1 record while he reigned as lightweight champion.
Bellator signs Karina Rodriguez
Invicta FC women's flyweight champion Karina Rodriguez has signed a multifight contract with Bellator. The 36-year-old Rodriguez (10-4) has won four of her past five fights.
Rodriguez will join an increasingly deep flyweight division in Bellator. Liz Carmouche (17-7) holds the women's flyweight title, with Juliana Velasquez (12-1) and Kana Watanabe (11-1-1) among the leading contenders in the division.