Curtis Blaydes earned an important win over Tom Aspinall on Saturday night in the main event of UFC Fight Night 208, but he felt little satisfaction with his victory due to an injury that occurred just seconds into the opening round.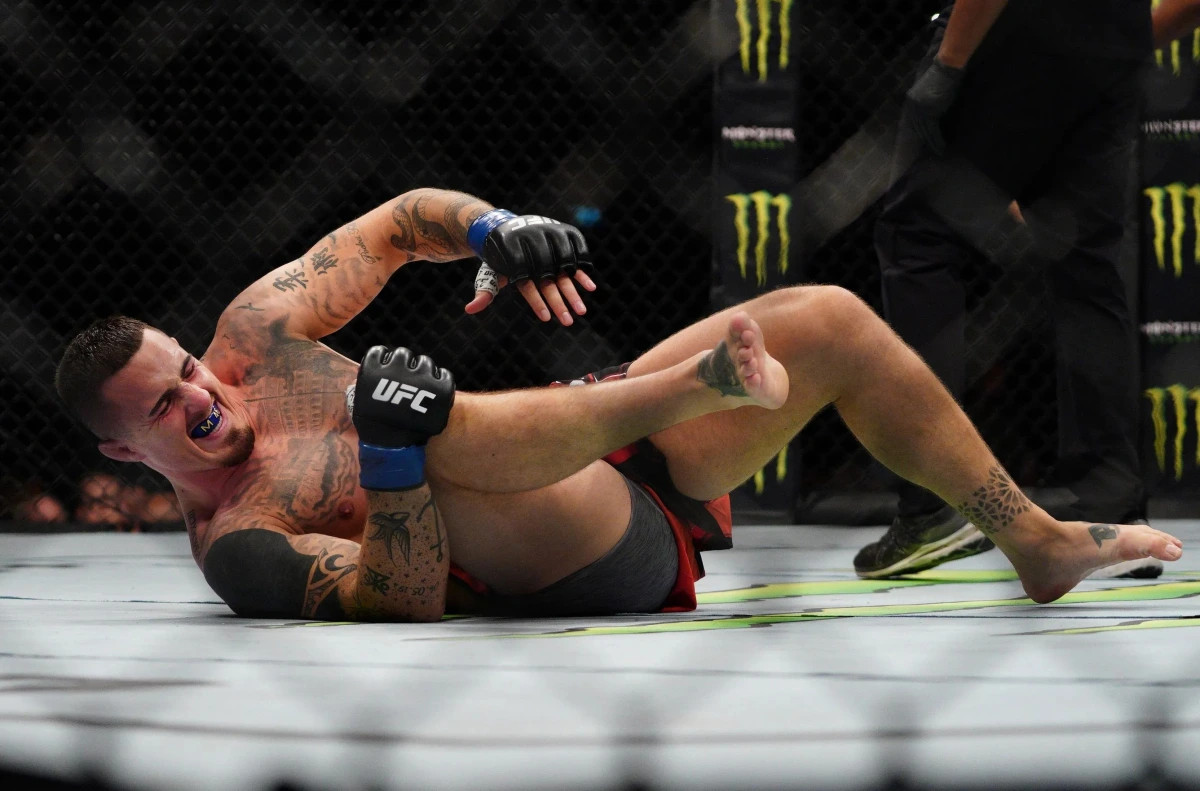 Aspinall suffered a right knee injury 15 seconds into the fight, bringing a quick end to the highly anticipated fight.
Blaydes eyes new opponent despite frustrating win
Blaydes (17-3) earned a victory via injury TKO as a result. The finish marked the second straight UFC main event to end due to injury. A week earlier, Brian Ortega dislocated his shoulder in the first round, forcing him out of his fight with Yair Rodriguez.
Aspinall (12-3) had built up a perfect 5-0 record in the UFC and came out firing in the opening seconds. Blaydes countered, though none of his shots caused the injury.
"I'm frustrated. No one wants to win like that," Blaydes told reporters after the fight. "I get the win, I hold my ranking. I get the money, but without a highlight, did it even happen?"
While Blaydes may not have enjoyed the win, he still plans to move forward just as though he had scored a highlight-worthy knockout.
"I'm not risking my ranking [by granting a rematch to Aspinall]," Blaydes said. "Heading into this fight I envisioned the winner, which is me, would be fighting the winner of [Tai] Tuivasa and [Ciryl] Gane. So I'm not going to pass up an opportunity to fight those guys when it's right there to wait for Tom Aspinall to heal and run it back."
Cejudo wants shot at Volkanovski
Former UFC flyweight and bantamweight champion Henry Cejudo is coming out of retirement with the intention of claiming an unprecedented third title. That means taking a shot at Alexander Volkanovski in an effort to win the featherweight crown.
It's unclear whether the UFC would give Cejudo that opportunity, especially right off the bat. Cejudo hasn't fought since announcing his retirement following a win over Dominick Cruz at UFC 249 in May 2020.
Cejudo says he's willing to fight at bantamweight, but only if it moves him closer to a showdown with Volkanovski.
"These dudes are not on my level," Cejudo told ESPN. "And they all know it. So if I have to go down to 135 pounds [and win back] my belt to challenge Alexander Volkanovski, that's what I have to do."
Cejudo (16-2) won his last six fights before he retired. Meanwhile, Volkanovski (25-1) has won 22 straight bouts dating back to 2013.
Dana White's Contender Series returns Tuesday
The sixth season of Dana White's Contender Series (DWCS) begins on Tuesday night with a card at the UFC Apex facility in Las Vegas. This season features 10 episodes with fighters attempting to impress White and earn a contract with the UFC.
While the first card initially included five bouts, the Nevada Athletic Commission canceled a bantamweight fight between Farid Basharat and Willian Souza after Souza weighed in at 146 pounds – 10 pounds over the 136 maximum for non-title fights.
That mean's tonight's show will go out with just four bouts. In the matchup with the most competitive odds at DraftKings, Ozzy Diaz (-120) will take on Joe Pyfar (+100) in a middleweight contest.