Cinderella lives in Westwood this year. The #11 UCLA Bruins (22-9), led by Johnny Juzang, won their play-in game and defeated every team in their path — including #1 Michigan (23-5) in the Elite 8 — to reach their first Final Four since 2008.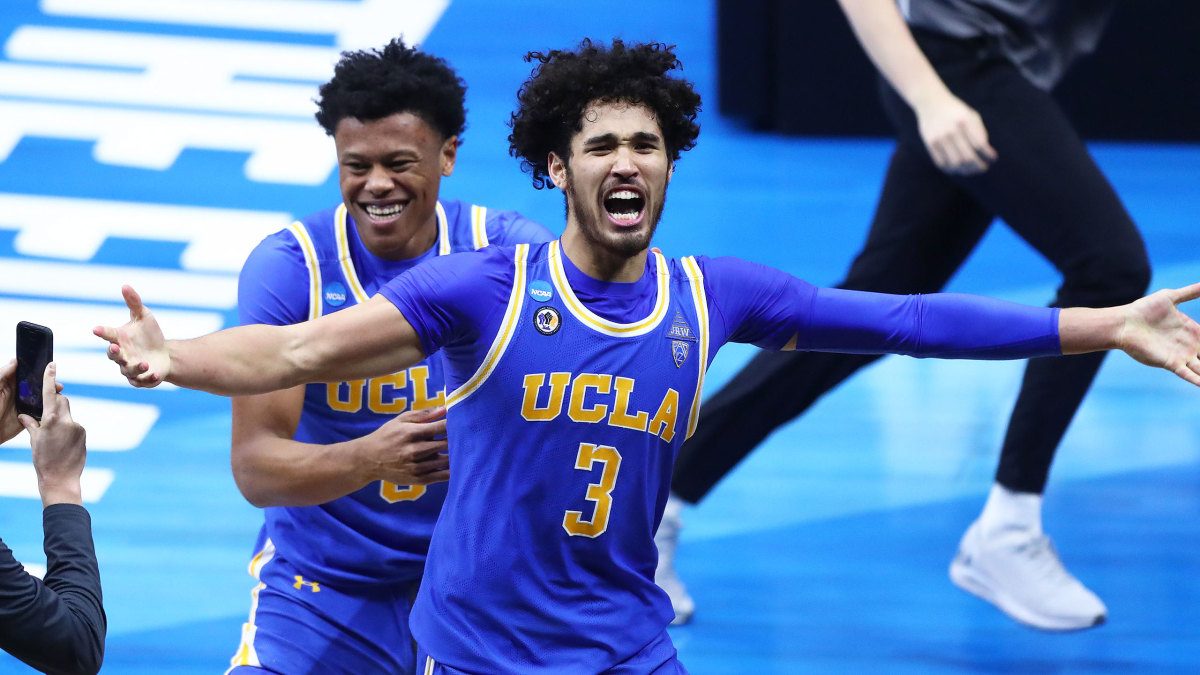 UCLA, as a +7 underdog, knocked Michigan out of March Madness with a 51-49 victory. Michigan scored a season-low 49 points against UCLA's clampdown defense. Freshman Hunter Dickinson was the lone Wolverine to score double digits with just 11 points.
UCLA's Juzang scored a game-high 28 points and, along the way, etched his name in the UCLA record books with legends Bill Walton and Lew Alcindor (aka Kareem-Abdul Jabbar).
Michigan's Mike Smith and Franz Wagner missed 3-point attempts in the closing seconds that could have won the game for the Wolverines. UCLA's 2-point victory made them the first team in NCAA history to go from the First Four to the Final Four.
In his second season in Westwood, UCLA head coach Mike Cronin secured his first trip to the Final Four as a head coach.
No other basketball program won more March Madness championships than UCLA with 11 titles. John Wooden won 10 championships during a UCLA dynasty that started in the early 1960s and lasted through the mid-1970s.
Johnny Juzang letting it fly 🎯@UCLAMBB #MarchMadness pic.twitter.com/794CTJGimf

— NCAA March Madness (@marchmadness) March 31, 2021
Michigan Deep Freeze
Michigan started out cold and it took them most of the game before they finally woke up with just five minutes remaining. They didn't have a consistent scorer they could go to every time Juzang hit a bucket.
UCLA's defense rattled Michigan and the Wolverines committed 14 turnovers, which ultimately led to their downfall.
Franz Wagner had an awful game, shooting 1-for-10, including 0-4 from 3-point land. Freshman Hunter Dickinson struggled against UCLA's frontline defense. He scratched and clawed his way to team-high 11 points.
UCLA's Tyger Campbell held Mike Smith to just three points while shooting just 1-for-7 from the floor.
Brandon Johns Jr is the only starter who found success against UCLA's defense, shooting 4-for-5. He only scored eight points because Michigan failed to get him involved in the offense late in the game.
During three previous March Madness games, Michigan averaged 81.3 ppg. In the Elite 8, Michigan scored only 49 points, 27 points fewer than their season average.
Cinderella UCLA
It wasn't a pretty win, but that's how the Bruins won games this season and survived in the tournament.
UCLA defeated Michigan State 86-80 in the First Four play-in game to earn the #11 seed. They picked off #6 BYU 73-62 in the first round. In the second round, UCLA spoiled #14 Abilene Christian's bid to play the role of Cinderella. In the Sweet 16, UCLA ambushed #2 Alabama 88-78 and advanced to the Elite 8, where #1 Michigan was waiting for them.
Michigan's bench outscored UCLA's reserves 15-0, but that didn't matter. UCLA had enough firepower from Juzang and Campbell, who combined for 39 of UCLA's 51 points.
Aside from Campbell and Juzang, the rest of the starters shot 5-for-22 for just 12 points. Jules Bernard's slump continued and he shot 2-for-10 from the floor, missing both of his 3-point shots. Despite the bad night, Bernard hit a clutch shot down the stretch.
UCLA will face #1 Gonzaga in the Final Four this weekend. The Bruins already knocked off a #1 seed and a #2 seed. What's another #1 seed for UCLA and the Cinderella Bruins? UCLA opened as a +14 underdog against undefeated Gonzaga.