Gonzaga (26-0) will attempt to join the 1975-76 Indiana Hoosiers as the last team to win the March Madness college basketball tournament with an undefeated season. History is against Gonzaga, however, as four other undefeated teams entered March Madness only to be knocked out of the tournament.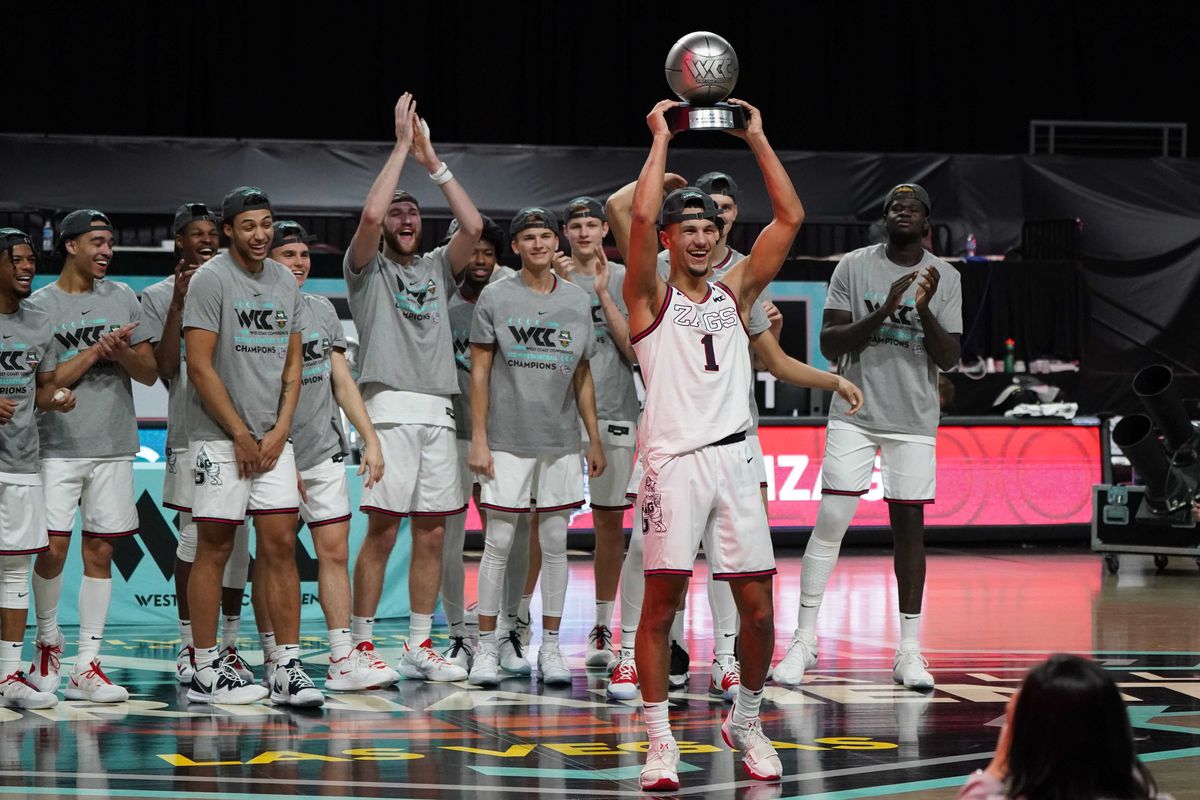 Gonzaga is the fifth undefeated team in March Madness history to enter the tournament with a shot at matching Indiana's perfect season in 1976. Four different programs tried to run the table in the March Madness tournament, only to face a disappointing defeat.
Those included Larry Bird's Indiana State in 1979, Jerry Tarkanian's UNLV Runnin' Rebels in 1991, the Wichita State Shockers in 2014, and most recently, the 2015 Kentucky team that included a trio of NBA stars.
---
Undefeated Teams Starting March Madness Since 1977
Indiana State (1979)
UNLV (1991)
Wichita State (2014)
Kentucky (2015)
Gonzaga (2021)
---
Since the turn of the century, Gonzaga is the best school to not win a March Madness college basketball championship. Under Mark Few, Gonzaga secured a bid to March Madness every year since 1999. However, the Zags only advanced to one Final Four when they lost in the championship game against North Carolina in 2017.
A West Coast hoops team hasn't won March Madness since Arizona won the championship in 1997. Gonzaga is on a mission to become the first Western team to win March Madness in 24 years.
Gonzaga, the consensus favorite to win 2021 March Madness, is currently +205 odds at DraftKings.
Zags Unimpressive SOS
Gonzaga's high-octane offense cranks out 92.1 ppg as the second-highest scoring team in the NCAA. They won 25 out of 26 of their games by double digits. Senior forward Corey Krispert leads the Zags with 19.2 ppg and shoots a blistering 44.4% from 3-point range. Sophomore big man Drew Timme averages 19.7 ppg and 7.1 rebounds per game. He's shooting 65.6% from the floor.
Gonzaga's strength of schedule consistently bit them in the butt. It's why so-called experts, talking heads, and bookies are nonplussed when it comes to Gonzaga.
In the past, Gonzaga often rolled into the tournament as a 30-win team. But sharp bettors knew to fade the Zags once they got into the Round of 32 and Sweet 16.
Few guided Gonzaga to the Elite 8 only three times. Gonzaga had no problems crushing teams in the West Coast Conference, where they won 90.8% of their games, but by the time Gonzaga reached the Sweet 16, they were overpowered by teams from stronger conferences.
Will an early exit happen to Gonzaga again and ruin their bid for an undefeated season?
The Big Ten and Big 12 are the two strongest conferences this season. The Big Ten sent nine teams to March Madness and had two teams — Michigan and Illinois — earn #1 seeds. Four Big Ten teams are listed in the top 10 in the latest AP Poll.
Five Big 12 teams are among the top 15 teams in the country, including #3 Baylor. The WCC has two ranked teams with #1 Gonzaga and #23 BYU (20-6).
Gonzaga survived a scare against BYU in the WCC Championship game. The Zags rallied back from down 12 points at halftime to win the conference tournament and retain an undefeated record.
Broken Dreams: Indiana State, UNLV, Kentucky, Wichita State
Larry Bird put Indiana State on his back in 1979 and carried an undefeated squad all the way to the March Madness title game. Indiana State lost their only game of the season in the championship game against a kid named Earvin "Magic" Johnson and Michigan State.
We have to be careful about talking about UNLV's demise in 1991. UNLV entered March Madness with a 30-0 record and as the defending champions. However, UNLV lost to Duke by two points in the Final Four. It's never been proven, but if you spend any time in sportsbooks in Las Vegas, you'll eventually hear the story about how UNLV allegedly took a dive in 1991. There's an infamous photograph with starters from UNLV sitting in a hot tub with a big-time gambler Richie "The Fixer" Perry, who had mob ties to New York crime families.
The Wichita State Shockers, led by Fred VanVleet, entered the 2014 March Madness with an undefeated record at 34-0. But everyone expected the mid-major team from the Missouri Valley to falter at some point. They earned a #1 seed, but the Shockers were shocked by #8 Kentucky in the second round. Kentucky won by two points to advance to the Sweet 16, while Wichita State bounced from the tournament.
Kentucky played the role of spoiler in 2014, but karma swung back the other way in 2015. The 2015 squad at UK began March Madness with a 34-0 record and three future NBA players, including Devin Booker, Karl-Anthony Towns, and Willie Cauley-Stein. Wisconsin knocked Kentucky out of the Final Four and the Wildcats missed an undefeated season at 38-1.