The final jewel to the 2020 Triple Crown fell into place Tuesday morning when the New York Racing Association announced the Grade 1 Belmont Stakes will run Saturday, June 20. With that date, the 152-year-old race opens the Triple Crown for the first time in history.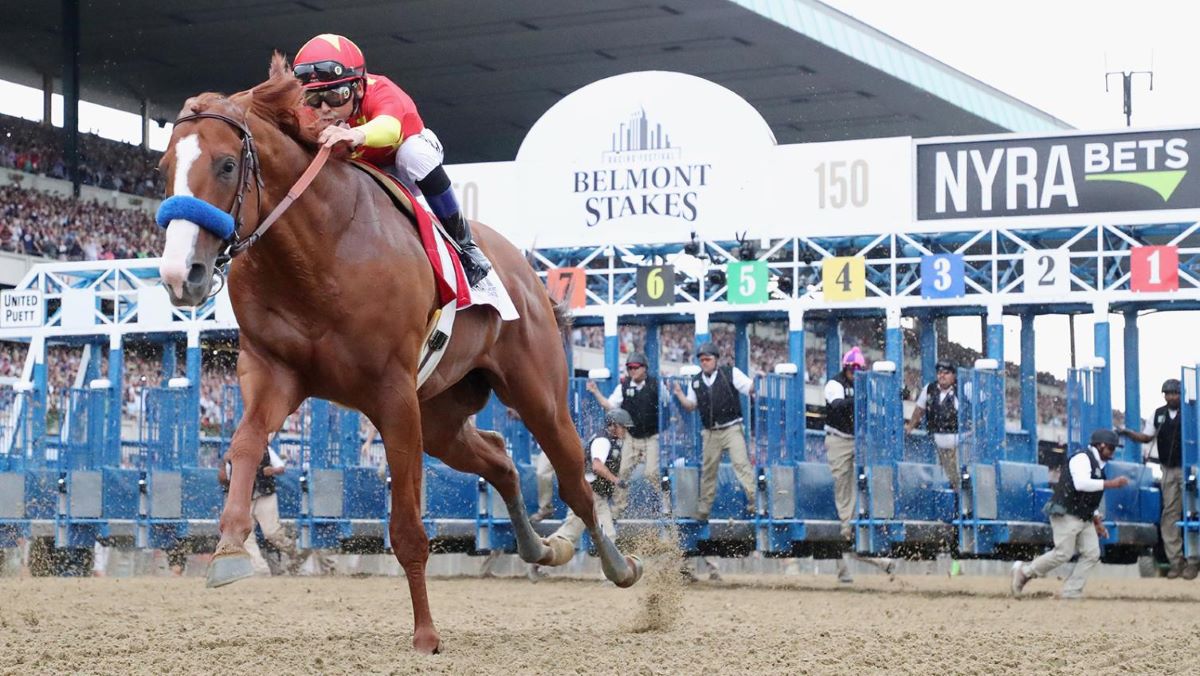 That's not the only adjustment. The Belmont will run nine furlongs – 1 1/8 miles. It normally runs at 1 ½ miles, a distance few American Thoroughbreds ever run or are accustomed to running. The Belmont ran at nine furlongs in 1893 and 1894 at Morris Park Racecourse, but has run at 1 ½ miles since 1926.
This turns the longest of the Triple Crown races into the shortest. The shorter distance became necessary due to the lack of prep work at or near that distance leading into the race. If that wasn't enough, Hall of Fame trainer Bob Baffert twisted any recalcitrant arms further when he said he wouldn't run any of his 3-year-old stars 1 ½ miles in June.
Instead, Baffert likely will send unbeaten Charlatan (100 Derby points), along with unbeaten Nadal (150 points) to Belmont Park, where 150-60-30-15 Derby qualifying points will go to the top four finishers. Churchill Downs officials earlier said the Belmont Stakes would join the Derby Trail with that rich point haul if it took place before the Kentucky Derby.
Big Stars Lined Up for Shorter Distance
This could shape up as an early showdown between legitimate Triple Crown contenders. The New York connections to Tiz the Law (122 points) told Bloodhorse the Florida Derby winner is likely to run the Belmont. Tiz the Law hasn't run since winning the Florida Derby on March 28, and his connections said they were waiting for the NYRA to release its stakes schedule before committing to further races.
The Belmont will run without spectators in its massive stands to curb the spread of the coronavirus in the state hit hardest by the COVID-19 pandemic.
"While this will certainly be a unique running of the historic race, we are grateful to be able to hold the Belmont Stakes in 2020," said NYRA President and CEO Dave O'Rourke in a statement. "Thanks to our partners at NBC Sports, fans across the country can look forward to a day of exceptional Thoroughbred racing at a time when entertainment and sports are so important to providing a sense of normalcy."
Triple Crown Timeframe Comes in Triplicate
The June 20 date triples the traditional Triple Crown season, turning a five-week spring campaign into a 15-week, late-spring, summer, and fall campaign. The Kentucky Derby runs Sept. 5 and the Preakness Stakes announced its new Oct. 3 date last Saturday.
Coming on the heels of the Belmont announcement, the NYRA announced it will open for live racing on June 3 at Belmont Park. That will come with a condensed 40-stakes/22-graded stakes schedule over its 25-day spring/summer meet. Last Saturday, New York Gov. Andrew Cuomo permitted spectator-free racing to begin as early as June 1.
NYRA announces stakes schedule for 25-day Belmont Park spring/summer meet beginning on Wednesday, June 3 and running through Sunday, July 12. The meet will be held without spectators in attendance.⬇️https://t.co/CQvANV5uyY

— NYRA (@TheNYRA) May 19, 2020
Belmont originally scheduled a 51-day spring/summer meet, but the NYRA halved it to 25 due to the coronavirus. However, the NYRA is making up for a lack of quantity with an abundance of quality. The revised schedule features at least one stakes race every day, including nine Grade 1 races and four Breeders' Cup "Win & You're In" qualifiers.
Belmont Stakes Day Remains Bettor's Bonanza
Four of those Grade 1s come on June 20 – Belmont Stakes Day. The Belmont Stakes highlights a card featuring six graded stakes races, consisting of four Grade 1s, a Grade 2, and a Grade 3.
The closure of state casinos mandated that the NYRA cut purses, which it did, primarily to the stakes races.
"Without the casino operating and without on-track attendance, we've had to make significant purse cuts," said Martin Panza, NYRA's senior vice president for racing operations in a statement. "The purse cuts to the stakes schedule are much more dramatic than the overnight schedule and we've tried to help the everyday horsemen as much as possible through these trying times by writing a rich and varied condition book, offering a daily opportunity for black type, that will support horsemen at all levels of the game."