The bad beats continue for Team USA men's basketball team and they haven't even left for the Tokyo Olympics yet. Zach LaVine became the latest member of Team USA to head into COVID-19 health and safety protocols, but he could still possibly make it to Tokyo in time to play in his first Olympics.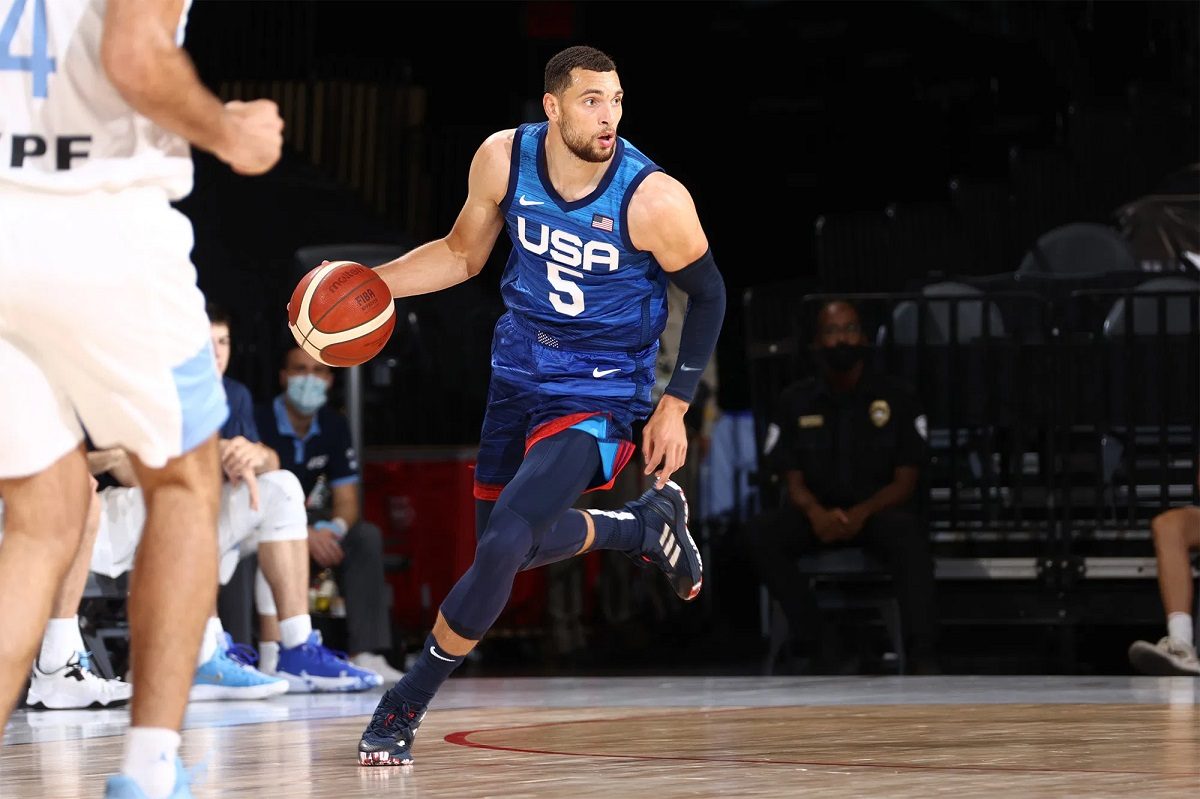 LaVine replaced Bradley Beal in the starting lineup for Team USA for the last two exhibition games after Beal tested positive for COVID-19. LaVine scored 13 points in 22 minutes on Sunday against Spain in an 83-76 victory in Las Vegas. He's averaging 10.3 ppg for Team USA.
"We're getting better with each passing day," said head coach Gregg Popovich. "Less is more. Reinventing the wheel is the worst thing you could do with this group."
LaVine led the Chicago Bulls in scoring this season, averaging 27.4 ppg for seventh-best in the NBA. The Bulls didn't qualify for the playoffs, but LaVine stayed in shape. During the exhibition series, LaVine looked fresher than his teammates who battled in the postseason. His defense was questionable at times, which drew the ire of Popovich. Otherwise, Pops took a shine to LaVine for his abundant energy and his quickness in transition.
The news about LaVine affected the betting markets. Team USA continues as the consensus favorite to win the gold medal in Tokyo, but their odds moved from -550 to -375. Australia (+750) and Spain (+1000) saw their odds bump as well.
Beal, Grant, LaVine … anyone else?
Last week, forward Jerami Grant went into COVID protocol as well. Grant didn't test positive, but he was in close contact with Beal, so Team USA sent him home as a precaution. Grant and LaVine could still play for Team USA if they clear protocol, so they haven't been completely ruled out of the Olympics.
Forward Keldon Johnson and center JaVale McGee were added to Team USA to fill in open roster spots. However, with the loss of Beal and LaVine, the Americans are short in the guard department.
Team USA still has three guys still playing in the NBA Finals. Jrue Holiday, Devin Booker, and Khris Middleton are fighting for an NBA championship with Game 6 slated for Tuesday night and Game 7 set for Thursday night, if necessary.
Team USA begins group play this Sunday, so the trio in the NBA Finals could arrive less than 24 hours before tipoff of Team USA's first game against France. If they're held up, Team USA could begin the Olympics with just nine players.
"We've been preparing for France for two years," deadpanned Popovich. "I think about it every day."
There have been multiple, positive COVID-19 cases in the Olympic Village in Tokyo, so the future looks grim. If Team USA loses any more players, one of the coaches like Jay Wright might have to suit up.
Check out the latest OG List with a complete list of Olympics men's basketball gold medal winners.