With the Tokyo Olympics around the corner, it's time for a new OG List. We compiled a complete list of all of the gold medal winners in men's basketball starting with its inception as a team sport at the 1936 Berlin Olympics.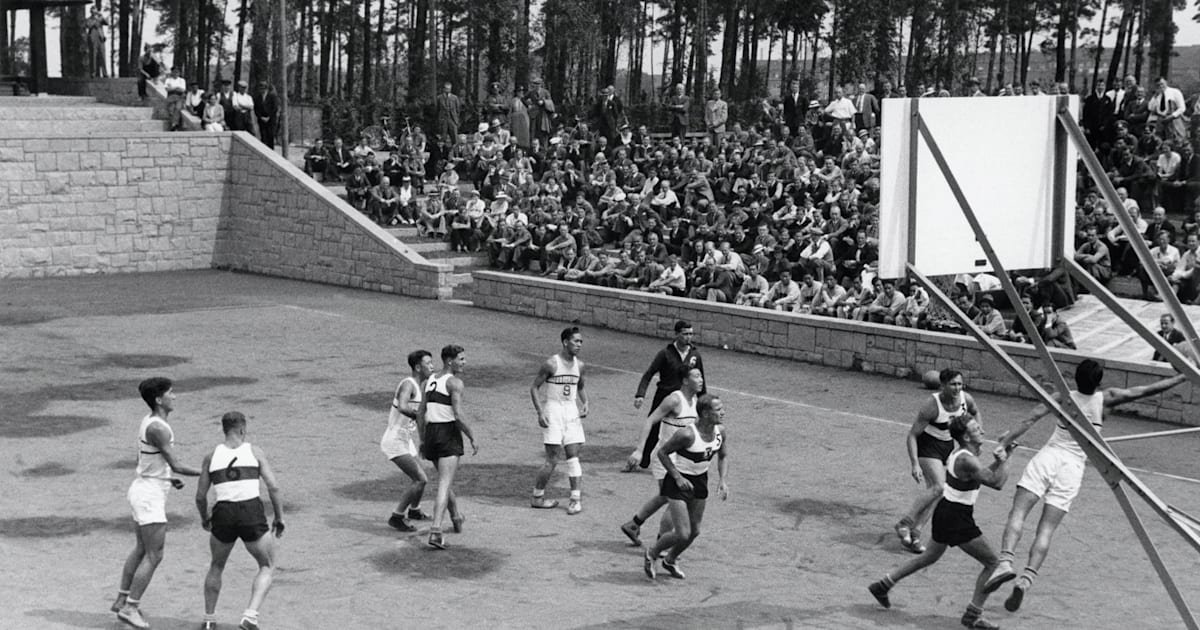 James Naismith, an American, invented basketball in 1891 so it's no surprise that USA dominated their home-grown sport. Team USA won the gold medal in men's basketball 15 times out of 19 competitions at the Olympics.
America;s old Cold War foe, the Soviet Union pulled off an upset twice in 1972 and 1988. Argentina in 2004 and the former Yugoslavia in 1980 are the only other countries to win gold medals in men's basketball..
In the modern Olympiad, professional athletes play from their home country in the Olympics. FIBA allowed professional basketball players from the NBA to compete for a medal starting with the Barcelona Olympics in 1992. Since then, Team USA won the gold medal six out of seven times at the Olympics. Argentina is the only country to upset an American squad full of NBA players, which they pulled off at the 2004 Olympics in Athens.
Women's basketball became an official sport at the Olympics beginning in 1976 Montreal.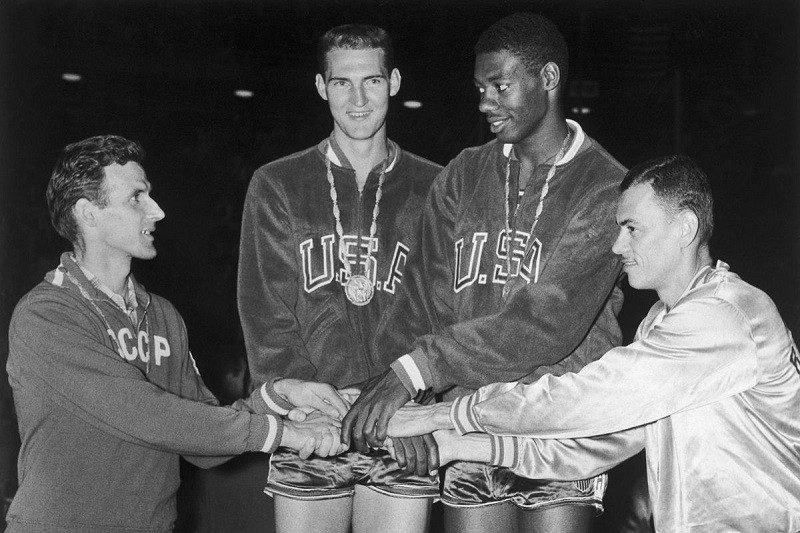 Olympics Early Days: 1936-1960
Basketball entered the Olympics as a test sport in 1904, but it took 32 years before the IOC recognized basketball as an official sport.
At the 1936 Olympics in Berlin, the games were held outdoors on grass tennis courts. By the time the gold medal game rolled around, the grass turned into mud. German spectators seemed confounded by the American sport, but quickly fell in love with the concept of basketball.
Americans won the first gold medal in Berlin, which would begin a streak of seven-straight gold medal victories for Team USA. It was a North American sweep with Canada winning the silver medal, and Mexico securing bronze.
LIST GOLD MEDAL WINNERS – OLYMPICS MEN'S BASKETBALL
| | | | |
| --- | --- | --- | --- |
| YEAR | GOLD | SILVER | BRONZE |
| 1936 Berlin | USA | Canada | Mexico |
| 1948 London | USA | France | Brazil |
| 1952 Helsinki | USA | USSR | Uruguay |
| 1956 Melbourne | USA | USSR | Uruguay |
| 1960 Rome | USA | USSR | Brazil |
---
The 1940 and 1944 Olympics were paused during World War II. When the Olympics resumed in London in 1948, the Americans defeated France in the championship game to win the gold medal. France won the first of two silver medals in basketball, while Brazil won bronze. Basketball experienced a boom in South America and with Brazil or Uruguay would win a bronze medal five times between 1948 and 1964.
Starting in 1952 at the onset of the Cold War, the former Soviet Union aka USSR, became Team USA's largest rival on the hardwood. USSR won a silver medal as the runner-up in four-straight Olympics between 1952 and 1964. The Soviets lost the Americans all four times.
Team USA in 1960 coasted to a gold medal thanks to the greatest group of amateur hoopsters in history with Oscar Robertson, Jerry West, Walt Bellamy, and Jerry Lucas.
Cold War and Boycotts: 1964-1988
At the 1968 Olympics in Mexico City, Yugoslavia challenged America for the gold medal, but the Americans prevailed thanks to Jo Jo White, Spencer Haywood, and Charles Scott. Yugoslavia settled on silver, while Russia won bronze.
Team USA did not lose a single game in the Olympics until their stupendous winning streak at 63-0 was snapped by the USSR in 1972. The Americans lost 51-50 and were jobbed by crooked officials in one of the most controversial endings in basketball history, let alone Olympics history. The Russians were awarded three chances to take a final shot to defeat the Americans, when Sergei Belov hit a bucket as time expired to put USSR ahead for good 51-50.
LIST GOLD MEDAL WINNERS – OLYMPICS MEN'S BASKETBALL
| | | | |
| --- | --- | --- | --- |
| YEAR | GOLD | SILVER | BRONZE |
| 1964 Tokyo | USA | USSR | Brazil |
| 1968 Mexico City | USA | Yugoslavia | USSR |
| 1972 Munich | USSR | USA | Cuba |
| 1976 Montreal | USA | Yugoslavia | USSR |
| 1980 Moscow | Yugoslavia | Italy | USSR |
| 1984 Los Angeles | USA | Spain | Yugoslavia |
| 1988 Seoul | USSR | Yugoslavia | USA |
---
At the height of the Cold War, the Americans boycotted the 1980 Moscow Olympics due to their involvement with the invasion of Afghanistan. At the 1984 Olympics hosted in Los Angeles, the USSR boycotted out of fear their top athletes would defect.
Without Team USA in Russia in 1980, Yugoslavia won the gold medal by defeating Italy, while USSR settled on a bronze.
At the 1988 Olympics in Seoul, the Americans were upset in the semifinals y the USSR 82-76. The loss prompted Team USA to lobby FIBA to allow professionals to play in the Olympics.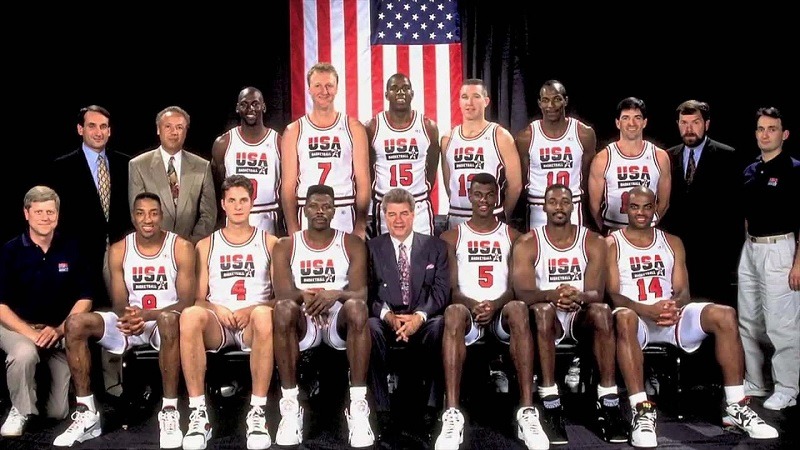 Dream Team Era: 1992-2000
The first Dream Team included several of the all-time greatest players in NBA history including Michael Jordan, Magic Johnson, Larry Bird, Karl Malone, Patrick Ewing, David Robinson, John Stockton, Chris Mullin, Clyde Drexler, Charles Barkley, and Scotty Pippen. As expected, the Dream Team steamrolled everyone in their path atthe 1992 Barcelona Olympics. Team USA won gold again, which put them back on top as the global leader in men's basketball.
LIST GOLD MEDAL WINNERS – OLYMPICS MEN'S BASKETBALL
| | | | |
| --- | --- | --- | --- |
| YEAR | GOLD | SILVER | BRONZE |
| 1992 Barcelona | USA | Croatia | Lithuania |
| 1996 Atlanta | USA | Yugoslavia | Lithuania |
| 2000 Sydney | USA | France | Lithuania |
---
Dream Team II appeared at the 1996 Olympics in Atlanta. The squad had five alumni from the first Dream Team including Barkley, Robinson, Pippen, Stockton, and Malone. Hakeem Olajuwon became an American citizen and played for Dream Team II. Other first–timers included Grant Hill, Penny Hardaway, Mitch Richmond, Shaquille O'Neal, Gary Payton, and Reggie Miller.
Payton was the only alumni from Dream Team II on Dream Team III. The rest of the NBA stars at the 2000 Sydney Olympics included  Shareef Abdur-Rahim, Alan Houston, Ray Allen, Vin Baker, Vince Carter, Kevin Garnett, Tim Hardaway, Jason Kidd, Alonzo Mourning, Antonio McDyess, and Steve Smith.
New Century Global Game: 2004-Present
The 2004 Olympics in Athens, Greece marked the only time American NBA stars did not win a gold medal since 1992. Argentina, led by Manu Ginobli from the San Antonio Spurs, pulled off an upset over Team USA in the semifinals. Team USA won the bronze, but to this day, many of those players are haunted by their performance.
LIST GOLD MEDAL WINNERS – OLYMPICS MEN'S BASKETBALL
| | | | |
| --- | --- | --- | --- |
| YEAR | GOLD | SILVER | BRONZE |
| 2004 Athens | Argentina | Italy | USA |
| 2008 Beijing | USA | Spain | Argentina |
| 2012 London | USA | Spain | Russia |
| 2016 Rio | USA | Serbia | Spain |
---
Team USA got back on track at the 2008 Olympics in Beijing, China. Since then, America won three gold medals in a row. Starting at the turn century, Spain emerged as one of the top countries in Europe. Spain medaled three times since 2008 with silver medals in 2008 and 2012, plus a bronze medal in 2016.
Coming into the Tokyo Olympics, Team USA is the favorite to win gold once again despite numerous injuries and an outbreak of COVID-19. Spain is the third-highest team on the futures board at +1200 odds to win a gold medal, trailing Australia at +1100 odds.
Check out more of OG's complete lists.