Team USA has been proactive in minimizing a potential COVID-19 breakout after Bradley Beal tested positive for COVID-19 during training camp in Las Vegas. Team USA canceled an exhibition game against Australia slated for Friday evening at the Mandalay Bay. US Basketball officials sent forward Jerami Grant home to quarantine "out of [an] abundance of caution" even though he didn't test positive for COVID.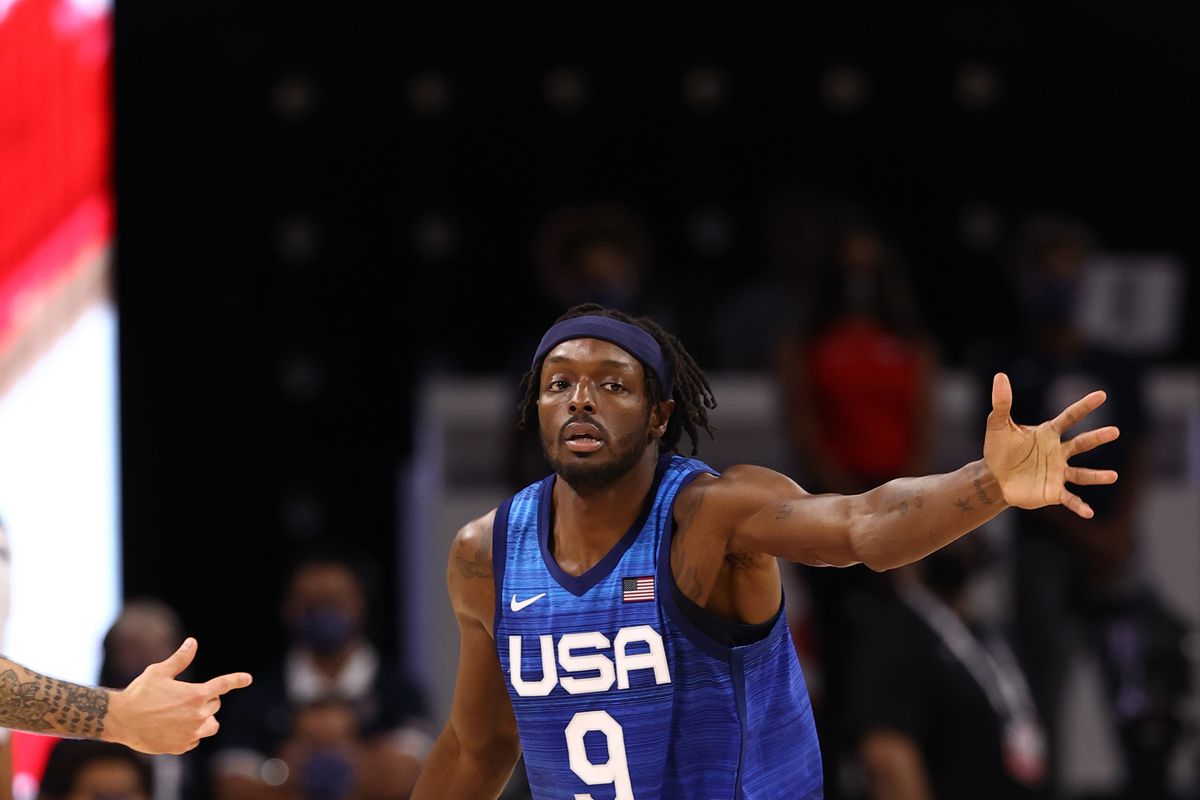 Meanwhile, Beal is officially dunzo for the Tokyo Olympics, forcing Team USA to scramble for a replacement. Beal finished second in scoring in the NBA this season averaging 31.3 ppg.
Head coach Gregg Popovich said he hopes Grant can rejoin Team USA before they depart for Tokyo. Team USA's first game in pool play in Tokyo is set for July 25.
"Our goal overall is, we're trying to get everybody safely to Tokyo," said Popovich. "At the same time prepare a basketball team to be successful. We're trying to be vigilant about what we do, where we go."
If the first three exhibition games magnified Team USA's weaknesses after they went 1-2, they showed that the team doesn't need another scorer like Beal. If anything, Team USA needs a big man rim protector and rebounder. Too bad Rudy Gobert is playing for France.
Who will replace Beal?
With Beal no longer on Team USA, they have a trio of guards set to join the squad at the conclusion of the NBA Finals. Devin Booker from the Phoenix Suns, along with Khris Middleton and Jrue Holiday from the Milwaukee Bucks, are still competing for an NBA championship. The NBA Finals is tied at 2-2 with the series shifting to Phoenix for Game 5.
Pops doesn't have to worry about if any of those three are in shape, but how effective will they be after a tough playoff run?
A trio of members from the Select Team has been playing in exhibition games with Team USA. That group includes Keldon Johnson from the San Antonio Spurs, Saddiq Bey from the Detroit Pistons, and Darius Garland from the Cleveland Cavs. Johnson seems like the logical choice because he plays for Pops and the two are familiar with each other.
"I'm dying for Beal, we all are," added Popovich. "Since he was a little kid, this has been a dream of his, and he was playing great. For him and his immediate family, it's devastating. We just feel horrible about it."
"It's costing people opportunities of a lifetime," said Draymond Green. "It sucks. We all came in hoping we wouldn't be affected by it. It's not the way it's gone."
Several other names have been mentioned as replacements for Beal. Among them are Tobias Harris from the Philadelphia 76ers and Duncan Robinson from the Miami Heat.
Stoners need not apply?
Then, there's the big cloud of smoke hovering over Team USA. The NBA no longer drug tests for marijuana, but the IOC still has an antiquated stance on it even though it's been decriminalized or legalized in numerous countries.
While some superstars like Kevin Durant toke up regularly like they're in the middle of a Phish concert, many other 420-friendly pros wait until the offseason before they go full-blown Cheech and Chong. The subtext is that Team USA officials are scrambling to find non-weed smoking NBA players. Or at the least, find someone who can piss clean for a potential drug test in Tokyo.
Despite the loss of Beal, the futures markets for men's basketball at the Tokyo Olympics are unchanged. Team USA is the big favorite at -550 odds to win the gold medal, with Spain (+1100) and Australia (+1200) the other favorites on the board.