As you're trying to fit the fluid and shifting 3-year-old colt/gelding class into their places, consider Saturday's Grade 3 Indiana Derby as one of those bridge events between the Triple Crown season and the higher-profile sophomore races later this summer.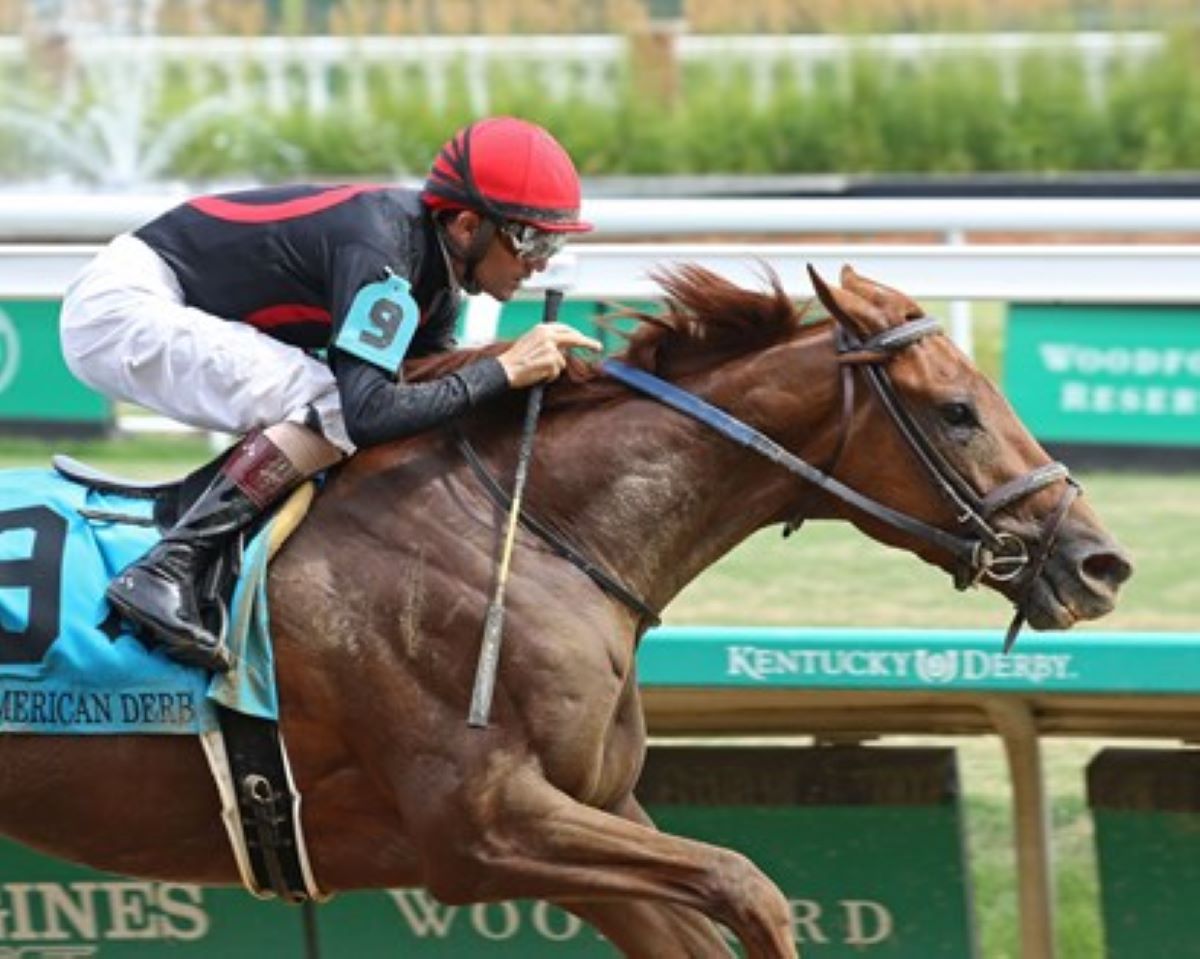 Nobody's confusing the Indiana Derby, or its junior-varsity derby counterparts like last month's Ohio Derby or Saturday's Iowa Derby, with Grade 1 destinations like the July 23 Haskell or Aug. 27 Travers. They're not at the level of the Grade 2 Jim Dandy, the Travers' traditional prep and a race that draws a Kentucky Derby trail-quality field.
But the Indiana Derby and its fellow JV derby events have their place in the sophomore food chain. They give up-and-coming horses who missed the Triple Crown trail their foot in the stakes door. They give the middle- and lower-tier Triple Crown trail horses a better sense of where they belong.
In some cases, they give trail veterans a confidence boost, much as Tawny Port received after winning the Ohio Derby.
The 1 1/16-mile Indiana Derby headlines Horseshoe Indianapolis' (formerly Indiana Grand) seven-stakes card. It puts the central Indiana track in the spotlight as it gives connections to those horses and horseplayers a barometer of who belongs on tickets — and who doesn't.
This Trademark is likely void
Take rail-sitter Trademark (10/1) for example. He was a non-factor in three Derby preps: a 12th in the Sam F. Davis, a fifth in the Tampa Bay Derby and a fifth in the Blue Grass. He parlayed that into a 10th of 11 by 17 3/4 lengths in the Pat Day Mile, like the Jim Dandy, another Grade 2 with a Grade 1-quality field. If the Upstart gelding is going to do anything, he's going to do it in a race like the Indiana Derby.
Likely, however, you're going to see others make an impact. Others like Best Actor, who at 4/1 on the morning line, is a must-use. The Brad Cox charge didn't sniff the Triple Crown, debuting at Oaklawn Park April 16 with a 1 3/4-length victory. He parlayed that into a four-length score in a Churchill Downs allowance June 12.
The son of the late Flatter has 96 and a 92 Equibase Speed Figures and a stalking style that keeps him in every race. Now, throw in Cox, who won this two years ago with Smart Sense and finished third with Fulsome last year.
Best Actor could turn in Oscar performance
Best Actor represents the up-and-coming, untested prospect in the Indiana Derby. Rattle N Roll represents the familiar. The 5/2 morning line favorite rolls back on one week's rest, coming in off a two-lengths score in the American Derby at Churchill Downs.
When turf publicist Jennie Rees asked trainer Kenny McPeek why he's wheeling Rattle N Roll back, he replied in his traditional audacious manner.
"Woody Stephens won the Belmont back on five days," he told Rees. "In other eras, it was no big deal. It seems like everyone wants to put four and six weeks in between races now. When horses are doing well, I've never been scared to run 'em. And he's doing exceptionally well. I've always been one where I rather run them than work them."
McPeek was referring to Stephens winning the 1982 Belmont Stakes with Conquistador Cielo. That came five days after the colt won the Metropolitan Handicap.
Rattle N Roll going from American Derby to Indiana Derby
Before Rattle N Roll won the American Derby, he was 0-for-2022. He went into the Churchill Downs starting gate 0-for-5, finishing no better than fourth in three Derby preps. The American was his first victory in six races, since his Grade 1 Breeders' Futurity win last fall. His 101 Equibase from the American was also a career-best.
The other familiar name to most horseplayers is Un Ojo (6/1). He had enough points to run the Derby and enough time off to run the Preakness. But niggling injuries knocked him out of both.
The question is: which Un Ojo will you see? The one who won the Grade 2 Rebel Stakes at 75/1? Or the one who finished a miserable eighth in the Arkansas Derby. Yes, Un Ojo was slammed into the rail in that race, but what kind of form will he have after three months off? Now, consider this is his first race for new trainer Robertino Diodoro.
Grade 3 Indiana Derby/Horseshoe Indianapolis
Morning Line (Jockey/Trainer)
Trademark, 15/1 (Rafael Bejarano/Vicki Oliver)
First Glimpse, 20/1 (Orlando Mojica/Carlos Silva)
Mowins, 15/1 (Jon Court/Michael Lauer)
King Ottoman, 5/1 (Marcelino Pedroza Jr./Steve Asmussen)
New Year's Fever, 20/1 (Rodney Prescott/Brandi Steele)
Rattle N Roll, 5/2 (Brian Hernandez Jr./Kenny McPeek)
Best Actor, 4/1 (Florent Geroux/Brad Cox)
Actuator, 7/2 (James Graham/Michael McCarthy)
Un Ojo, 6/1 (David Cohen/Robertino Diodoro)
Fowler Blue, 8/1 (Sonny Leon/Doug O'Neill)
Two others warrant attention: King Ottoman (5/1) and Actuator (7/2). King Ottoman rides in from Lone Star Park in Texas, where he won the Texas Derby at this distance. Trainer Steve Asmussen watched with satisfaction as King Ottoman racked up a career-best 105 Equibase with a furious stretch rally. That was his first victory in four starts.
Actuator (7/2) was one of those horses who needed new surroundings. The moment Michael McCarthy took command and took Actuator off the grass, Actuator responded with a 7 1/2-length dissection of a maiden special weight. That came with a 105 Equibase that stamps the son of Bodemeister as one to put on your tickets.