This spring, I endured the true ups and downs of being a horseplayer, which – as anyone who has ever placed a bet on the creatures who can't explain themselves can attest – is a true manic-depressive exercise.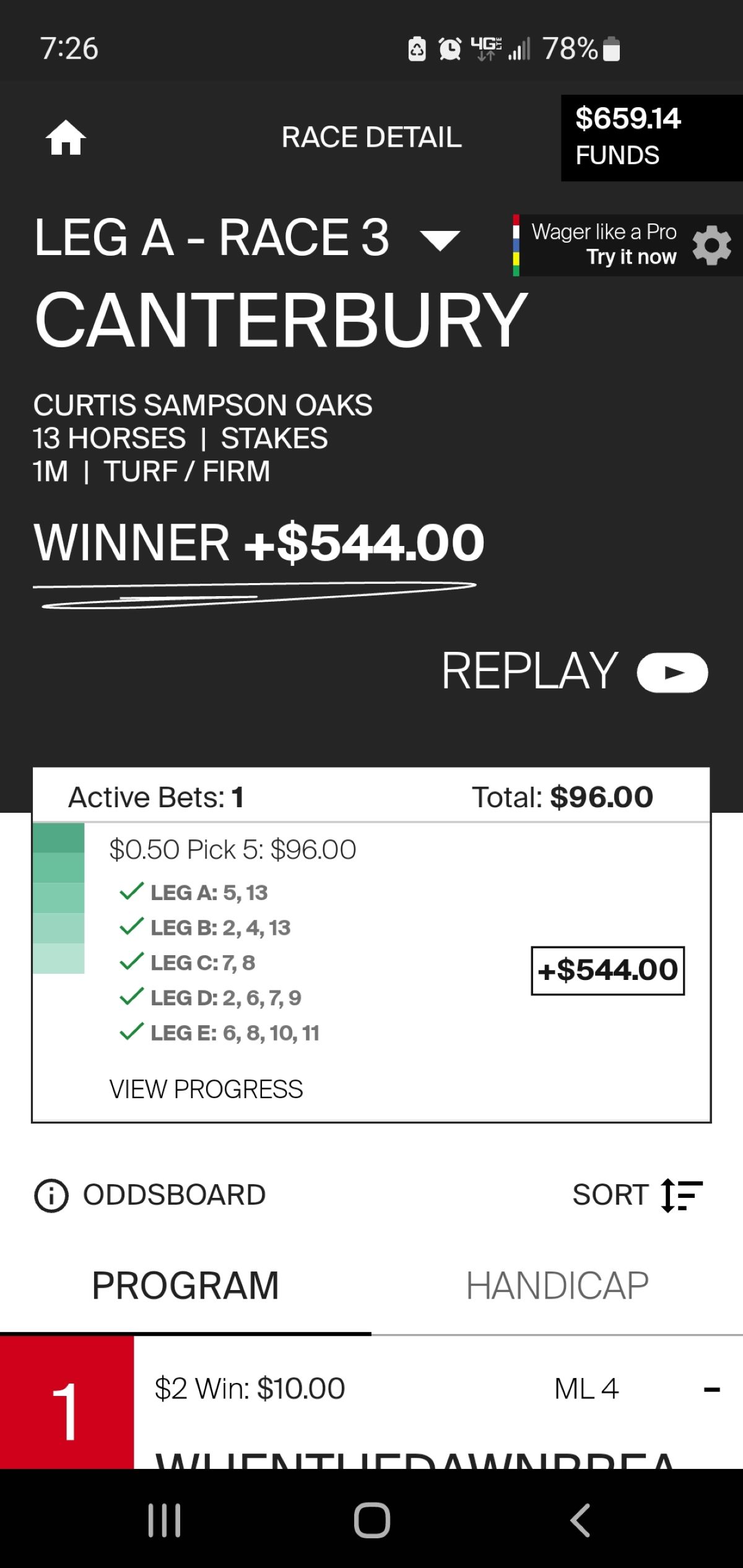 First, the manic. Last week, I enjoyed one of the biggest highlights as a horseplayer: I hit my first Pick 5. That came in Canterbury Park's All-Stakes Pick 5 from its Northern Stars Turf Festival. It came on a wager I rarely make: long horizontals. Those are your Pick 4s, Pick 5s and Pick 6s. I've never bet a Pick 6 and this was only my third Pick 5 wager.
The first came two years ago at Assiniboia Downs in Canada, where I hit the first three races and had ALL in the fifth. I just needed to get past the fourth, where I had two horses. One of those was on the lead entering the stretch, whereupon he stopped running and finished third. The second came last year at Santa Anita Park, where I didn't get past the second race.
This time, I decided to take the plunge because after I wrote about the Northern Stars Turf Festival for OG News, I delved even deeper into the races. I checked Equibase Speed Figures and past performances of many of the horses in the fields. Then, I watched a video featuring Canterbury Park's official handicapper Angela Hermann. Being a local and knowing Canterbury Park's horses and trainers, Hermann brought an insider's knowledge I lacked to the races I needed help on.
Picking the top four finishers was a nice closing touch
It worked. One by one, my horses came home. Being superstitious about these things, I wouldn't watch any of the races on my phone app. No, I'd monitor them race by race after they were official. After She Can't Sing, one of the two horses I had in the Lady Canterbury Stakes, won the third leg, I started feeling pretty good. When Mr. Dumas won the Mystic Lake Mile: the fourth leg, I started feeling giddy.
That's because I knew I had the winner in the fifth and final leg: the featured Mystic Lake Derby. One of my four horses on my ticket was going to win this. And he did.
Not only did I have the winner, Stitched, I also had the 2-3-4 horses: Bens Malice, Heaven Street and Dowagiac Chief.
Hitting my first Pick 5 moves up the board to one of my greatest horseplayer experiences. It ranks up there with winning Derby future bets on American Pharoah (at 15/1)  to win the 2015 Derby and Nyquist (20/1)  to win the 2016 Derby.
From horseplayer high to horseplayer low
And it came 6 ½ weeks after I endured one of my most frustrating and depressing moments as a horseplayer: the 2022 Kentucky Derby. In between, I enjoyed basically a break-even two days on the Preakness Stakes and the Belmont Stakes, winning money on the Preakness and losing some — but cashing tickets — on the Belmont. But it was that Derby that rankles me to this day.
As most of you who read this space know, I'm heavy into speed handicapping. It's the foundation of racing, i.e. horses with higher speed figures tend to run faster than those with lower figures. We're not splitting the atom here, folks. When I'm looking at a seven-horse race or a 20-horse Kentucky Derby, speed provides a base starting point for me when I'm breaking it down.
Which brings me to this year's Derby, easily one of the most frustrating races I've ever bet on. As many of you know, I break down the Triple Crown races horse by horse. When I do this, I start with speed figures. That makes it easy to cull the herd and eliminate the horses who simply aren't fast enough to win a Triple Crown race.
Speed plus trends helps cull the herd
From there, I go into established trends that last over time. Trends like Jennie Rees' Final Fractions Theory, which illustrates that horses who run sub-13-second final furlongs or 38-second final three furlongs in their last Derby prep tend to run better in the Kentucky Derby than those who don't. Trends like Jon White's Derby Strike System, which give strikes to horses based on failing to meet certain criteria. The fewer strikes, the better a horse's chances for wearing roses.
The final piece is race dynamics. Who is the front-end speed? Who will push that front-end speed and are they fast and tactical enough to sustain that speed? Which running styles tend to win those races and which ones don't? When you looked at the 2022 Derby and understood that one closer (Orb in 2013) won the Derby since that year's beginning of the points era, you knew to eliminate that genus automatically.
Everything pointed toward a Messier, an Epicenter, a Taiba as your likely winner. There would be a closer or two in the vertical exotics, a Zandon or a Mo Donegal. I personally loved Simplification in the mix, so I constructed my exacta and trifecta tickets with a mix of the above horses, along with a few long shots like Florida Derby winner White Abarrio on the back end. These were the horses with the best running styles and speed figures for a modern Derby. They were the genus of horses who win 21st century Derbies.
Until they weren't.
A manic Derby party turned depressive
I watched the Derby at a local bar – Sammy's in Lake Forest, CA. — that offered simulcast wagering. The place was understandably packed with horseplayers of every species, age and gender. At approximately 4 p.m. PT, it was also understandably and for the most part packed with cranky and feral horseplayers tearing up tickets in waves.
That's because Rich Strike: a $30,000 claimer who needed a 11th-plus hour scratch the day before to get into the field, somehow won the Kentucky Derby.
Rich Strike, 350-1
Cleaning out some stuff, noticed @CircaSports Ky Derby odds from 12.29.21#MamaMia

— Rob Miech (@robmiech) May 25, 2022
He did so at the longest-shot-in-the-field, carrying 80.80/1 odds. He did so with subpar speed figures, nothing north of 96 on the Equibase chart in seven races. That included Rich Strike's 77 for his 17 ½-length romp in his one victory – that $30,000 claimer in September 2021. It also included his three forgettable Derby preps: fifth in the Gun Runner (by 14 lengths), fourth in the John Battaglia (by three) and third in the Grade 3 Jeff Ruby (by six), the only graded one of the bunch.
He had zero business winning the Kentucky Derby from any reasonable handicapping standpoint. And yet, largely thanks to a pace meltdown and a great ride by Sonny Leon, here we were.
The horseplayer definition of a bad beat
What made this particularly aggravating were my two trifecta tickets. Both had Epicenter, Zandon and Simplification in the 1-2-3 holes. They finished 2-3-4. Oh, and here's the place where I should mention Simplification went off at 35.30/1. Even with Epicenter the 4.10/1 favorite and Zandon not far behind at 6.10/1, this would have been a sweet trifecta – times two.
Instead it wasn't. All because of a colt who came out of nowhere to run out of his mind. And send this horseplayer – and many, many others – out of their collective skins. As I walked out of Sammy's, gobsmacked, cranky and feral, a crankier and more feral gentleman walking out with me said, "This is bull. Next year, I'm going to bet every long shot. Why the hell not?"
Historically, the Belmont is the TC race that seems to be least influenced by novice/dumb money. Of course Rich Strike's Derby upset may have changed that, as the Preakness betting was bizarre. But I tend to think that was reactionary and not some lasting new trend.

— David Aragona (@HorseToWatch) June 7, 2022
The moral of the manic-depressive story is familiar to every horseplayer alive. You can break a race down every possible way. As a horseplayer, you can take every variable into account and bet accordingly, constructing your tickets with the care of a scholar reading the Dead Sea Scrolls.
Sometimes it works and you hit your very first Pick 5. And sometimes – many times – it doesn't and you curse the racing gods for the horseplayer's version of the bad beat.
Until the next race.