Women's boxing has improved its stature and visibility dramatically over the past two decades. But no previous fight can compare to the hype, anticipation, and money of the lightweight championship bout between Katie Taylor and Amanda Serrano at Madison Square Garden on Saturday night.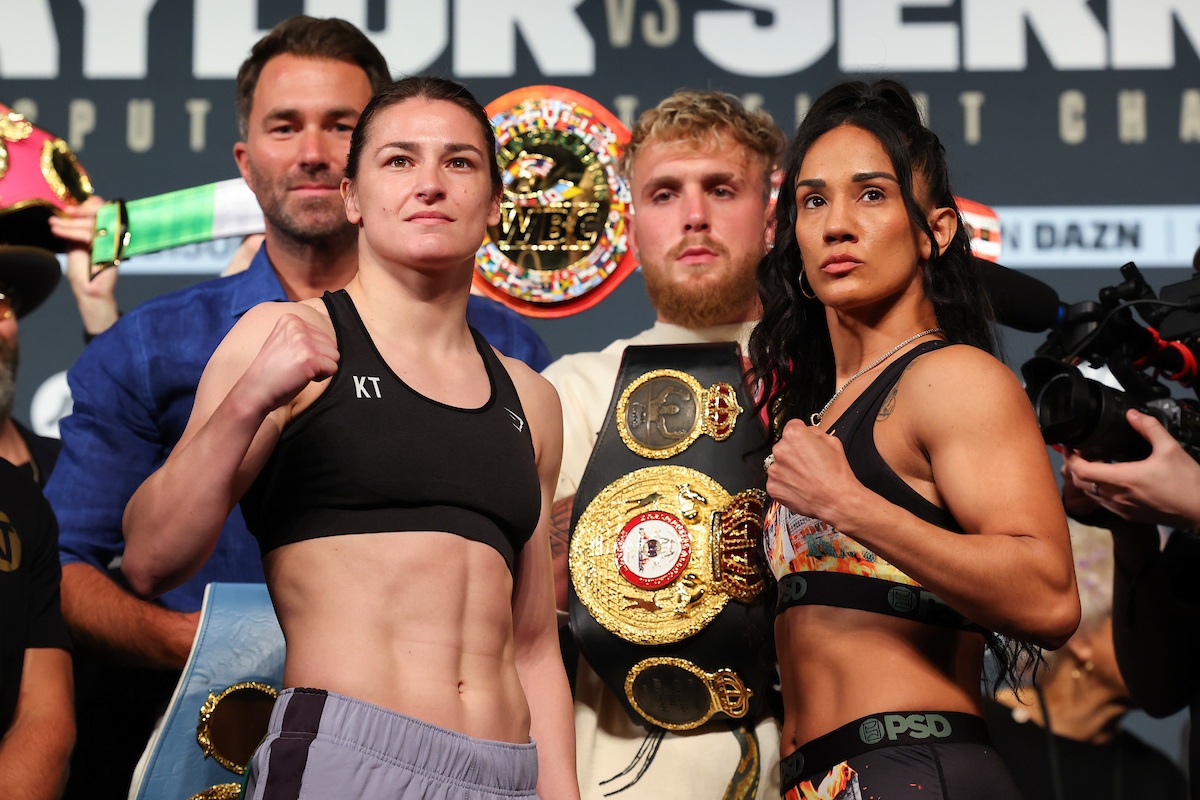 Serrano comes in as the slight -140 favorite over Taylor (+115) at DraftKings Sportsbook.
The biggest fight in all of boxing
Taylor and Serrano are the first women to headline a boxing card at Madison Square Garden. They'll both make over $1 million for the fight – also a first for female boxers. It's the culmination of a long journey for both fighters, not to mention the sport they compete in.
"It's the biggest fight out there," Taylor told The Guardian. "Not only in women's boing but in the whole sport."
This fight brings together two of the biggest names and best fighters in all of women's boxing. Taylor (19-0, 6 KOs) is first on ESPN's women's pound-for-pound list, and tops the lightweight rankings at BoxRec. Serrano (42-1-1, 30 KOs) ranks second on both lists. Taylor holds the WBA, WBC, IBF, and WBO lightweight titles.
Yet it is Serrano who comes in as the favorite. She has built a strong following, not only among fans but fellow boxers, both male and female. Shakur Stevenson, who will fight his own title bout against Oscar Valdez in another card later on Saturday night, praised both women ahead of their historic clash.
"I'm a big fan of Amanda Serrano," Stevenson said, via USA Today. "I knew her as a kid when I'd go to Gleason's Gym [in Brooklyn] to spar and I'd see her all the time. I'm rocking with her to win, but I support them both. And I'm happy the world can watch their fight and then come to watch our fight."
Serrano holds edge in knockout power
Far from New York, Taylor grew up fighting out of St. Fergal's Boxing Club in Ireland. While she is two years older than Serrano, she has less experience in the ring. Serrano may not currently hold any titles, but she has won championships over seven different weight divisions, beating everyone in her path. Her one loss came back in 2012 by decision to Frida Wallberg.
Women fight in two-minute rounds, and that has helped create a scarcity of knockouts for most fighters. Serrano doesn't follow that pattern, however, combining power, precision, and relentlessness to find finishes.
"To be in this iconic event, to headling Madison Square Garden, and for it to be almost sold out," Serrano told USA Today. "And people say there's no interest in women's boxing."
The world at large is certainly paying attention, and promoters are helping generate buzz. Jake Paul is representing Serrano, and made a $1 million bet with Taylor promoter Eddie Hearn over the outcome of the fight.
"When Amanda wins, I'm giving your million dollars to her," Paul told Hearn.
Regardless of what happens, the Taylor vs. Serrano clash has the potential to rewrite the history of women's boxing and bring the sport into the mainstream consciousness like never before.
"Years and years later from this fight, people are still going to be talking about Katie Taylor vs. Amanda Serrano," Taylor said.