Jake Paul earned a win by split decision in his first fight with Tyron Woodley back in August. He'll get a second chance to prove himself against the former MMA star on Saturday when the two meet for an earlier-than-expected rematch at the Amalie Arena in Tampa, Florida.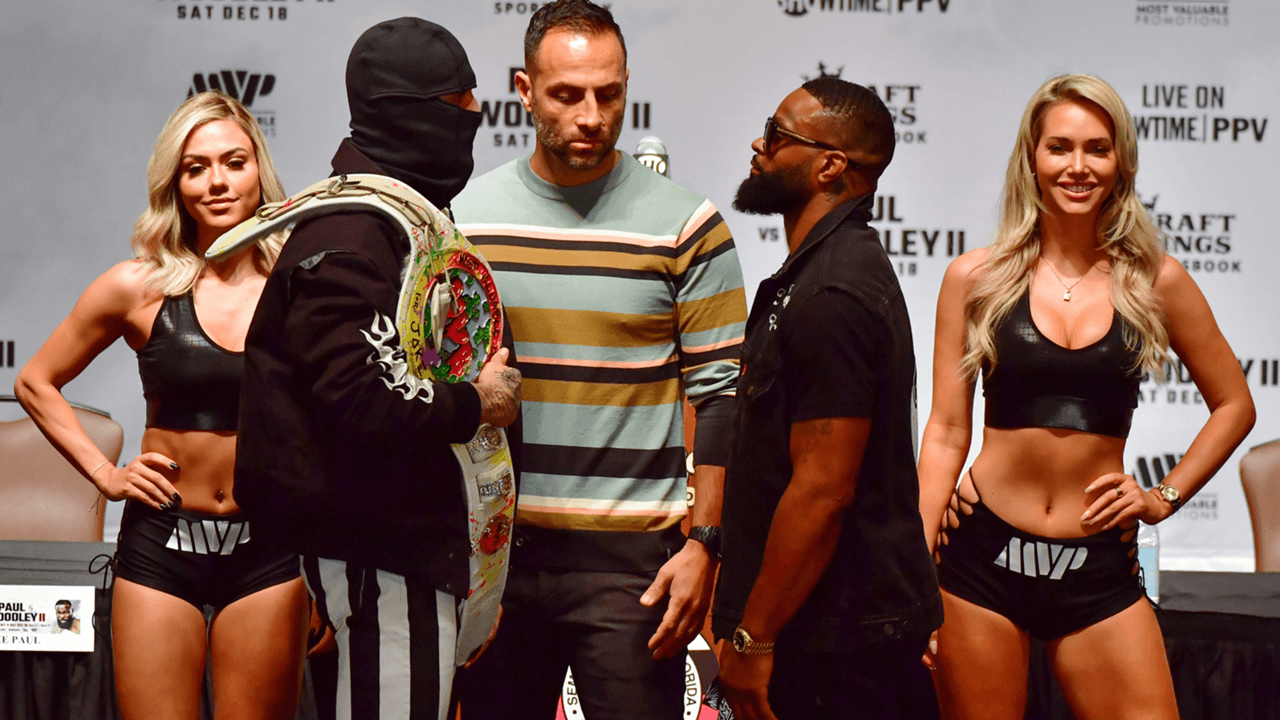 The first fight was a largely underwhelming affair, as both fighters seemed reluctant to engage in the kind of back-and-forth action fans wanted.
Fighters promise more action in rematch
Heading into Saturday night, both men say they plan on showing a lot more to fans the second time around.
"I said, 'It's f***ing go mode," Paul (4-0, 3 KOs) told reporters. "A different Jake Paul you're going to see this time, we're f***ing bucking in the middle of the ring. No funny shit. No funny shit like last time. I'm f***ing him up."
Meanwhile, Woodley (0-1) vowed to improve on his listless performance from the first fight.
"Tomorrow won't be a short night," Woodley told reporters. "It's gonna be a long night, but nobody gonna second guess you after tomorrow night. Thank you for bringing the dog out of me. Tomorrow we battle."
Many have questioned the legitimacy of Paul's boxing career. That doesn't necessarily refer to the realness of the fights themselves, but rather to his choice of opponents. He's yet to fight anyone with a professional boxing background, though he intended to fight Tommy Fury on Saturday before an injury forced a change in opponent.
But Paul says he's already feeling the impact of boxing, despite his limited number of fights and rounds.
"I notice it in conversations with like, with my girlfriend or friends, like, not remembering something that I should be able to remember that happened a couple days ago," Paul told journalist Graham Bensinger. "Sometimes in my speech, where like every hundredth or two hundredth word, I'll mess up or, like, slur. Which I didn't do that before."
Sportsbooks favor Paul over Woodley again
Paul enters his second fight against Woodley as a solid favorite. DraftKings Sportsbook rates the YouTuber as a -250 pick over Woodley (+200), a sign that oddsmakers are starting to respect Paul's skills in the ring, even if he often overshadows his performances with theatrics.
Those odds could also reflect the fact that Woodley took the fight on short notice after Fury dropped out. But Woodley says he never stopped preparing for a potential rematch, even when it seemed unlikely.
"I never felt like that fight was going to happen," Woodley told ESPN, speaking of the second Paul fight. "I told my coaches I didn't feel like this was gonna happen. 'Let's stay ready. Let's get prepared.'"
Paul and Woodley will headling a card featuring four fights in total. In the co-main event, Amanda Serrano (-2500) will take on Miriam Gutierrez (+1000), with Serrano looking to continue marching toward a super fight with Katie Taylor.