Ryan Garcia may not hold a title belt, but he's quickly become one of the biggest stars in lightweight boxing. He'll look to continue building his resume on Saturday when he faces Javier Fortuna at the Crypto.com Arena in Los Angeles.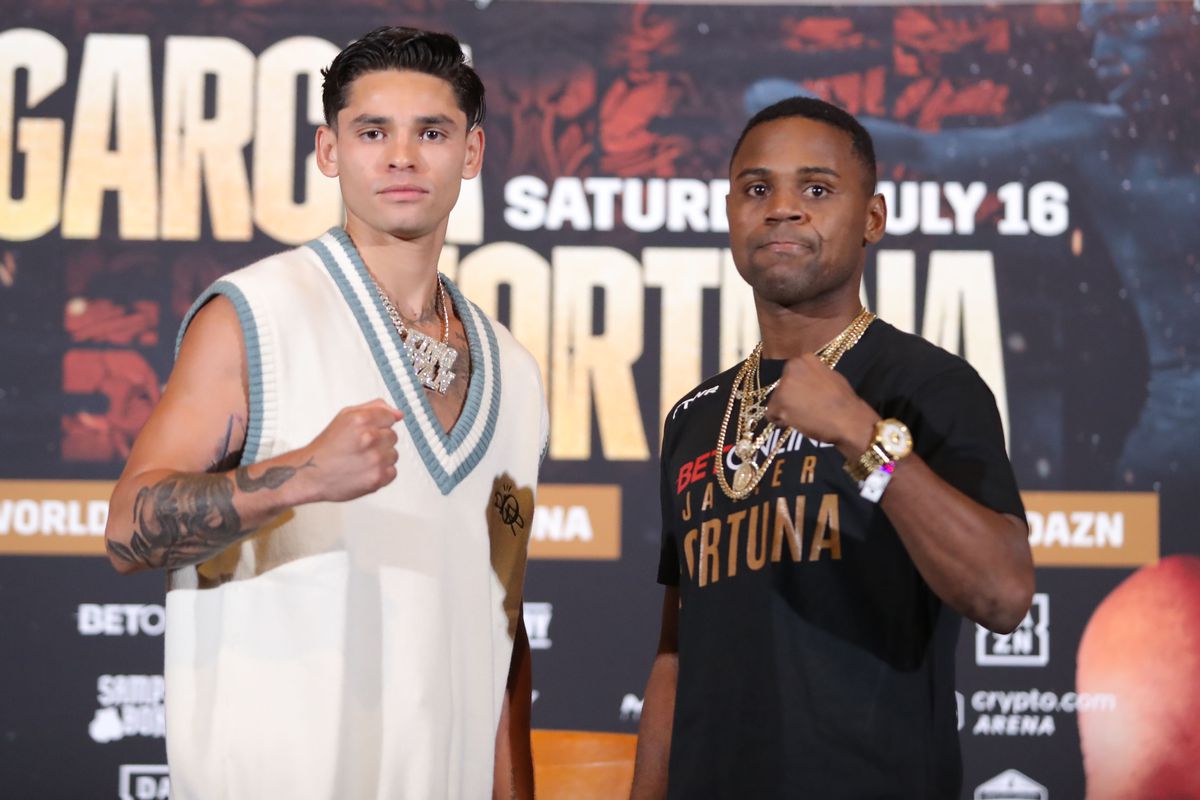 Garcia enters the fight as a heavy favorite, with DraftKings Sportsbook making him a -1400 pick over Fortuna (+700).
Garcia in line for future title shots
While Garcia (22-0, 18 KOs) has made a name for himself, he hasn't yet earned a true title fight. He could be in line for a shot at WBA regular champion Gervonta Davis (27-0, 25 KOs) in the near future, and perhaps a date with unified champion Devin Haney (28-0, 15 KOs) somewhere down the line.
For now, though, Garcia is focused on getting one of the bigger scalps of his career. While Fortuna (37-3-1, 26 KOs) isn't a household name, he's a proven veteran who has held titles at super featherweight and featherweight in the past.
That doesn't seem to concern Garcia. The 23-year-old says he should be able to beat Fortuna even if he's nowhere near his best on Saturday.
"It doesn't matter if you are not 100 percent," Garcia told reporters. "We are at the point where that doesn't even matter. I am at the point that it wouldn't matter if I am at 65 percent, I am destroying Fortuna. He cannot beat me I am levels above him."
For Fortuna, the fight against Garcia is an opportunity to score a marquee win and get himself back in the conversation for future title fights. The 33-year-old lost his last major bout, a unanimous decision defeat to Joseph Diaz with the WBC interim lightweight title in July 2021. Since then, he has only fought once: a first-round knockout of Rafael Hernandez in the Dominican Republic this February.
Slugfest may keep result out of judges' hands
The Diaz loss isn't Fortuna's only experience with falling short on the judges' scorecards. Back in 2018, he lost a split decision to Robert Easter Jr. when fighting for the IBF lightweight title. Now fighting in Garcia's hometown, Fortuna says he's not going to leave this bout to chance.
"I have to knock him out," Fortuna said, via BoxingScene.com. "I can't let it go to the scorecards. Even if I drop him several times, I won't win the fight on the scorecards anyway."
Whatever the reason, Garcia welcomed the idea that Fortuna would come out swinging in a slugfest rather than a 12-round tactical battle.
"I'm just determined to do something amazing, entertain the fans, give them a good show," Garcia told reporters. "So I'll be looking to do something amazing in the ring. He wants to knock me out as well, so we're coming in, we're gonna throw our punches and we're gonna give the fans a great fight."