A second crack at Art Collector and a first crack at a Triple Crown race. That's what Swiss Skydiver's connections ponder as they explore running the filly in the Preakness Stakes.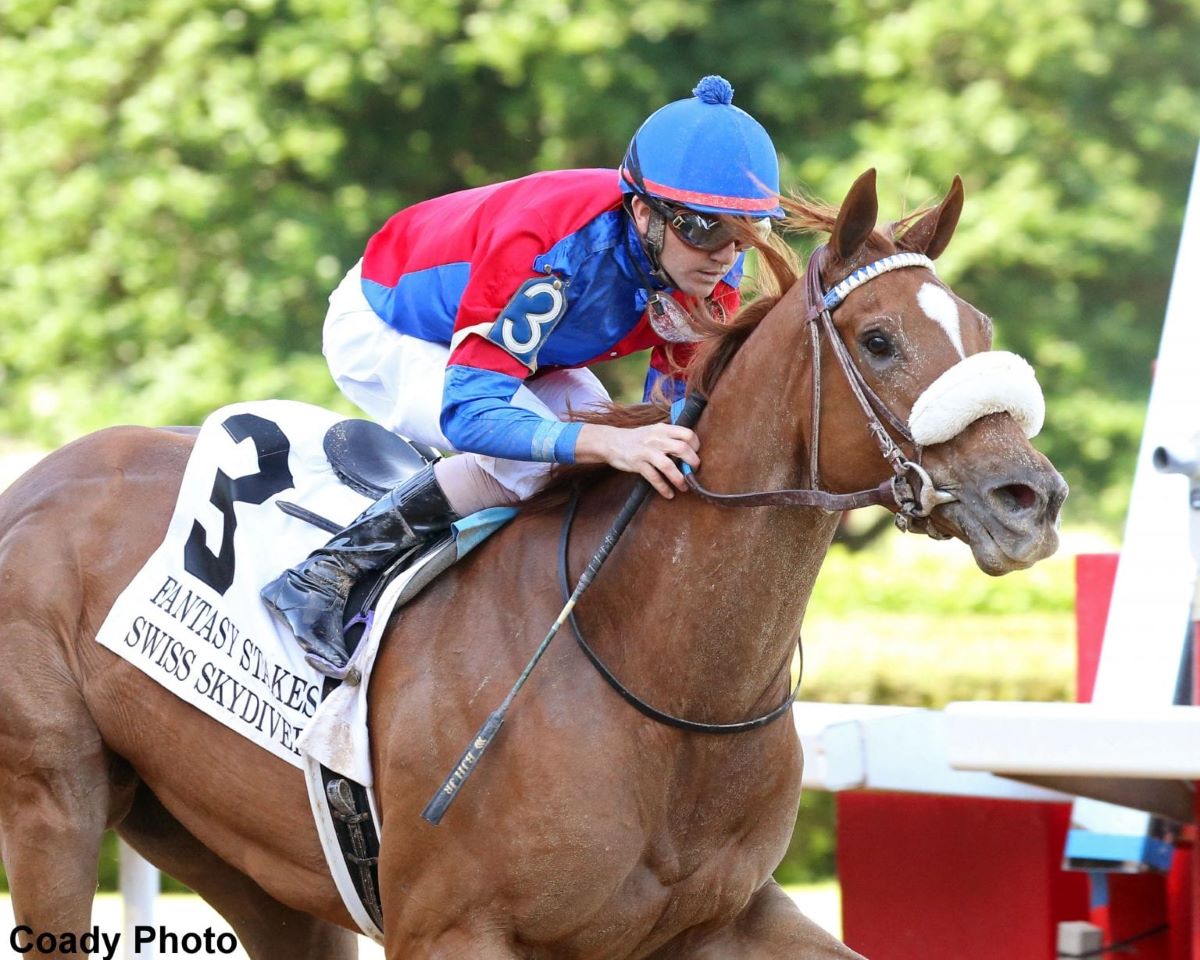 Kenny McPeek, Swiss Skydiver's trainer, said the Oct. 3 Preakness at Pimlico is in the mix for the standout 3-year-old. He said it comes down to analyzing who else is in the starting gate.
"It's going to depend on who shows up," McPeek told the Maryland Jockey Club. "We are also nominating her to the Spinster and she's been invited to the QEII. We're shopping it, that's all. We have three good choices. My strong preference would have been a 3-year-old filly Grade 1 (on dirt), but there isn't one out there."
Good options for a filly not lacking in talent or options. The Grade 1 Spinster sends fillies and mares 1 1/8 miles around Keeneland on Oct. 4. Or, McPeek could wait a week and send Swiss Skydiver that same distance – only on turf – in the Grade 1 Queen Elizabeth II Challenge Cup. That race, also at Keeneland, is for 3-year-olds only.
Look Who's Waiting at Pimlico
If Swiss Skydiver plunges into the Preakness, she'd have at least one familiar face awaiting her in the starting gate. That would be Art Collector, the only horse finishing ahead of her in the Grade 2 Blue Grass Stakes two months ago at Keeneland. After missing the Kentucky Derby with a minor hoof injury, Art Collector is all but committed to the Preakness.
So is Kentucky Derby champion Authentic, his Bob Baffert stablemate Thousand Words, and Derby third-place finisher Mr Big News. But McPeek said he's most concerned about another colt's presence. He told the Maryland Jockey Club's media relations department Swiss Skydiver is more likely to enter the Preakness if pre-Derby favorite and runner-up Tiz the Law isn't there.
"We know the two toughies will be Art Collector and Authentic. They're both nice horses," McPeek said. "We're just waiting to see who else is going. Right now, we're undecided. We're doing the research."
Swiss Skydiver Angling for Preakness Filly Win No. 6
A little Preakness research reveals five fillies captured the 1 3/16-mile Triple Crown test, the last being the incomparable Rachel Alexandra in 2009. Of the Preakness' 54 filly starters, 18 hit the board, putting up five wins, five seconds, and eight thirds. Rachel Alexandra's 2009 victory broke an 85-year filly victory drought, dating to Nellie Morse's 1924 victory.
As for Swiss Skydiver, nobody could call her "lightly raced." The Preakness would be her ninth race this year. Nor could anybody call her "unsuccessful." She has four wins, two seconds, and a third in her eight races. All four wins came in graded stakes, including the Grade 1 Alabama Stakes at Saratoga and the Grade 2 Santa Anita Oaks.
Last time out, Swiss Skydiver finished a gritty second to 17/1 Shedaresthedevil at the Grade 1 Kentucky Oaks two weeks ago. Figure she'll run in one of the Breeders' Cup races after wherever she runs next and you're looking at a 10-race season from one of the country's best fillies.
"She likes to run (and) work. She acts like she wants to do more," McPeek said. "She never misses an oat. If she had backed out of the feed tub at any time, we would have spread her races, but she hasn't done it. As long as she's telling us she wants to do something, we're going to consider it."