Gamine has been an unstoppable force. Swiss Skydiver, the prototypical immovable object. That prompts the inevitable question surrounding Friday's Grade 1 Kentucky Oaks at Churchill Downs: Who will prevail and emerge as the best 3-year-old filly in America?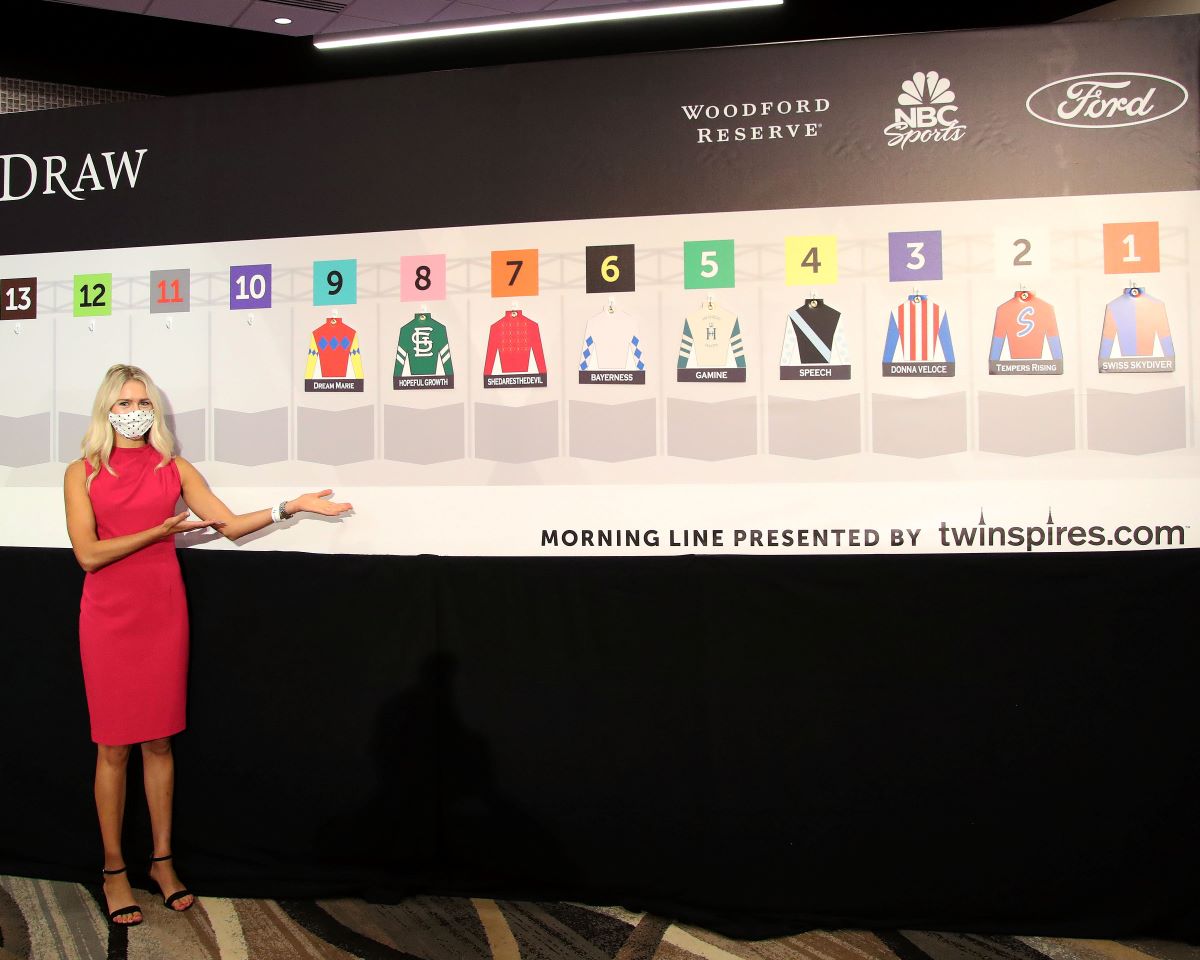 The unstoppable force that is even-money Gamine? Or the immovable object that is 8/5 Swiss Skydiver? And what about the irresistible sleeper lying in wait – 5/1 Speech?
The three horses headline a nine-filly field taking on 1 1/8 miles in the country's premier 3-year-old filly race. First held in 1875, when Vinagrette crossed the finish line first, the $1.25 million Oaks carries a winner's roll chock full of the leading fillies of their day. In just the past three years you'll find Serengeti Empress, Monomoy Girl, and Abel Tasman.
Monomoy Girl, Serengeti Empress Return to Churchill Downs
Speaking of Monomoy Girl, she returns to Churchill Downs in Friday's Grade 1 La Troienne Stakes. Serengeti Empress, last year's Oaks winner, returns Saturday in the Grade 1 Derby City Distaff.
Go back further and there's Untapable, the incomparable Rachel Alexandra – who won the Preakness two weeks later – Bird Town, Silverbulletday, Fran's Valentine, Davona Dale, and Black Mirage, among others.
Win the Oaks and you join that august list. Win the Oaks and you likely become the Champion 3-year-old Filly of your class. That's happened 15 times since the modern Eclipse Awards were created in 1971.
Another Example of How Four Months Changes Things
What hasn't happened is a September Oaks. The fact that we're talking about Gamine and Swiss Skydiver in such lofty terms is for just that reason. In a non-pandemic world, neither of these two would be in the discussion. When the Oaks prep season began in March, Gamine hadn't started a race. Swiss Skydiver, meanwhile, hadn't won a stakes race.
All the attention went to Venetian Harbor, the standout winter/early spring filly until Swiss Skydiver beat her in the Fantasy Stakes at Oaklawn. That was the second of Swiss Skydiver's four 2020 victories – all in graded stakes. After Speech beat Venetian Harbor at July's Ashland Oaks, Gamine trounced her at August's Test Stakes. The three losses came by a combined 12 ½ lengths, prompting Venetian Harbor's connections to wave the white flag. She won't run the Oaks.
Now, the attention goes to Gamine, the $1.8 million wonder-filly owned by Pandora Jewelry baron Michael Lund Petersen and trained by Hall of Famer Bob Baffert. She's crossed the finish line first in all four of her starts this year, with Speech being her closest pursuer in a 1 1/16-mile Oaklawn Park May allowance.
After beating Speech by a neck over two turns, Gamine gave that victory to Speech after two post-race tests displayed more than nine times the permitted amount of lidocaine.
Tugging on Superwoman's Tail
All this did was irritate Gamine into destroying all comers in her next two races. First, an 18 ¾-length dismantling of her Acorn Stakes rivals in the Grade 1 race at Belmont Park. Then, at Saratoga, Gamine tied the seven-furlong stakes mark with her seven-length victory in the Test Stakes.
Gamine's game plan is simple. John Velazquez will send her out fast, employ the speed that produced a 110 Beyer Speed Figure in the Acorn, and force everyone else to chase her. The potential issue with that simple game plan comes with the two turns. Gamine's only two-turn race came at Oaklawn, and Speech nearly ran her down. Now, she stretches out three furlongs past her last race.
This isn't an issue for Swiss Skydiver, who is 4-for-5 in two-turn races this year. That includes beating Speech by four lengths in the Santa Anita Oaks. Her lone loss came to Art Collector in the Blue Grass stakes. In the Grade 1 Alabama, Swiss Skydiver racked up her career-best 102 Beyer over 1 ¼ miles, winning by 3 ¼ lengths.
Matching Blinding Speed With Stamina, Experience
Swiss Skydiver also expects to set or press the pace. She doesn't have Gamine's raw speed, but she cancels that out with her comfort over two turns and her stamina. What she can't do is let Gamine get too far away. That would end matters before they start.
Gamine and Swiss Skydiver sucking all the oxygen out of Churchill Downs doesn't leave much for Speech, a legitimate threat in her own right. So legitimate, she hasn't finished outside of the top three in seven career starts, and hasn't finished out of the exacta in her last six.
While she hasn't crossed the finish line in front of either Gamine or Swiss Skydiver, Speech's stalking style could play very well should Gamine and Shedaresthedevil set too blistering a pace.
That said, it will take Speech's loudest effort to get some of that attention away from the unstoppable force and immovable object who have bigger prizes in mind.
The pick: Gamine. If anyone can coax stamina out of a horse, it's Baffert, who owns three Oaks victories. That's the only hurdle this truly talented filly faces. The unstoppable force beats the immovable object.